Love, it makes you do things single you would never do, like getting a Honda Accord tattooed on your arm.
Charlene, a teen, who goes by @ThursdayGirl on Twitter, shared with the internet she got a 2001 Honda Accord sedan tattooed on her arm. The reason? It was the first car her boyfriend and her ever rode in. With a couple thousand followers, I don't think she thought her tweet would "blow up" but it eventually did with 6,000 RTs and over 100 thousand likes.
Check out a screenshot of her tweet below (her twitter's since gone private) and a close up of the ink on her personal Instagram.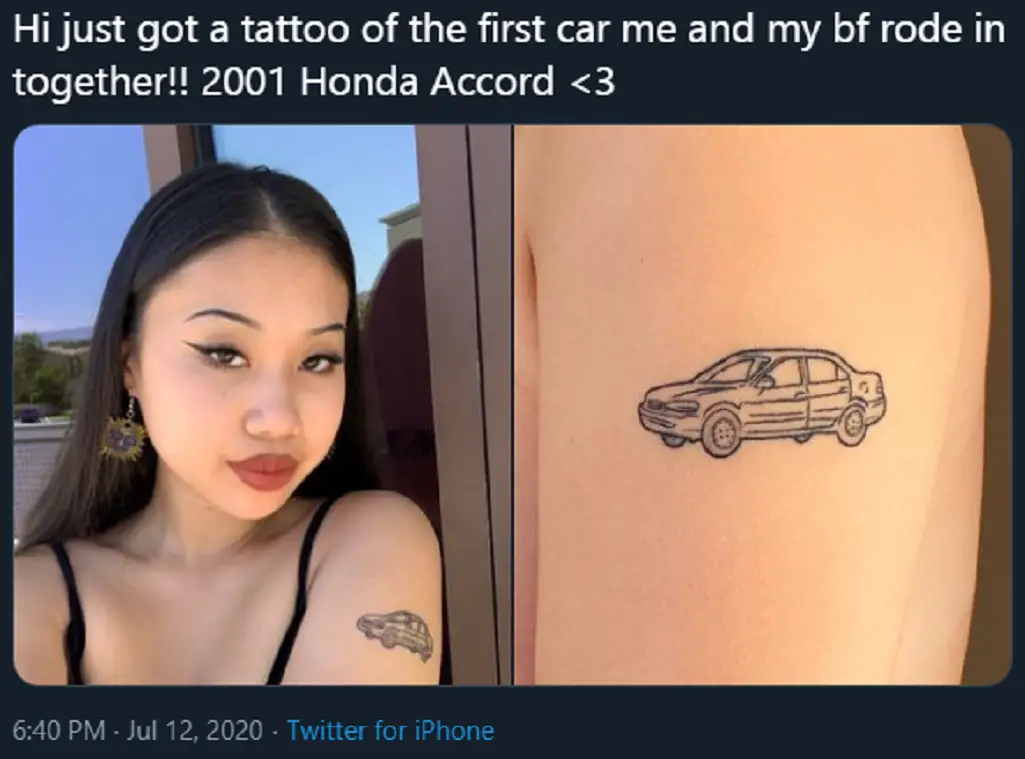 Since I was already on this girl's IG, scrolling a couple rows down, this looks like the 2001 Honda Accord in question. It definitely looks like a family hand-me-down or the car you score off Craigslist for less than $2,000.
Despite its infamous automatic transmission problems, with plenty of space and a bulletproof engine, it's the perfect first car. For Charlene, as mentioned, it's the car she drove around in with her boyfriend for the first time.
As that one mobster appraiser said,
On that merit itself, I think the tattoo is a lovely gesture, something you're going to do when you're young and in love.
That being said, I cannot not comment on the quality of the tattoo. As a Honda fanboy, I know what a sixth generation Accord looks like. With a somewhat angular design language, a long, low hood and an equally generous sized trunk, the Accord's shape is atypical late 90s American sedan.
I hate to say it but I'm just not seeing it. Here's what a 2001 Honda Accord sedan is supposed to look like.
But ya know, you're young. You're going to get a tattoo from someone that's not on Kat Von D's level, and that's OK.
Here's to wishing this couple a long and happy relationship.