"Oh, well, sh** happens. I like to live my life to the fullest."
According to Turlock, Calif teen Kennedy Souza, who goes by @ittsskenn_ on Twitter, two local teens on Snapchat shared photos of themselves drinking Coors Light Beer while driving. After calling both teens out for their illegal activities behind the wheel, both teens doubled down on their stupidity and replied with more photos of themselves chugging beer.
Check out the screenshots of their Snapchat stories below.
July 28, 2020
According to the teen,
"Yea, well, we're pretty f***ing good at driving so before you know us and our experience, don't come at me, Thanks Darlin. We ain't the only ones who drink and drive hun."
Homegirl doesn't give a damn pic.twitter.com/C7xEscoAjD

— Diego Hernandez (@baaego) July 29, 2020
The greater Turlock community and social media were up in arms over this brazen display of irresponsibility and lack of common sense, several hundred people tagging local Turlock Police.
Local Turlock Police ended up responding saying they could not arrest either teen based on social media photo screenshots, citing Penal Code Section 836 which defines how a Police Officer can make an arrest without a warrant. Since a suspected DUI is defined as a misdemeanor and not a felony, police officers have no power to arrest without a warrant in this case.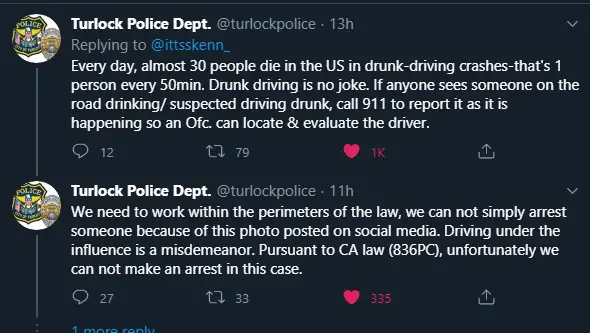 This reply, of course, angered social media. Here are some of the best replies expressing how I feel, too.
Although police did not ID who these two are, several people in the comments dropped what little information they have, mainly where they think she goes to Highschool and screenshots of her social media accounts.
July 29, 2020
In case y'all need it pic.twitter.com/MEQau2DjzT

— Sarah ♡ (@Sarah57243775) July 29, 2020
Some even allege neither driver, or passenger has a license to drive.
In California, a DUI will land you with a fine up to $1,000, up to six months in jail, and a suspended license for up to 10 months. A judge may also require some form of DUI school.
Drinking, Driving, and sharing it on social media is a whole other level of American stupidi** unique to this smartphone generation.
If you have friends that drink and drive, please call them out on it and, if you witness this in real life, call 911 A.S.A.P.