Her parents even got her the turbo 4 presumably to keep her out of trouble.
According to KOTA TV on a report published earlier last week (Oct 5, 2020) the owner of barely used 2019 Chevrolet Camaro crashed into an electrical pole after sideswiping a truck near the corner of Fifth Street and St. Joseph.
The Rapid City Journal later reports she was properly cited for reckless driving. Statements from police taken shortly after say the teen was speeding, going about 60 in a 35. Reckless driving is a class 1 misdemeanor punishable by up to one year in jail and/or a maximum $2,000 fine.
And, according to a Facebook post from TexasDragRacing.com, a screenshot submited as an anonymous tip paired this incident with photos of the actual owner with her new wheels. While this Camaro was slightly used, the headline here is she only had it for ten days.
Here's KOTA's Facebook post and TDR's directly below it.
While many in the comments speculate the parents got her a V6 Camaro, a bit of googling for a "Crush Camaro" sold by Denny Menholt Chevrolet reveals a 2019 Chevrolet Camaro 1LT with an RS Package sold recently, no small coincidence. Here's the google cache link and a copy of the sale page via Black Hills Auto Mall.
And you'd think just because it's a four-cylinder, kids are less prone to speed and hijinks. You're woefully misinformed. These turbo fours pack 275 HP and 295 lb-ft, more torque than a V6. 0-60 comes and goes in 5.4 seconds. That's faster than a first gen Acura NSX, a bonafide Japanese supercar.
Here are photos of the aftermath posted by a commenter on Facebook.
Thankfully, no one was seriously injured, the driver of the Camaro, her passenger, and the pickup driver escaping with minor injuries. Someone claiming to be the Camaro driver's aunt commented this below.

Not surprisingly enough, several Rapid City residents recall seeing this exact Camaro speeding around town, driving recklessly.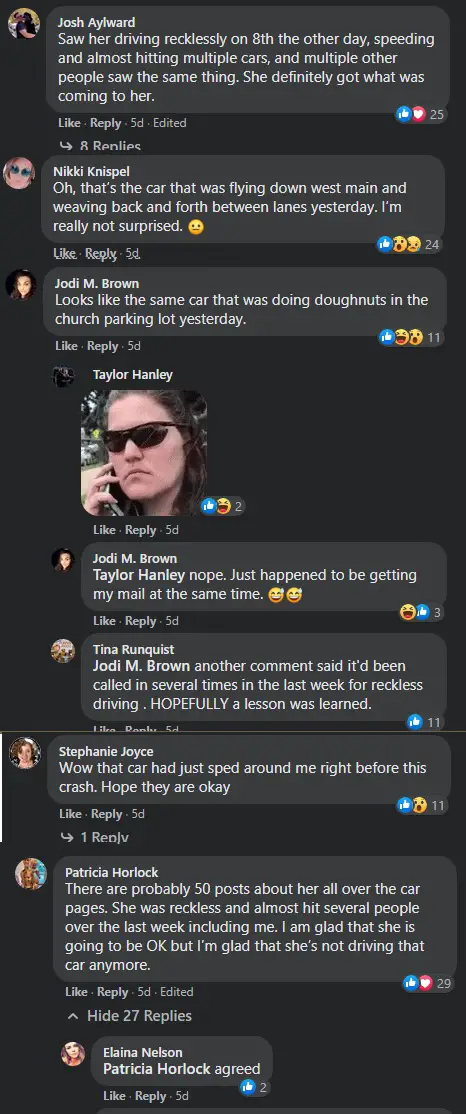 There's no judgement cast on hardworking parents wanting to spoil their pride and joy. It's their money, and it's not our business telling them how they spend it.
That being said, if after 16 years, you have an inkling your son or daughter is prone to rebellious activity, hangs around the wrong people and, would, if given a set of keys to something touching 300 HP, speed like a bat out of hell, maybe don't buy them a muscle car.
Do what wise parents do and stick them in a character-building naturally aspirated four-cylinder wheeze bag Toyota Camry from the mid-2000s. It's safe and slow enough where you learn some responsibility and defensive driving.
This is also why insurance rates for teenagers in pony cars are so expensive.