Is a Walmart Oil change really all that good for $19.88?
Doing Oil Changes by yourself can be a hassle, you have to jack up your car, crawl underneath, get dirty, and deal with oil disposal. But, for $19.88 before taxes, at Walmart, you can avoid all that and get someone to do it for you. The questions are, what goes into a Walmart oil change and are they any good?
What is a Walmart Oil Change?
Walmart Oil changes happen at their dedicated Lube and Tire shops attached to the sides of most locations.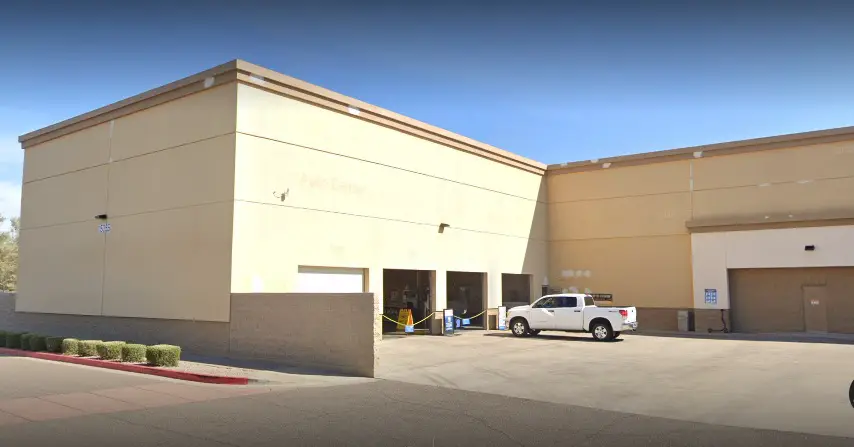 Here are the four options to choose from.
Pit Crew- $19.88 Lube, oil, and filter plus battery and tire pressure check
Standard oil change – $29.88 All the above plus lube services incl. vaccum, all essential fluids check/topped off, air filter check, and all lights checked.
High mileage- $39.88 – Includes up to 5 quarts of featured High Mileage or Semi-Synthetic oil.
Power & Performance oil change $49.88– Includes up to 5 quarts of featured High Mileage or Semi-Synthetic oil
Modeled after popular oil change centers like Jiffy Lube and Speedee oil change, your typical experience will be like the video of one customer below, a lube tech will greet you, take down some information, and inform you how long the service will take.
After you leave your keys, your car moves up the line until it's driven into a service bay, drained of oil, topped up with fresh oil per your car's recommendation via their internal system or, more commonly, by making sure it doesn't go over the fill line on your dipstick. And, if you got any oil service beyond Pit Crew, the lube techs will go through all the proper checks.
Variations between different Walmart oil change procedures is how they drain oil. While some Walmart will drain from underneath by reaching your drain plug via their underground pit or putting your car on a lift, some Walmart's will use an oil extraction tool through your oil dipstick tube to suck all the oil out. Both perform the same task, but the latter means no chances of stripped drain plugs.
After the oil change, your car is driven out, parked, and the key returned to the front desk where you're informed your car is ready. Then you pay.
What type of oil and filter does WalMart use?
Walmart uses Quaker State Oil, part of the SOPUS Shell Lubricants based out of Texas. SOPUS is subsequently owned by SHELL Products, a US Subsidiary of Royal Dutch Oil.
Walmart will use either Fram, Supertech (Walmart brand) or a Delco oil filter depending on the year/make/model of your vehicle.
Is the Walmart oil change any good?
Statistically, Walmart Oil changes are an excellent value and are, by and large, good.
I say statistically because consider the numbers. There are over 2500 Walmart Auto Car Centers around the country, all using a similar model refined over decades.
Here's the truth, Walmart Lube and Tire Technicians don't need certifications to be hired. Lube techs are not mechanics. Yours truly was a lube tech in one of the busiest oil change centers in California, and I sure as heck wasn't a mechanic.
Since there's fundamentally little to get wrong, most customers coming in for an oil change leave satisfied.
How good a particular location will be is largely a product of the management Thankfully, we have online reviews to guide us.
Do yourself a favor, take 10 minutes, and vet your local Walmart Auto Center.
First, look up your Walmart Auto Center on Yelp and search for the keywords "Oil Change." See if there are any recent reviews with bad experiences. Over one in a year is a red flag.
Do the same thing on your Walmart Auto Center on Google Reviews.
Next, if you're part of a local Facebook Group like "Chino Connects" or "Merced Buy and Sell" ask anyone if they've had a good experience getting a Walmart Oil Change. If anyone brings up a recent horror story or tips you in on bad management, that's another red flag.
As an extra step, if your usual daily driving route brings you by a Walmart Auto Center, pull in and just watch for five minutes. Are the Lube Techs goofing around? Is the oil change line super long on a particular non-busy time of day? I would go as far as asking someone waiting in line in their car if they usually get oil changes here and if you should.
After you've done your homework and are satisfied with what you see, you'll probably have a satisfactory oil change experience.
Testimonies from former Walmart Auto Center employees.
"I work at a Walmart auto center down here in Mississippi. I can't speak for all Walmart's but mine is STRICT when it comes to how we handle people's vehicles. Oil changes are no exception. Whatever your car recommends is what we put it and the correct amount per the Walmart book we're given that has the capacity amount for each year make model and engine size. And as for the oil filter we use Fram that gets shipped to us in bulk. Also, we torque the drain bolt to spec bases on the manufacture's spec. I know not all do that, but I want to let people know some Walmart's do care about its customers. And although we're not ASE certified, we still have some knowledge about cars. And my specific store pays us $15 an hour starting out. Not all pay that either." – CelticFan157
"As a guy that used to work at Walmart, some are really good, some are really bad. If you want to take advantage of the $20 oil change look up some reviews on your local Walmart and ask around usually they have a reputation for being good or bad." – BasedSousa
"I ran a Walmart automotive for a couple of years, it was done right at my store, yes we got some bad apples but they also got fired or transferred into a different area according on the situation. There are plenty of cameras watching, most of my guys would come to me if they made a mistake or had an issue though. I only had one new guy to mess something up and try to cover it up, but cameras showed us and he was fired. But maybe I was just lucky that I had a really good crew of techs. And no they do not start at minimum wage, for a non ase job having to do with cars it's actually a great place to work as long as you get the right people. If Walmart messes it up, they will pay to have it corrected. We made more money by making sure our customers came back than we would trying to cover something up. It didn't change our paychecks if the company paid to fix a car. But for me to be allowed the hours for schedules, we had to meet demands on cars done. I still ride by there and let them take care of my car sometimes just to visit, but again, I had a great relationship with my crew. –Wicked4355