That's an 80% discount
Savvy online shoppers couldn't believe their eyes when they saw Walmart.com advertising their in-store price for (5) 5-quart jugs of Valvoline Full Synthetic for $21.97, that's 25 quarts of full synthetic at a bargain price. According to one SlickDeals.com user, the glitch was like this for weeks. Recognizing this glitch and taking advantage of Walmart's policy of price matching its own online prices, several shoppers got in their cars, went to local stores and, depending on what mood some managers were, finessed their way to a slippery deal.
It looks like this deal initially picked up some steam when someone posted it on the Tik Tok app. I also saw it on SlickDeals.com.
The internet struck black gold, and they were out for blood.
Here's a screenshot of the website ad already fixed, and here's what it originally looked like.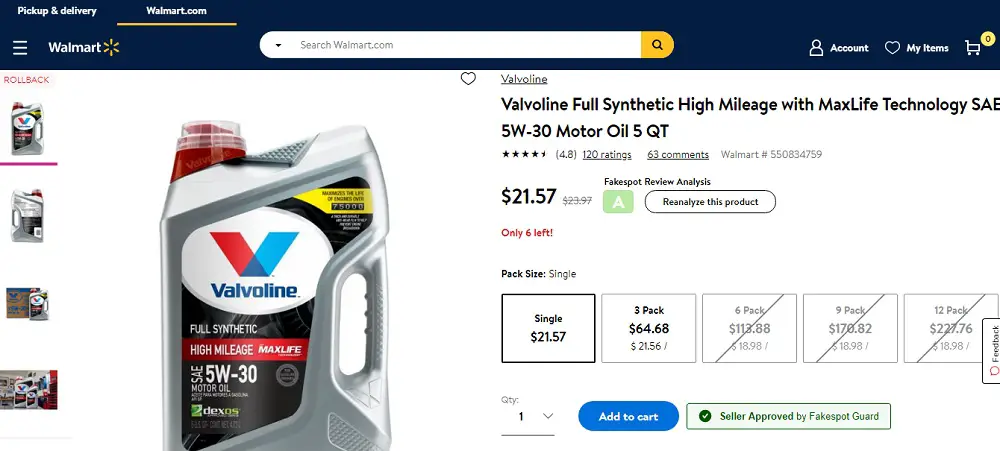 So, how did people who tried this deal make out?
Several people actually got managers to honor the deals despite the colossal eff up. Here are some screenshots of successful purchases.
SD user VanillaGorillaXL commented,
"Just got the deal from my local WM, but it took some haggling and explaining. They had to do some price matching at the register and the cashiers were not too happy about it."
User MyPawlak commented,
Just picked up all 5. When I initially claimed at the online pick-up, there was only one bottle waiting for me. I showed the attendant the order confirmation that displayed, "Qty.: 1; Multipack quantity:5" and without question, they pulled the other 4.
A handful got rejected but, by complaining to Walmart, got compensated for the misunderstanding with a refund, keeping the product, and a $25 gift card.
Honda Prelude Facebook group member Mario Banuelos commented,
"I called them and they have me free 1 gallon oil, my money back, and a $25 gift card."
Most, as you'd expect, were presented with (1) jug of oil or had their orders cancelled altogether.
I'm not taking sides if it was right or wrong to take advantage of a mistake, but seeing it from WalMart's point of view, honoring a mistake would further win my loyalty as a customer.
Taking "a hit" financially is even more incentive to double and triple check their online prices, so this doesn't happen again in the future.
As for us customers, if you so feel compelled and see an online price that sounds too good to be true, doing something and taking advantage of the situation would benefit you more than doing nothing.