This red LED will start blinking in your Honda once you lock your doors with the key or key fob.
You might have noticed a blinking red dot in your Honda's instrument display right underneath the temperature and fuel gauge once you either lock the doors from outside with your key or use your key fob. Not to worry, it's only your Honda's Security System Alarm Indicator and, once armed, will automatically sound your car's horn and flash your lights when anyone tries to forcibly break into your Honda.
Here's where that red dot is located and screenshots from your Honda manual outlining what your security system will do.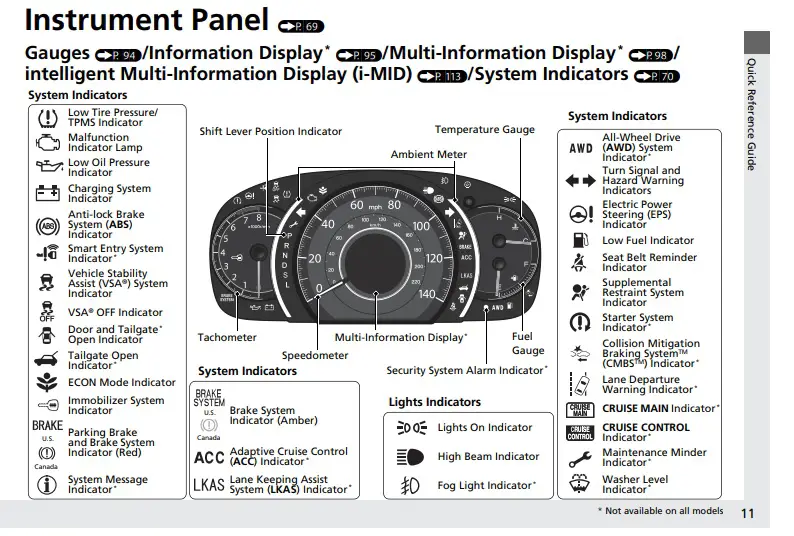 Honda's Security System Alarm is a built-in alarm that comes free with every new Honda. Your Honda's keys are programmed from the factory with a unique security signature that allows you to start/drive your car and arm/unarm the built-in alarm system. While anyone can copy your physical key, without the unique digital signature coded in, they won't be able to start your Honda and, when used, will trigger the alarm system.
The screenshots from the Honda manual above describe in detail what your Honda's alarm system does but basically, once you lock the doors with your keys or key fob, you have 15 seconds until the system arms. If anyone opens a door forcibly, with a copied key, or tries to open the hood, your horn and lights will flash for two minutes. You can disarm the system by pressing unlock on your key fob, pressing the start button, or putting your key into the ignition to position II.
Be warned, if you leave your kids or you stay in your Honda when the security system is armed, the alarm will go off if you unlock and open the doors. Without keys present, you'll have to awkwardly wait out the alarm.