+60 HP for $230 would make this performance chip a no-brainer when it comes to HP for your $.
An interesting Facebook ad piqued my interest earlier today showing a Dodge Dart owner "flash tuning" her Dodge Dart with a level 2 performance chip inserted into her car's OBD2 port. In the video posted below, the Dart owner claims her Dart now has better on-highway acceleration and smoother transmission shifts. So, do these Chip Your Car performance chips from ChipYourCar.com actually work, or is it mainly just a placebo affect?
Here's the video I saw on Facebook.
Chip Your Car makes some bold claims with its three levels of performance. The best value, of course, is the most expensive Stage 3 tune.
Stage 1 +20 HP +1 MPG for $84.99
Stage 2 +40 HP +3 MPG for $159.99
Stage 3 +60 HP +5 MPG for $229.99
Chip Your Car further explains that,
"Our chips work by sending a signal through your factory data sensor in your engine that your engine control module (ECM) monitors. The chip is a dyno tuned fuel map tuned for your specific model vehicle changing air/fuel mixtures, timing and spark. If the vehicle is turbo or supercharged, your performance chip will also increase boost pressure. This piggy-back system is one of the safest…"
Background into tuning with piggyback systems
Almost all engine manufacturers tune their engines with several factors of safety built in, making a safe amount of power and fuel efficiency, leaving "room in their tune." Tuning seeks to exploit this room by manipulating stock air/fuel ratios, ignition timing, idle speed, variable valve timing, electronic valve control, engine rev limit, etc.
While Flash and chip tunes literally replace your ECU's Stock map with maps that are tuned for power and fuel efficiency, piggyback tunes bypass the engine sensors and ECU, tricking the ECU into thinking all its sensors are functioning normally while signaling the engine to achieve a desired result, usually more or less fuel so the engine can add or subtract the right amount of air for power or efficiency.
Red Flags
If these chips are really "dyno tuned fuel maps tuned for my specific vehicle" then the amount of R&D to make specific fuel maps on a rolling road for literally 99 percent of cars made from 1996-today would be a lot, on the level of an OEM manufacturer.
Typically, tuners like Hondata, Dinan, and Cobb tuning specialize on one manufacturer, Honda, BMW, and Subaru respectively. Even within that manufacturer, they really only make dyno tunes for a flash tune device for one specific model like Civic, 3-series, or WRX STI since it doesn't make sense economically, if they ever want to make a profit, to make a tune for other cars in that lineup.
Chip Your Car claims to have tunes for Bentley, Lamborghini, and Aston Martin.
Here's the above-shot address of Chip Your Car. It certainly doesn't look like a place zoned for automobile repair and testing. Where would we even fit a rolling road here?
Then, there's the fact that the claimed tuning power and fuel efficiency is literally the same for every car. Here's a comparo between a Civic and NSX.
I picked a 1999 Honda Civic because I drive one. I know for a fact there's no way in the world you can add a simple piggyback OBD2 "tune" to my Civic and add enough HP to make it on par with a Civic Si. A stock 99 Civic has 100 crank HP. Adding this OBD2 tune supposedly brings me to 160 HP, the same amount of peak HP in a B16A2 equipped Civic Si.
The ultimate nail in the coffin are breakdown videos of a cheaper, and more popular Nitro OBD2 fuel efficiency tuner by Quarks Labs, and a blink test of an actual "Chip your car" OBD2 tuner on Youtube.
According to Quarks Lab and results corroborated by BigClivedotcom, all the Nitro OBD2 tuner does is passively observe OBD2 data and cannot literally communicate with the CAN bus in order to change engine parameters by tricking the ECU. All these boards do is flash their LED's to mimic "communication" with the ECU.
Quarks Labs provides us with an overhead shot of the board layout of Nitro's OBD2 tuner, copied below. Directly below it is a screenshot from a blink test with a Nitro OBD2 tuner. Notice any similarities? They're, more than likely, the exact same boards.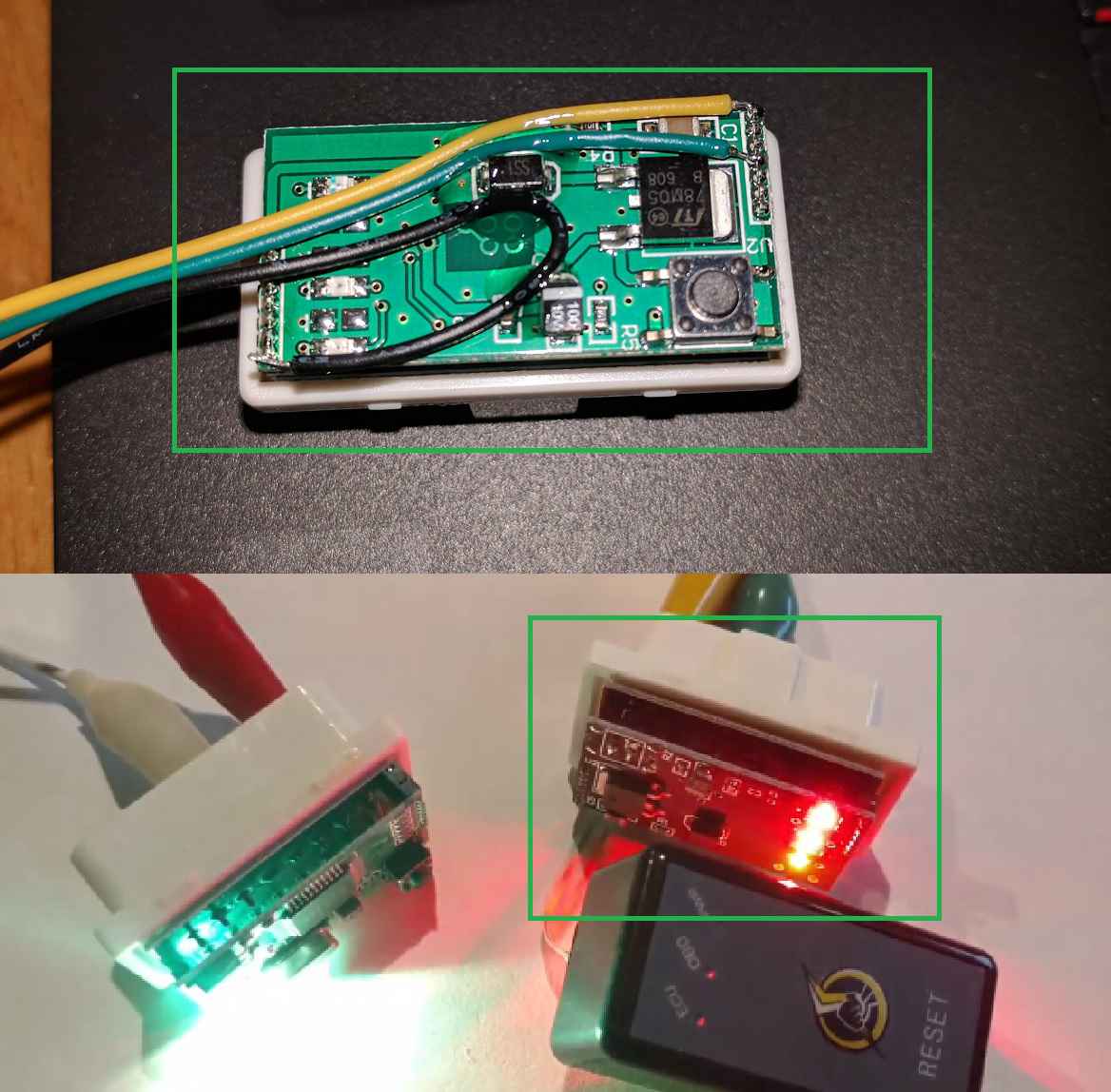 Conclusion
While the "Show Your Car" OBD2 tuner certainly won't harm your car's performance, based on the above, one would probably assume no performance or fuel efficiency gains are being made either.