Harbor Freight has officially axed its mailer catalog.
*If you're another blog and do your own write-up, link to this post as a h/t, please =)
Earlier this year Harbor Freight officially axed its print catalog ending paper coupons redeemable in-store. In its place, Harbor Freight rolled out its "Insider Track Club" premium savings membership with annual membership dues and its "Instant Savings" deals, (akin to Wal-Mart price drops) on certain items HF will announce in-store, online, or through e-mail newsletter, no membership needed.
If you haven't already made the jump, according to Harbor Freight,
We've moved from sending printed coupons and mailed monthly catalogs, to a digital format that makes it possible to send you even more savings, more often. You can find our latest offers on our website but the best way to learn about our promotions is by email. When you sign up to receive our emails, you'll get great savings sent directly to your inbox. You can also find the latest savings and deals on our new Harbor Freight Mobile App for IOS and Android phones. It's free for download at both the App Store and Google Play.
Why Harbor Freight says they're doing this?
In an e-mail response sent to YouTuber "The Den of Tools" HF says,
"Our Inside Track Club program changes were based on direct feedback we heard from our customers and store associates. They told us that it would be much easier to shop at Harbor Freight if they got discounts without having to search for a coupon."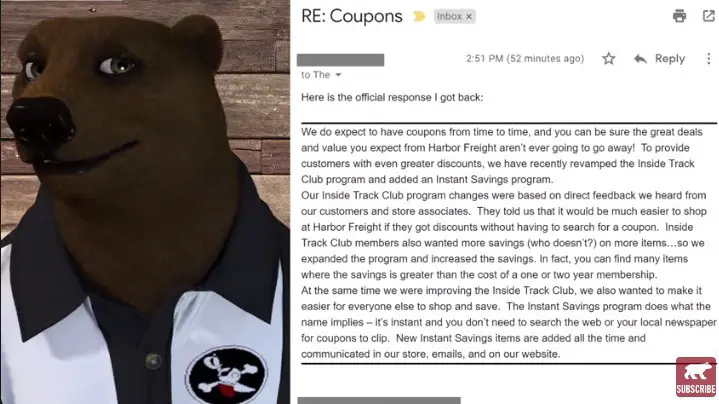 Furthermore, Harbor Freight says they're doing this to prevent lost or late deliveries of mailers, instant savings without having to wait, and having information on a product at the palm of your hand.
Why Harbor Freight, in my opinion, is really doing this.
First, Harbor Freight is setting up two distinct tiers of savings to maximize profit. Just like your grocery store has a membership club, to extract the most savings, you must be a member of its savings program.This membership club, like Costco, is not free. Granted, you'll probably save enough to cover the cost of your membership on your first purchase, but Harbor Freight has identified its "Inside Track Club" members as die-hard, repeat, Harbor Freight shoppers.
As members, you'll feel that, to get the most value, you must spend more to save more.But you'll also probably spend more annually than you would've with regular mailers.
Most importantly, Harbor Freight wants your information. The more you shop with the "Inside Track Club" card, the better a profile HF can build on its users. HF will inevitably use this info to e-mail you targeted coupons based on your shopping patterns. They also use this info to streamline their stores and offerings.
On their end, no coupons means a faster experience for shoppers and cashiers.
Also, in this Covid-19 pandemic shopping culture, the less time at the register, the better for you and its employees.
Goodbye freebies
Those free flashlights, tape measure, rolls of electrical tape, and other free items we've come to know and collect are also, presumably, not a thing anymore.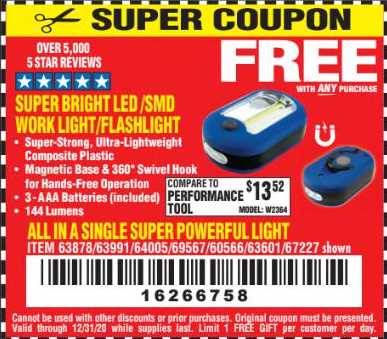 If you've got a stash of these little, helpful, blue lights, you're going to have to buy them now like a commoner.
Sad, but inevitable. Sometime last year we got our last Harbor Freight mailer, and we didn't even know it.
What will I read in the bathroom now when I've forgotten my phone?