A bunch of drama or does this highlight a larger problem endemic in the car community?
Car Youtuber and social media influencer Mr JWW set the record straight as vaguely as his lawyers allowed him earlier today (Feb 10, 2021) after backlash he received stemming from a tweet from Top Gear presenter and hot-shoe Chris Harris.
In a tweet posted below, Chris Harris alleged an unnamed influencer wanted Litchfield Motors to put on their Nitron Suspension Kit not just for free, but wanted upwards of £25,000 (about $34,500), a percentage of future sales, and for the privilege to do so. In exchange, they'd receive that ever-so important exposure.
The audacity.
The way it's supposed to work is you approach a tuning company with a car project proposal. In exchange for discounts on expensive parts and the on-demand expertise at your fingertips, the tuning company receives exposure thanks to the influencer advertising their work.
What Litchfield Motors was approached with was the complete opposite and rather one-sided, not to mention disrespectful considering Litchfield would pay the influencer?
I should note it Chris Harris NEVER mentioned who the alleged influencer was. But, as evidenced by Shmee's manager tweet below Harris's, everyone put two and two together and figured out who they think Harris was referencing.
In an unofficial poll on a DriveTribe blog post, 8 out of 10 readers thought it was Mr JWW.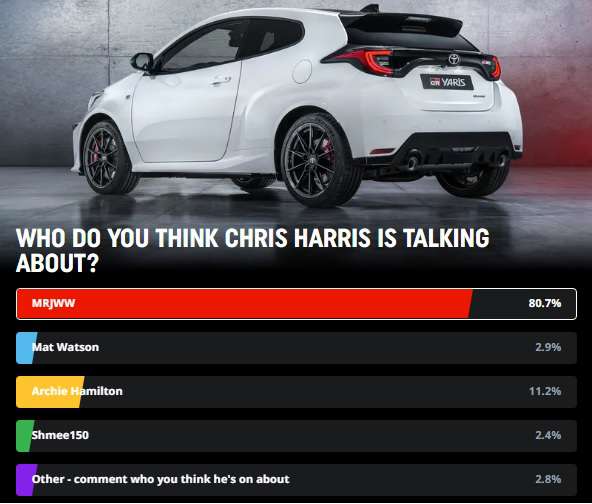 Chris Harris, Edward Lovett, and Ian Litchfield of Litchfield motors all talked about the incident on their podcast hours later.
According to Litchfield,
I think it crossed the line. They'd ask for help with a project which we're happy to help with. They proceeded to sort of explain how they'd want additional payment over and above any discount we might provide on the kit for their car and future sales. I just got more and more annoyed by the braveness of it… They approached us and then sort of tried to shake us down for the additional money.
MR JWW's response
After Mr JWWs Youtube, Twitter, Instagram, and other social media was flooded with what he calls "cyber bullying," at wit's end, he finally posted up his response after consulting with his legal team.
There's a mirror here just in case the post below goes kaput.
In his post, Mr. JWW confirms the rumor that it originated from his camp. Mr JWW does provide his own alleged facts and places the blame on an agency he works with.
"An agency employed by me had various exploratory conversations with the company dating back to last year. There was no cold call from anyone working for me. Telephone conversations began with a call to my agency following receipt of an email from an agent. Sadly, the way this was initially framed to you by a 3rd party paints an inaccurate picture."
At the end of his statement, MR JWW redirects the spotlight away from the situation with a call to action against cyberbullying.
One of many influencer deals in the car community.
Despite Mr JWW washing his hands of the situation, Chris Harris's tweet does shine a spotlight on these ham-fisted, one-sided, influencer deals.
This situation aside, it's become the norm for influencers to not only strike up heinous deals but demand free product and services.
Tuning shops, especially during this pandemic, rely on customer support and an open garage more than ever. While an influencer's exposure might net future sales, none of that is quantifiable at the time of the deal. In addition, one can't meet payroll, pay property taxes, and feed their family on exposure.
Such type of deal is unconscionable.
There are cases where exposure from an influencer is warranted like Kim Kardashian (& her 204 million followers) charging half a million for an Instagram post, but those are large brand deals stemming from multi-million dollar companies, not your neighborhood tuning shop. The beauty industry is built on those types of deals since the effectiveness of a product is subjective.
The car community, however, is built from the user up, with a strong aftermarket base built on the reputation of a product's performance. It's quantifiable. A product, like a suspension kit, produces faster lap times, a measurably firmer ride, and overall improved performance.
Influencer culture, in my opinion, is not as effective in the car community nor wanted, albeit they are entertaining.
Influencer deals in the car community should carry a level of respect (it's an unwritten rule everyone understands) where the power to influence a deal lies mostly with the tuner or performance product producer and not the other way around.
Influencers should pay for performance products like everyone else, put their names on a waiting list for service like everyone else, and, if the company offers discounts or sponsorship, that's on them to decide.