The arriving first responders mistook him as one of their own despite just crawling out of a wreck minutes earlier.
Update 2/19/2021- Toyota is replacing McDaniel's FJ Cruiser with a 2021 Toyota 4Runner TRD!
Medistar paramedic Trey Mcdaniel was on his way to work earlier this Thursday (Feb 11, 2021) in his 2011 Toyota FJ Cruiser on I-35 in Fort Worth, Texas when he was involved in that gnarly pileup due to black ice involving over 130 cars. Despite stopping in time, thanks to his FJ's Anti-lock brakes, McDaniels was rear-ended by a semi at full speed.
Miraculously, McDaniels emerged from his wreck, shook himself off, and immediately went into what others are calling "rescue mode." Daniels started helping first responders as they showed up.
Check out what his Toyota FJ Cruiser looked like before the collision and after.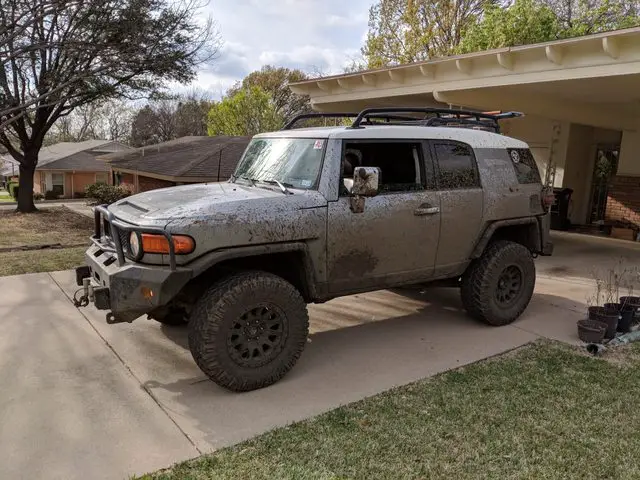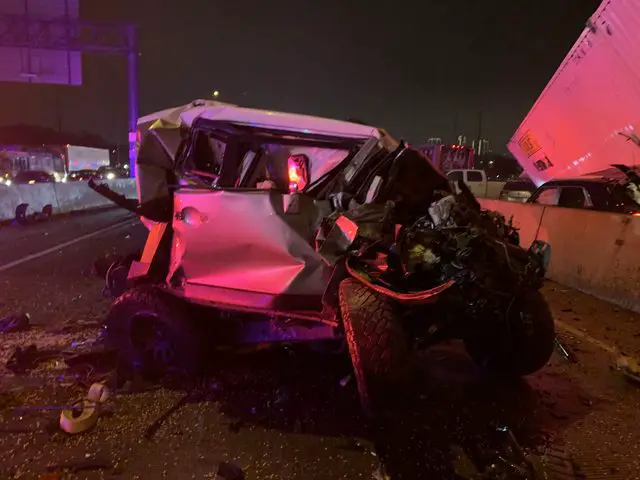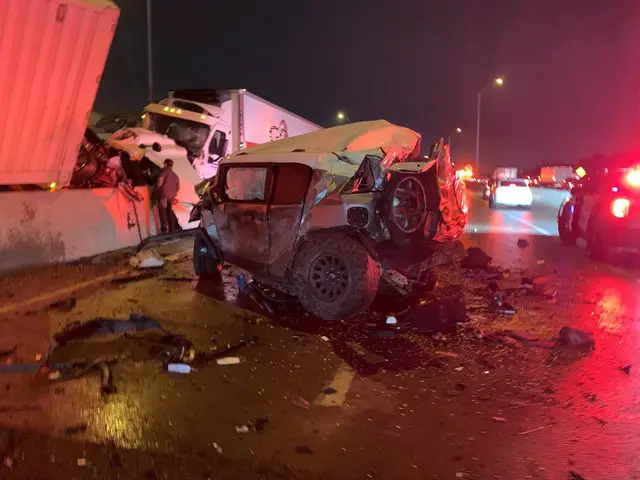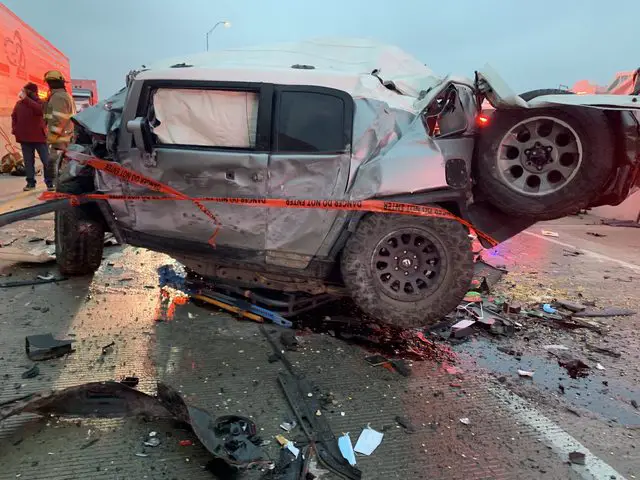 Among the first few eye-witness videos that went viral, you can clearly see the horrifying moment a semi slams full force into the back of his Toyota.
In a Reddit thread titled, "Brothers. I was in the silver FJ on I35 yesterday in Fort Worth that got launched into the Northbound lanes. That Toyota saved my life." McDaniels recounts what happened to him.
"I saw the brake lights way down the highway and braked, but I had already hit black ice. Toyota ABS kicked in at full force (if you own a FJ you know). I was able to stop in time, but now where to go...I saw that semi truck barreling toward me and I figured it was my time. I braced for impact and impact is what I got (refer to video that's been floating around the net).
I was launched over the center barrier into the Northbound lanes while still inside. If you slow the video down, I made a full rotation, my roof rack came off, and the FJ landed on top of it, fortunately wheels down. Every airbag deployed, and the cab was a safe cocoon.
I was alive. I oriented myself and crawled out of my driver window. The rest is documented in the news article."
In his interview with NBC Dallas Fort Worth, McDaniels describes how his instincts as a paramedic kicked in.
"They figured I was there as part of that ambulance crew that had just rolled in. They had no idea," he said. "And, you know, my first thought was I'm walking, I'm ambulatory. What do I need to do?"
"I checked on a couple other vehicles," he said. "This was while I was trying to get my bearings. I mean everything was dizzy and fuzzy and all this. I wanted to make sure everybody else was OK. I definitely went into rescue mode. That's all I really know how to do."
His interview goes onto say other paramedics recognized he wasn't exactly one hundred percent himself, checked him out, and urged him to go to hospital.
"They saw me in uniform and their first reaction was, 'Wait a second, wait, you were a part of it? You were in it?' They were in disbelief," he said.
McDaniels was treated and released that same day.
Our hats off to his Toyota FJ Cruiser
While McDaniels is a hero, McDaniels does credit his Toyota FJ Cruiser's well built structure and Toyota's engineering for absorbing, redirecting that crash's energy, and making sure he survived.
In his Reddit Thread and looking at his before photos, it's clear he loved this FJ. This one was equipped with an Icon stage 3 suspension, tactical armor front and rear bumpers with winch, and had 17-inch fuel wheels with Nitto trail grappler tires.
In my opinion, because McDaniels had a car with decent tires and ABS, he could first avoid crashing himself. In my blog post on this crash earlier this week, I mention how speed & good tires are two factors you can control before driving in possibly icy conditions. While the Nitro Trail Grapplers are at home in mud, snow, and slush, according to a Toyota Tundra forum, they also do really well on ice.
"The Nittos are remarkable because they grip ice well for a non-studded tire yet have a rubber compound that lasts more miles than other tires."
And, with ABS, a technology that, as its namesake says, allows your wheels to not lock up, his FJ Cruiser was able to stop sooner than a lot of other cars that fateful day.