Toyota replied, "So, don't worry about replacing your vehicle – it would be an honor for us to get you a new one!"
Toyota doesn't have to, but, like so many times before, they're showing their true colors and stepping up to help a Toyota owner who deserves it the most. According to a Toyota USA in a Reddit comment posted earlier this week (Feb 17,2021) they're replacing paramedic Trey McDaniel's Toyota FJ Cruiser that was wrecked in that horrific I-35 pileup in DWF, Texas a week ago. In its place, Toyota is hooking up McDaniel with a 2021 Toyota 4Runner TRD.
Check out a screenshot of Toyota USA's comment below. The comment and original thread started by McDaniel is linked here.
In response, McDaniel commented,
"Incredible! Thank you so much! Words cannot express how proud I feel that I was driving a Toyota that morning. The support I've received from Toyota, off-roaders, DFW community, and people nation wide have been more than I could have ever imagined."
And, here's an update from McDaniel's GFM that popped up shortly after.
Last week, icy road conditions caught many Fort Worth, Texas residents unprepared and by surprise. A black ice condition triggered a pileup that involved over 130 vehicles and took several lives.
Although McDaniel was about to be caught up in said pileup, he stopped in time thanks to his Toyota FJ Cruiser's ABS System and proper off-road tires (magnitudes better than all-seasons.) The fully loaded 18-wheel barreling behind him could not. McDaniel and his FJ took the full brunt-force of the semi, sandwiching his beloved Toyota but saving his life.
McDaniel's specifically says, "That Toyota saved my life."
Here's how his FJ Cruiser fared.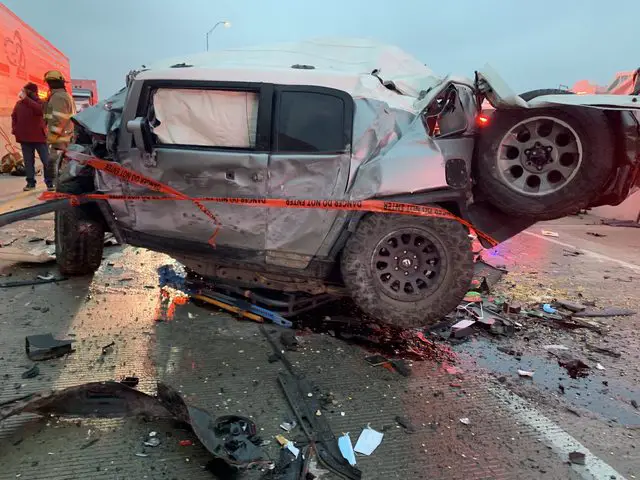 In an interview with NBC DFW, McDaniel recounts how, just mere moments after his wreck and as an off-duty medic going to work, his instincts kicked in.
As first responders arrived, McDaniel administered potentially life-saving first aid and checked in on other pileup victims around him.
"I checked on a couple other vehicles," he said. "This was while I was trying to get my bearings. I mean everything was dizzy and fuzzy and all this. I wanted to make sure everybody else was OK. I definitely went into rescue mode. That's all I really know how to do."
As a car enthusiast myself, it's clear McDaniel loved this FJ. As per his post history, McDaniel has owned this FJ for several years, the photo below from 2013 in Colorado. Like most cars beloved by their owners, it was a trusty companion, a companion that paid the bittersweet and ultimate price for its owner.
While Toyota discontinued the FJ Cruiser in the United States in 2018, they are still being made in LHD exclusively for the Middle Eastern Market. I'm pretty sure, if McDaniel wanted, he could get one shipped if he asked.
A new 4Runner TRD ain't too shabby either.
Embed from Getty Images
Toyota has done this before. Three years ago Toyota stepped up and replaced the Tacoma (photo below) of a nurse who drove back into the deadly Northern California Camp Fire to evacuate patients from an ICU.