Here's why Americus tires are the smart, value-priced choice shopping for your car, CUV & off-road vehicle.
Americus Tires is a sub-brand of tire of the American Omni Trading company based out of Katy, TX that specializes in value-priced tires for the American consumer. All Americus Tires are made in Thailand. While Americus tires cut their teeth in the United States with affordable semi-truck tires, Americus has since branched out with options for commercial, trailer users, crossovers, off-roaders, and passenger cars.
Here's why you should feel confident pulling the trigger on these value-branded, made for America tires.
First off, Americus has some bold claims they seem to deliver on for its tire lineup. According to American Omni Trading,
"Americus tires are built for the AMERICAN road…quality-built tires are what drivers need, with warranties that count and long-lasting reliability...We stand behind our brand and our tires."
Other brands included in the American Omni Trading Co family of tires included Thunderer, Cercelli, Venezia, Deestone, and Crop Max.
While it's not clear where exactly Americus tires are made, Americus tires definitely all come from Thailand, more than likely made at one of the same factories as their other imported sub-brands.
Here's a screenshot from Import Genius showing American Omni Trading Co's largest import partners. Notice how their largest partner is Deestone, one of Thailand's largest, Thai-owned tire manufacturer.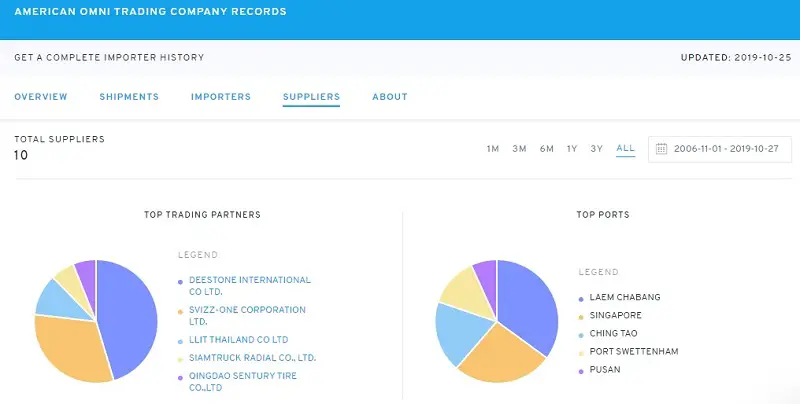 Americus tires lineup, excluding commercial applications, is as follows,
Premium Passenger tires

Sport HP
Touring Plus
Recon CUV

Truck SUV
Americus tires has had other tires models in the past, but those have been discontinued.
Pros
Affordable- Considera 265 75 16 Americus MT for $151 each at Walmart. According to America's Tire similarly sized LT tires such as, BFGoodrich cost $203, Falken Wildpeaks cost $191, Goodyear Wrangler Ultraterrains cost $170 adn Bridgestone Duelers cost $203.
Functional and rugged- Reviews of the Americus MT praise how rugged it looks, how deep the tread is, how easy the MTs sling mud and snow off , and how good they look.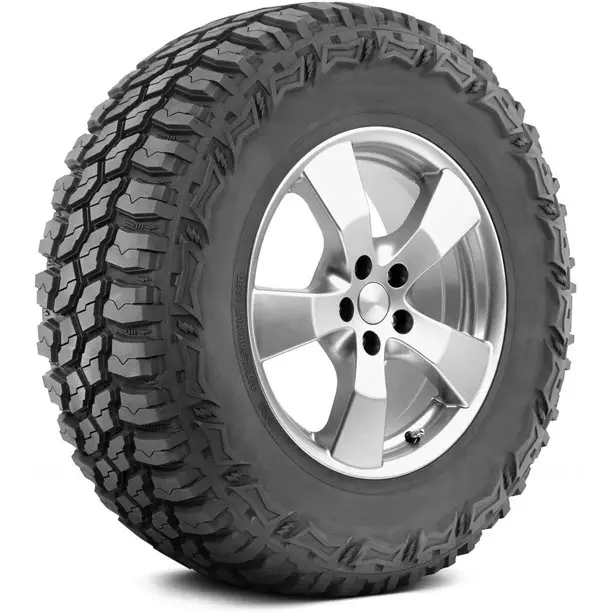 Warranty-backed durability- Americus Tires boast one of the largest mileage warranties, their car and CUV tires claiming to go at least 60,000.

No questions asked 25/365 Free Replacement Limited Protection policy– According to Americus "Americus will fully cover (100% credit) all eligible Americus brand passenger, light truck and specialty trailer tires should one become unserviceable due to defective workmanship, materials, road hazard or a condition other than those listed below during the first 25% of usable treadwear or one year from date of purchase, whichever occurs first."
Cons
A handful of reviews mention how the Americus MT is hard to balance.
They're not the quietest tires, expect a little road noise, especially if you go with anything off-road or go above 70 MPH. According to one reviewer, "they (MTs) hum slightly at 70 MPH."
Some reviews
Here are what a couple of Americus purchasers from WalMart had to say,
"Americus tires are deeper and more aggressive tread than what I thought. So far they sling the cow crap off, so I imagine it will do good in the muddy field."
'They do have a little noise running on the freeway other than that they are a great tire"
"Good tire, good price using them on our plow truck and having no issues."
Here are some highlighting the Americus Sport HP on Google Reviews.
"Great tires. They're quiet, hug the road at high speed, great on wet or dry pavement and still look like they did when I received them. Will definitely order them again."
"Half the price the dealer wanted for a tire on my Can/Am Spyder! Tire fits perfectly. Handles well."
Conclusion
Overall, Americus Tires provide 95% of the capabilities of a premium on/off road tire at a fraction of the price. While the Americus name might be new to the American consumer, their parent companies have a decades-long history of experience in Thailand with factory-backed service warranties through American Omni Trading, a mainstay in the United States since the early 90s.
You should buy Americus tires with confidence, knowing they're a value choice and have a proven track record with warranty-backed service options if needed.