While those who knew him are honoring his life, many are reminding friends to take care enjoying their cars on public roads
WVSN 7 reported earlier yesterday (May 21, 2021) one fatality in a multi-vehicle crash along the Sawgrass Expressway in Sunrise, Florida around 5:30 P.M. One victim thrown free from his vehicle is cited as the primary cause of the sole fatality. Florida Highway Patrol stopped traffic for hours to investigate before eventually re-opening the freeway.
As of this writing, FHP or other news outlets have not clarified who caused the crash or whether the victim thrown free was using a seatbelt.
Although details are scarce, as FHP finishes up their investigation, those on social media (mainly Instagram) recognized one of the car's involved as belonging to Instagram user @RaceKarrr AKA Jeff Nerette.
Nerette's car is instantly recognizable as it's a one-off four-door hatch build, a custom fabrication job where the rear of a Honda Civic hatchback is sawed off and grafted, using advanced body work techniques, onto the rear of a Civic sedan sans everything cut behind the C-pillar.
Under the hood of this unique four-door Honda Civic Hatchback is a fully built and turbocharged Honda J-series engine (J32A2) from a 2002-2003 Acura TL Type-S or a 2001-2003 Acura CL Type-S. In stock form, these NA V6s put out 260 HP to the crank. According to one of Nerette's video's on YouTube, his was putting down close to 564 HP to the wheels.
As screenshots of WVSN's news story paired with photos and videos of Narette's build circulated on social media, some of Narette's arguably questionable posts sparked off discussions.
In many of Narette's posts, he's seen going well above the posted speed limit. In one of his video's his onboard GPS briefly hits 170 MPH on a public highway. The caption on Narette's video reads, "Enjoy this 60-170 while you're at it. I said *** it and threw 5th."
Compounding the risk was Narette's choice not to equip his car with any kind of roll cage, standard on cars that see time on the strip. Narette also chose not to wear a seatbelt or any type of safety restraint (like a 4 or 5 point harness) as evidenced in many of his Instagram posts.
Here are screenshots from two posts, both showing Narette without restraints. Notice how safety harnesses are installed in the first setup yet Narette chooses not to put them on despite going 130+ MPH on public roads.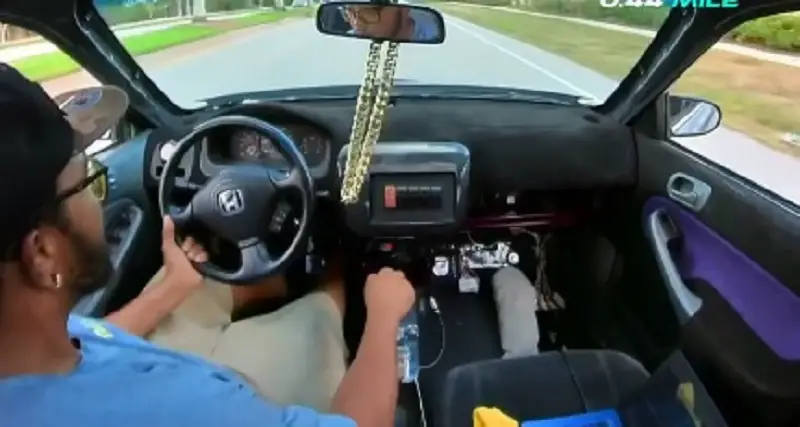 In Florida, the law requires all drivers, front seat passengers, and passengers under 18 to fasten their safety belts.
Many are asking those involved in safety discussions, considering the situation, to reconsider their own car's safety setups.
Instagram user @GreasyMongoose commented in the above video, "My Civic has no seatbelts, no cage, no harnesses, no air bags. It's not a car I will race but after this, I will at least put a harness bar and harnesses in it."
Scrolling through his social media and sampling his Youtube videos, Narette had a passion for Hondas, the J-series engine swap, and was goal oriented to eventually dip below 10-seconds in the quarter mile with his one-of-a-kind setup.
One of Narette's friend's has a GoFundMe setup to assist his immediate family.