Will there be an 11th season? Host Lieberman says maybe..only if!
Launched in 2012 with a video comparison between a Corvette Grand Sport and Porsche 911 Carrera S, the then Youtube-exclusive "Head 2 Head" episodes quickly gained a fan following as one of Motor Trend's best video series.
Hosts included Motor Trend editors Angus McKenzie, Johnny Lieberman, Jethro Bovington, Jason Camissa, and Carlos Lago with several episodes pairing them off against each other in respective cars.
The hosts quick-witted, on-road analysis honed by years of seat time thanks to being car journalists first, Head 2 Head was above and beyond other traditional car youtuber comparo videos in terms of production value and content.
And, as the episodes became longer, Motor Trend knew they had a winner on their hands, worthy of shopping around to larger streaming services and traditional TV networks.
In 2016, Motor Trend launched Motor Trend OnDemand and quickly started moving its longer shows, like RoadKill, Dirt Everyday, Ignition, and Head 2 Head, to OnDemand exclusive. Motor Trend dropped previews to Head 2 Head on its Youtube channel but only to increase viewership of its other shows on Motor Trend OnDemand.
Head 2 Head was also available on Amazon Prime Video, Apple TV, Hulu, and Netflix.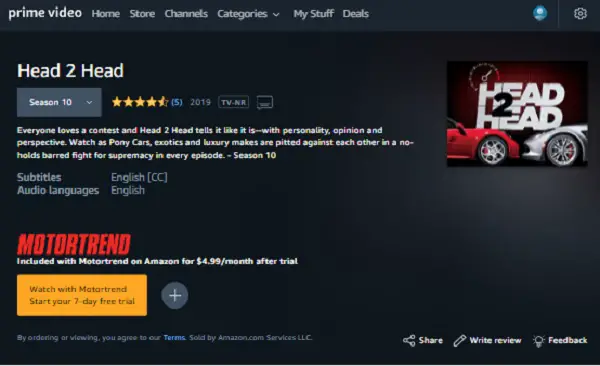 Sadly enough, after 10-seasons and 118 episodes, Motor Trend pulled the plug on Head 2 Head after the show's season finale on Christmas Eve.
What happened to Head 2 Head?
Earlier today (June 23,2021) former Head 2 Head host Johnny Lieberman was answering questions on Instagram and a lot of them asked, "What happened to Head 2 Head?" I've posted his responses below.
Basically, Head 2 Head's original Youtube fans did not make the jump from Youtube to MotorTrend OnDemand when Head 2 Head became an OnDemand exclusive series. While OnDemand is presumably an ongoing revenue stream success for MotorTrend, with very few people actually watching Head 2 Head's new episodes, there was no financial reason to keep it going.
When asked if Motor Trend would ever make a Youtube-only series for an 11th season, Lieberman said, "Only if we find a sponsor" Fiscally, that makes perfect sense.
While Lieberman says, "Youtube is a bad way to make money" it's only true if you're using a traditional, written series-approach which entails paying writers, editors, hosts, other video production members and other related expenses.
Youtube is still profitable for smaller content creators who employ a low overhead approach with little expense per video (e.g. cat videos, reaction to videos, Let's play, video game streaming etc.) It's why car youtubers like "The Smoking Tire" and "Doug Demuro" have found some success with point-and-shoot/ stick-on GoPros combined with " 'good enough' post production" Youtube videos.
Here's the only full episode of Head 2 Head on Youtube still available.
Based on the assumption that car videos make around $7-10 per 1000 views, if monetized, this Head 2 Head episode would only bring in, at best $3,000. That's hardly profitable for a 30-minute video considering you have to pay two salaried editors, production, postproduction and other pricey expenses.
With all that in mind and given Motor Trend's reputation, I don't see Motor Trend bringing back a cheaper, lesser version of Head 2 Head just for YouTube. If brought back, they'll, as Lieberman says, need a sponsor to make these now 30+ minute episodes financially reasonable.
The answer right now is, no, Head 2 Head is not coming back. But, it's definitely still on the table pending a sponsor.