Why spend 10 times more on a special AGM 12-volt when a regular 12-volt battery might do?
Since Toyota started making its best-selling Toyota Prius Hybrid, for whatever reason if the battery went dead, Prius owners shelled out at least $200 or more to replace the trunk-mounted AGM 12-Volt.
Embed from Getty Images
Since the battery is close to the passenger area, Toyota used a sealed, valve-regulated, recombinant AGM battery that doesn't leak fluid or vent under normal operation.Maintenance free AGM batteries mean worry free operations.
Contrast that to traditional lead-acid batteries vent trace amounts of possibly dangerous and toxic hydrogen and hydrogen sulfide.
But, can you technically fit a much cheaper 12-volt lead acid lawn mower battery, priced at around $30 if you choose this EverStart Lawn and Garden Battery from Wal-Mart?
Before we answer that, here's how the Prius actually uses its 12-volt auxiliary battery and some cheaper non-automotive AGM battery alternatives if you don't want to shell out for the correct AGM battery but don't necessarily want to experiment with 12-volt lawn mower batteries.
How the Toyota Prius uses its auxiliary 12-volt battery.
While the Toyota Prius has a small 12-volt battery in the trunk, it's the larger lithium-ion or nickel metal hybrid battery actually sending power and re-harvesting regen. The 12-volt auxiliary AGM battery powers on the on-board ECU and electronics which powers the larger hybrid battery. The larger hybrid battery powers a pair of electric motors which spins the engine crank, starting the gas engine on startup or out of EV mode.
Priuses technically do not have power hungry starter motors, the only job of the 12-volt being to wake up the ECU and hybrid battery. Despite that, the latest Toyota manual specifies AGM battery sized LN1 with 20 HR capacity (45 AH) and at least 295 CCA.
Cheaper non-automotive AGM alternatives
While you can certainly buy a Prius-specific AGM Battery from an Auto store like Napa, Autozone, O'Reillys, etc.(like some great AGM choices linked here via Prius Chat) here are a handful of non-automotive AGM alternatives that might open the door to other possibilities.
The cheap lawn mower battery option.
Threads on PriusChat like this one and this one say Prius owners can, and have, successfully used lawn mower batteries, priced as low as $30, incl. other 12-volt lead-acid batteries, in their Prius. Prius owners using this cheaper, lead acid battery have gone several years without a hiccup, the consensus being this method will last between 1-3 years.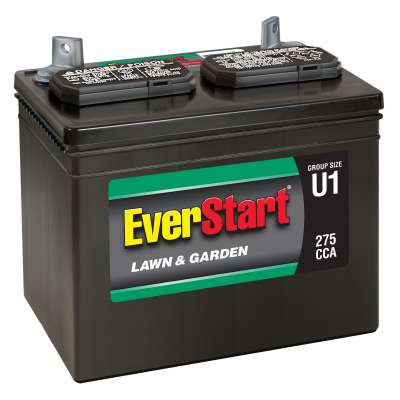 Since this cheaper method uses a lead acid battery, which is a potentially dangerous option in a passenger area, I can't recommend this as a permanent option. If you're really in a pinch and short on cash, I'd say get one of these lawn mower batteries as a temporary solution. Just crack a window to be on the safe side.
If you added a self-contained box around the battery with a vent tube venting outside of the Prius trunk (or into the wheel well) that would make it safer.
But, yes, you technically can use a Lawn Mower battery in your Prius to power on the ECU and Hybrid battery on startup.
Have you used a lawn mower battery in your Prius? Let me know in the comments below.