If he had any clue about cars, he'd know to avoid these in particular.
A Honda Civic Si owner in Dallas, Texas shared his POV video earlier this week (June 22, 2021) showing him detaining a car thief at gunpoint as police rush to the 7-11 off the 35 and Medical District Dr. where he's parked.
While it's a serious situation that thankfully ends with no one hurt, it has a hilarious twist, not only can this car thief not drive a stick, the car he targeted ONLY comes in manual.
The video of the confrontation is linked here.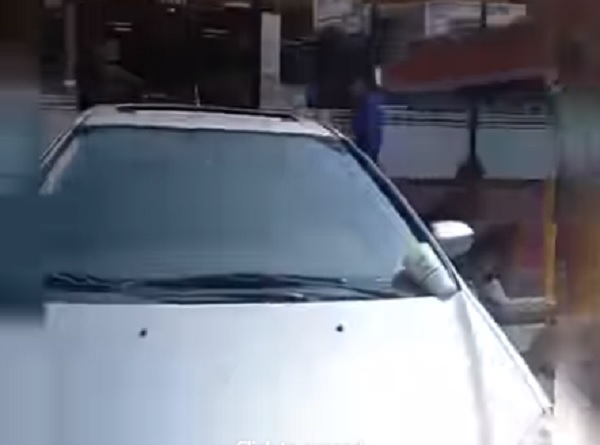 According to the Civic Si owner, he went into the 7-11 to get a drink and observed this man attempt to steal his car right in front of him.
"I went into the 7-11 to get me a drink. The only reason why I didn't cut my car off is because it's a stick. There's a little piece that broke off my clutch last night so when I push the clutch, it's not engaging to start the car. So, I gotta put my finger on and push the button and start it, so that's the only reason I didn't turn it off.
So I go in and get my drink. I walk up to the counter to pay and I see him. He walks around my car, gets in my car, trying to pull out! So, I saw him and I came out the store, drew my gun on him and told him to get out and get on the ground."
It's important to establish attempted grand theft auto because attempted petty theft and GTA carry different penalties.
The officer then asks,
"Do you think he was trying to get in your car to steal something, or do you think he was trying to steal your car?"
He responds,
"I saw him looking down, trying to see what to do (with the clutch and stick shift."
As any car nut knows, this 7th gen Honda Civic in Sport Injected (Si) trim was sold in 2002-2003 and ONLY came with a close ratio- 5-speed manual transmission.
It only gets worse for the car thief because Honda mounted the stick shift in the middle of the dash, rally style. It's convenient for driving enthusiasts but probably confused the heck out of him.
He couldn't have picked a worse car to target.