The ILX is due for a replacement and we now know it's not the new Integra.
Updated: Aug 13, 2021
Earlier last year, an Acura PowerPoint presentation was leaked with the brand's rough timeline through 2022. Gone was the ILX and in its place was a placeholder named "New Compact Sedan."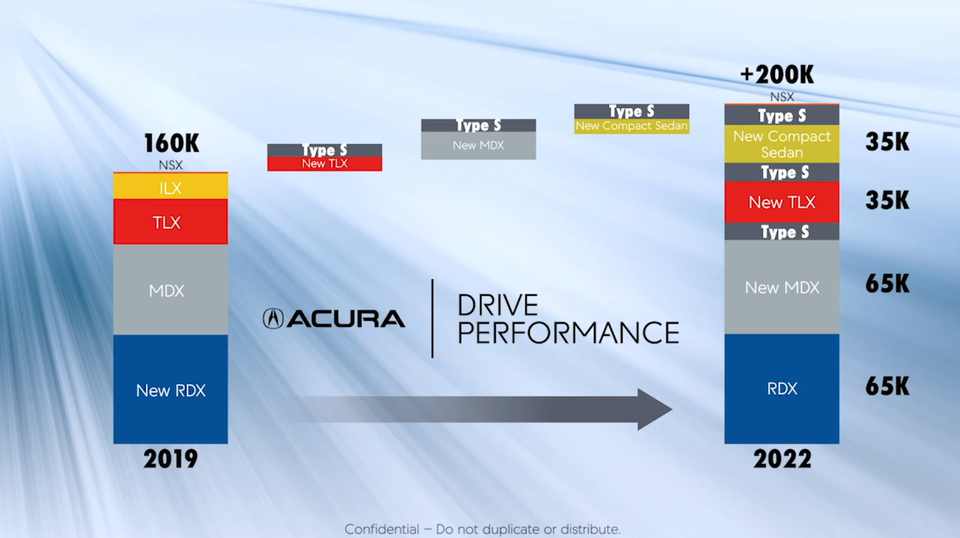 Although Acura excitedly announced the return of Integra, Jon Ikeda, Acura's Brand Chief, has confirmed the Integra isn't necessarily taking the ILX's place.
"The new Integra is not a replacement for the discontinued Acura ILX compact sedan, the brand chief says. But it is an addition to the existing lineup that does seem to fill the segment gap with a much more exciting entrant."
An Acura/Honda "insider" spilling the beans on an internal video he saw from Honda does have some preliminary information.
Here's what VTEC.Net member @TigerEyeJazz said on the matter,
"On a video someone who works at Honda MFG. stated that the Compact sedan is going through the factory testing the shell with the robotic mechanics in the plant. "
"It was stated that it was primarily doing the paint section and that no model has been fully built as of yet. That person stated that it looks really good and cannot wait till it gets revealed."
"Based on that the vehicle is being tested in the factory to prepare for the market, I suspect that the reveal will be at the end of the year. I would say we would see it testing in the coming months."
ILX sales numbers hint at strong demand for a premium compact sedan
If there's a time to drop a new compact premium sedan, these latest Acura ILX sales figures for June hint at strong demand.
The Acura ILX just had its second best sales month in the car's entire history with 2,093 ILXs leased and sold. ILX's record setting month was back in Nov 2012!
Here's the sales chart courtesy of GoodCarBadCar.
A mix of reasons explains this.
First, there are the current incentives tied to a good price. It's no surprise seeing competitive lease offers like $239/month for 36 months but 0 percent APR for 36 months financed or .9 percent APR for up to 60 months financed isn't too shabby.
Starting at $26,500, the ILX is a value-filled bargain with features, performance, and premium brand recognition its competitors find hard to match at that price point.
While many see Acura using Honda's 9th gen Civic Si as not being innovative enough in a supposed competitive market, Acura's turned this into a strength, addressing the ILXs weaknesses.
The 8-speed DCT is one of the best shifting automatics in its segment, the K24 engine delivers on performance and reliability, and the current Acura design language translates well since its latest facelift.
A value proposition backed by a literal excellent product means this new compact sedan will have large shoes to fill.
It also foreshadows what we can expect with the new compact sedan.
What the 2023 Acura"New Compact Sedan" will probably be.
Affordable, fast, and good styling. That's what we can expect from this new compact sedan.
Acura will discontinue the 2022 Acura ILX name, ushering in this new Compact Sedan. In an earlier thread on this new sedan, our previous insider stated, "Yeah, it's just not going to be called the ILX anymore."
Starting MSRP for the 2023 Acura "New Compact Sedan" will probably debut a hair under $30,000.
Just like the current ILX, I do expect Acura to take advantage of the 11th gen Civic's upgraded chassis.
Performance-wise, the ILX' s K24 four cylinder delivers 201 HP and 180 lb-ft. Acura might slip in its 1.5T Civic Si engine as its base or deliver an even more powerful K24 variant. I definitely see Acura giving the "New Compact Sedan" Type S the Accord's 2.0T.
As for styling, I fully expect Acura to draw inspiration heavily from its Precision Concept and all-new TLX.
Embed from Getty Images
The end of 2021 fast approaches and, once Acura finalizes its designs, we'll see spy shots soon enough. Only then can we accurately forecast what the new ILX replacement will look like.