Ford says you can't tow anything with a Mach-E and here's why.
We know Ford for its "Built Ford Tough" mission statement backed by rigorous performance testing and class leading capability. So, when Ford unveiled their all-electric Mustang Mach-E, future owners hankered at the chance to live that all-electric lifestyle &have the capabilities of a true SUV without having to go to that other EV brand.
But, with the Mustang Mach-E, owners, at the moment, can't have their cake and eat it too.
Ford explicitly states in the official Ford Mustang Mach-E owners manual (US Version) the Mustang Mach-E is not approved for trailer towing.
Here's what it looks like in the manual.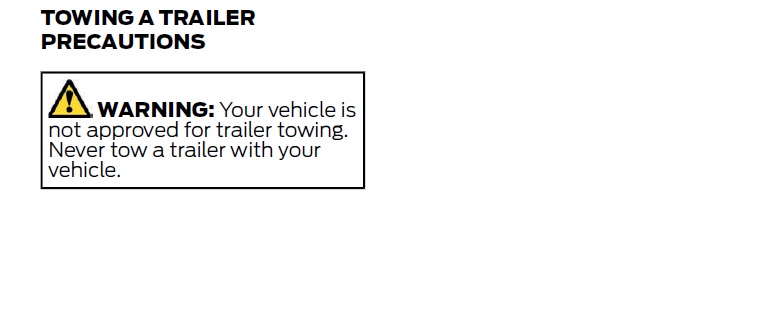 Why did Ford not give the Mach-E a maximum towing capacity?
Looking at Ford's lineup, the arguably less capable Ford Escape comes with a 1,500 pound towing capacity. Surely, the more powerful Mustang Mach-E can outperform a cheaper Ford Escape pulling a load.
What we know is in the United States, truck manufacturers use a standard called SAE J2807 to determine maximum trailer tow ratings. This test specifies how and how much a truck (or electric SUV) can be loaded.
J2807 determines, through a series of tests, if a vehicle can safely handle its maximum Gross Combined Weight Rating as determined by the manufacturer's engineers.
Tests include pulling a max-loaded trailer up a steep grade, acceleration, braking, and most importantly, control.
This test is specifically engineered as a standard for American towing characteristics defined by towing large loads at high highway speeds.
Ford presumably put their Mustang Mach-E through J2807 or ran it through a simulation of the test and determined they couldn't recommend a maximum tow rating sufficient for its target market without compromising on safety and its Built Ford Tough reputation.
But what about the Euro-spec Mustang Mach-E?
Pop on over to Ford's UK website, download their UK owners manual for the Mach-E and they give owners instructions on how to mount a trailer hitch with towing recommendations.
A Ford rep even states the UK-Spec Mustang Mach-E can tow up to 750 KG (1,653 pounds.) What gives?
Alex on Autos does a thorough explanation on the difference between US and UK tow ratings but, generally speaking, the UK and US have different standards determining maximum tow ratings.
A vehicle's maximum tow rating in the United States directly reflects our unique towing environment. Since a trailer in the United States is more likely to be traveling at higher speeds, the tow standard naturally limits how much weight a vehicle can actually tow before it becomes statistically unsafe.
Can you technically tow with your Mustang Mach-E
Knowing that UK Mustang Mach-E's can tow up to 1,653 pounds, what's stopping an owner in the United States from mounting a trailer hitch onto their own Mach-E?
Nothing, except the law.
According to Motor Trend's Bruce Smith,
"Causing a serious accident while towing beyond your manufacturer's requirements or limits is similar, as it opens the door for legal actions based on negligence against whoever is driving the tow vehicle. It's not a good situation to be facing, especially if you own a business."
Ford says the Mustang Mach-E has no approved limit so, if you do chance it, you'll be held legally negligent if you cause or are involved in any type of accident.
Ford may, in future model years, release a Mustang Mach-E with a tow rating for the United States but, right now, there is none.