If you're looking for reliable performance at a fraction of the cost, look no further.
Vercelli Tires are fairly new to the American market and, despite that, have already established itself as a go-to for affordable tires that deliver Tier 1 and Tier 2 tire performance.
Vercelli Tires are made in Thailand and are owned and distributed by American Omni Tires based out of Katy, Texas. Other American Omni Tire brands include Thunderer, Americus, Venezia, Deestone, and Crop Max.
Vercelli Tires has a fairly small tire lineup but they are quickly expanding to All Terrain and off-road tires soon.
Here's Vercelli's current lineup
Strada 1- All-season grand touring tire- 60K limited protection policy warranty
Strada II- Performance All-Seaosn tire – 45K limited protection policy warranty
Strada IV- Performance SUV and truck tire- 45K mile limited protection policy warranty
Classic 787- All-season white sidewall tire- 25/365 Free replacement limited protection policy warranty
Terreno M/T- Off-road performance tire- 25/365 Free replacement limited protection policy warranty
Pros
After reading several Vercelli Tire reviews on their most popular models, there are several pros worth pointing out.
First, almost all Vercelli Tire reviews say, despite the price, Vercelli Tires exceed expectations in performance, grip, noise, wet-weather handling, and overall value.
Several tire reviews mention how they like the sidewall look and tread design, a subjective point but important to some car owners who might install these tires on performance-oriented cars and SUVs. A good sidewall design can make or break a tire and wheel combo.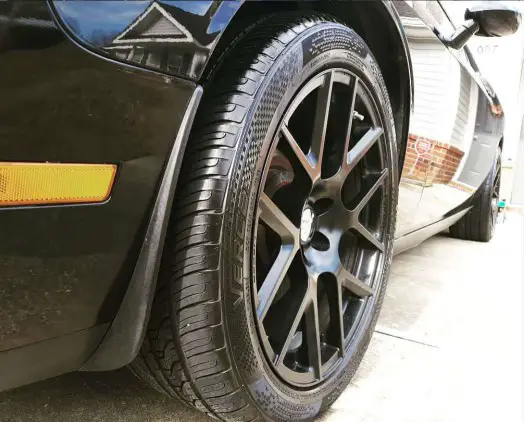 The largest pro is value. The most popular tire, the Vercelli Strada II in 245/45/20 comes in under $100 at Walmart. Compare that to Continental Extreme Contacts for $215, Goodyear Eagle RSs for $282 or Falken Pro G5 Sports for $182. Vercellis are literally half the price.
Cons
A handful of Vercelli Tire reviews update their experience after several thousand miles and report, around 15,000-25,000 miles, Vercellis become noticeably harder and noisier.
In addition, several reviews mention, if not properly maintained with correct pressures and rotations, they do not last as long as the warranty hints at.
How are Vercelli Tires in wet weather performance?
Most reviews of Vercelli Tires mentioning rain all say handling is more than adequate, delivering good wet weather performance.
A Mazda RX-8 owner on VW Vortex.com notably installed a set of Strada IIs, performed two panic stops at 45 MPH on wet and rainy roads and reports,
"They (Strada IIs) didn't even engage ABS. All I can say is with 1,500 miles, nobody driving this car would guess the tires were cheap."
What's the warranty like with Vercelli Tires?
Warranty information linked here.
All Vercelli Tires come with a 25/365 Free replacement limited protection policy and most also come with a mileage coverage plan.
Basically, the 25/365 limited protection policy means Vercelli will replace your tires during the first 25 percent of usable treadwear or after one year from the date of purchase (which ever comes first), no questions asked, if one becomes unserviceable because of defective workmanship, materials road hazard or other condition.
Limitations apply (listed on their warranty page.)
This is peace of mind considering, for example, if you run over a piece of metal, severely gashing your tires wide open beyond a simple patch repair, Vercelli will reimburse you the cost of that tire.
Here's Vercelli's Limited Mileage warranty. Keep in mind, you must keep documentation of tire rotations presumably at a Vercelli tire dealer or at your dealership.
Should I buy Vercelli Tires?
Many Vercelli Tire buyers mention buying them as cheap replacements to get by but end up liking them so much, they keep them on for longer than expected.
With that in mind, yes, you should buy Vercelli Tires, feeling confident these will be a suitable replacement for your OEM tires.
On the flip side, if you're selling a car and are looking for a set of tires to replace your worn-out ones, Vercellis are a guilt-free choice.
You can confidently swap Vercellis in without that scummy feeling you just threw on whatever's the cheapest with no regard for the new owner's experience.
Sources-
Walmart.com
Amazon.com
VWVortex
Vercelli Instagram
Vercelli Facebook