San Diego police and fire are actively investigating the situation.
A San Diego resident who goes by Mervyn or @Mervynnf on Instagram is currently in the middle of an investigation to find out who set his 1990 Nissan 240SX hatchback on fire while parked in front of his house (Sept. 16, 2021.)
His brother maintains he knows who the responsible party is.
Video evidence obtained from his house's security camera, including footage submitted to San Diego police and fire, shows a hooded figure approaching his 1990 Nissan 240SX around 2:40 A.M., pouring gasoline on his tarp-covered hatch, and setting it on fire before escaping.
Despite several attempts from a helpful neighbor (who incidentally is a fire extinguisher salesman) to extinguish the flames with at last 10 fire extinguishers, most of the Nissan 240SX was burned and badly damaged.
Here's security camera footage of the car being set on fire.
And here's aftermath footage shot by local 619 News Media.
Alleged retaliation over a nasty breakup
Since this story's gone viral it's been revealed an ex-girlfriend connected to this 1990 Nissan 240SX is TikTok content creator and Twitch Streamer Emmi Xi aka Mandy Xiao or @IAmEmXi across most social media platforms.
In 619 News Media's post above, the channel owner says, "
The homeowner stated he suspects an ex-girlfriend is responsible for the fire. The owner stated he lent the vehicle to her, and recently broke up (with his brother.)
Supposedly Mervyn, the owner of the Nissan 240SX, allowed Xi, his brother's girlfriend at the time, access to his Nissan 240SX for video content.
Several of Xi video's featuring the 240SX in question are still up on social media.
This one has over 3M views.
The oldest video is from February 22, 2021.
Shortly after the breakup and possibly in retaliation over another separate alleged incident (see below,) Melvyn maintains Xi is the responsible party behind his brother's burned 1990 Nissan 240SX.
Further down in 619 News Media's video, this update is provided.
The ex reached out via DM and stated she was in LA at the time.
Mervyn's friends have set up a Go Fund Me to both cover legal fees and to begin restoration of his burned, but still salvageable, Nissan 240SX.
Here's how the burned and recovered Nissan 240SX currently looks.
Emmi Xi alleges domestic partner and ex-boyfriend stole $45,000 worth of property from her apartment
In a connected incident, Xi alleges (not proven) Melvyn, her ex and live-in domestic partner at the time, is responsible for $45,000 in stolen property from her apartment.
I got everything in my apartment in San Diego stolen by someone I trusted to stay in my home while I was in Los Angeles from 9/5/21—9/8/21.
In her Facebook post Xi confirms that "someone" is her ex.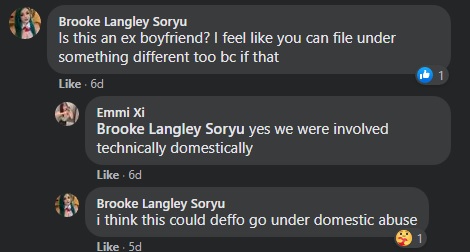 He has also stolen my cats, Momo, Mimi, and their newborn kittens who are my companions I hold very dearly to my heart. All of these items listed and reported to the police is valued at approximately $45,000.
I have receipts to all of these items and they will be shown in my story highlights. I have already filed a police report and a restraining order. Since I let this person stay in my home, renter's insurance does not cover any stolen items (as this is their policy.)
Interestingly enough, listed in items stolen is a title for a Nissan 240SX for $10,000.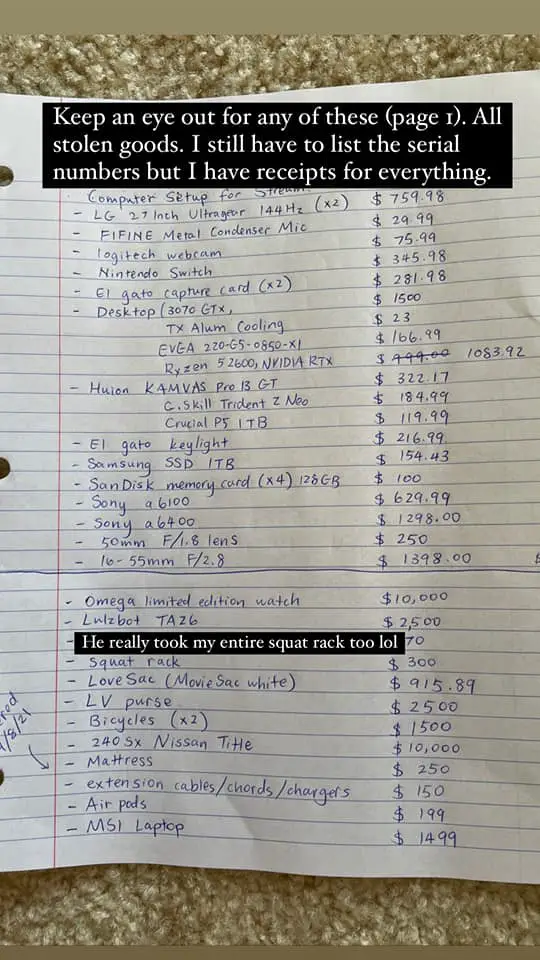 Xi alleges her ex took the title to transfer it to his name and change its color.
So far over $4,500 has been donated to Xi towards a $45,000 goal.
A lot to sort out
This is truly a messy situation.
With multiple cameras catching the arson suspect's vehicle driving by, I'm confident there's enough evidence to find the responsible party.
While there's no concrete evidence as of this writing, if we take Melvyn's allegations into consideration, with Xi's history with the car and a breakup, Xi certainly has motive.
Then again, if Xi is the actual owner of the Nissan 240, as having possession of the car's title implicates, it's illogical to then burn your own property, setting yourself up for possible insurance fraud.
Details of both cases are now in the hands of the authorities and I'll update this blog post as I find out more information.
What do you think happened? Let me know in the comments below.