Here's why you probably can bring that rare and hard to find car part along with you on your flight home.
Imagine you're flying home for Thanksgiving and, after all the Black Friday shopping, you and the old man hit up Pick-n-Pull for the half off deals.
You spy a Honda Civic that just arrived on the lot with some uncommon Function and Form Type 1 Coilovers. You know if you don't get them now, someone else will.
But can you bring them home with you on your flight back to Colorado Springs?
Yes, you can bring car parts as part of your checked or carry-on baggage on domestic and most international flights as long as the parts are within the guidelines of the airlines regulations for baggage weight and size limits.
Flying with car parts on Domestic flights.
Checked and carry-on baggage is subject to inspection by the TSA. The TSA actually explicitly says they allow car parts given a handful of stipulations.

First, car parts must be free of traces of gas or oil, which means you probably should thoroughly clean any car parts that have fuel or oil residue to increase your chances of a smooth check-in.
Although TSA says "car engine parts may be placed in checked bags only if the parts are packed in their original box and free of gasoline and oil" I've come across multiple instances where car engine parts weren't packed in their original box but had traces of gas and oil still on it and made it onto Domestic flights, no problem.
Jalopnik's David Tracy did the motoring world a solid and proved that, among the 120 pounds of car tools and parts he packed, the power steering fluid-soaked steering box wrapped in what looks like saran wrap made it through TSA just fine.
For example, if you'd like to haul car parts with you on Delta you're allowed two checked in bags, individual weight of each bag under 50 pounds each and one free carry-on that has to fit in overhead storage, no weight limitations.
Checked bags must not exceed 62 inches (totalling length+width+height.)
Depending on the airline, you can, for an extra fee, carry multiple bags, oversized and overweight too.
Delta, for example, allows up to 10 bags per passenger, each up to 100 pounds and combined linear inches up to 80 inches.
You will, of course, have to pony up the hefty fees attached to carrying above and beyond what's normally allowed.
Keeping the extra fees in mind, it's probably cheaper to arrange shipping or air freight for oversized and overweight items like wheels, bumpers and exhaust components, but, if urgency is of the essence and you're willing to pay, it's possible to fly home with big car parts.
Flying with car parts on International flights (like Japan)
Although Japan Airlines (JAL) does not explicitly say you can't bring car parts as part of your checked baggage and carry-on, they don't say car parts are prohibited either.
Americans have a long history of visiting Japan, raiding the local Super Autobacs and junkyards for rare parts and somehow flying home with inconceivably more than the rules allowed.
As a rough-and-ready guide, JAL allows, for free, one checked bag and one carry-on. The checked bag must weigh up to 45 pounds and measure within 60cm x 50 cm x 120 cm. The carry-on must weigh up to 22 pounds and fit within certain parameters depending on the number of seats. Carry ons on larger planes with over 100 seats must not exceed 115 cm (total linear combined L+W+H.)
Just like Delta, depending on if you fly economy or better than Business class, you can check in up to 10 total bags, all or some overweight or oversized subject to extra fees.
Can I bring a long block like this K-series engine from Japan as checked luggage?
It's possible to fly home with an entire engine, long block, and short block as long as it fits within the parameters of checked luggage.
Ford famously flew from Detroit to L.A. in 2012 and checked in their 1.0L Ecoboost short block as a carry-on.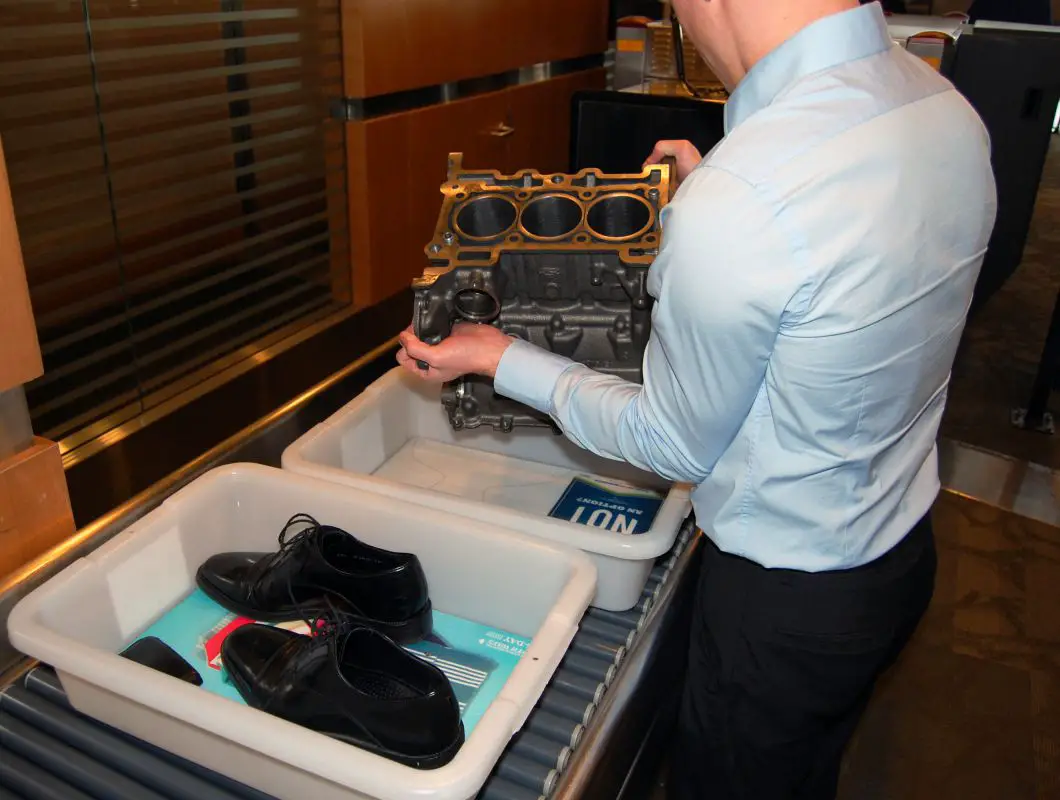 Which brings me to this viral photo which inspired this blog post.
Guy straight up brought a k motor as his carry on item pic.twitter.com/xFtqv3x2w4

— foxy (@vaspiar) October 7, 2021
Considering everything I mentioned, while a full K-series long block might fit within the parameters of an airline's oversized checked luggage parameters, I doubt it was light enough to allow on.
K-series long blocks weigh around 200 pounds. I don't know any airline, Japan Airlines included, that allows a piece of checked luggage above 100 pounds.
It's probably not possible to fly home from Japan with a K-series long block.
My guess is this K-series long block was tagged as overweight and left up to the owner to arrange sea or air freight on the spot or by the airline once he got home.