These optional aero wheels boasted 5 percent more range at the expense of looking bargain basement
A recent post from a member of the "Base Models only" Facebook group claimed to have spotted a Tesla Model S with what he thought were optional hubcaps on an entry level Model S.
Here's the photo in question.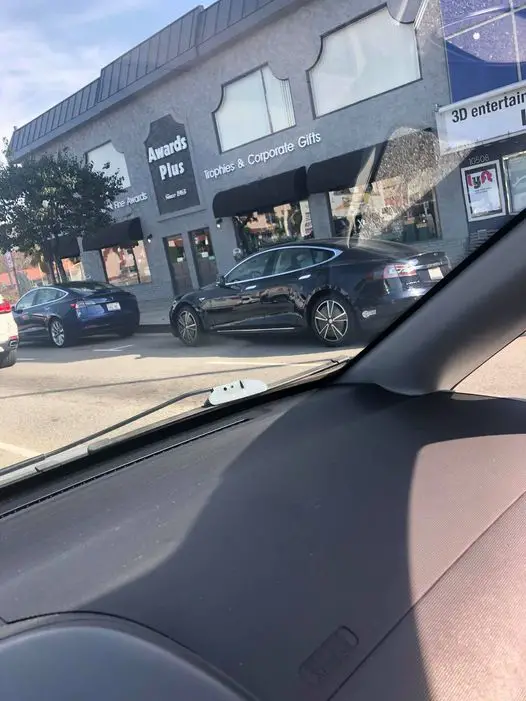 From 20 feet away, it sure looks like this Tesla has hubcaps.
While the Tesla Model 3 popularized the aerodynamic wheel (hubcap on alloy) on a Tesla product, it was not the first time Tesla offered an aerodynamic wheel. Tesla actually first offered an optional 19″ aero wheel for the first gen Tesla Model S.
So, what this person spotted was a rare optional wheel offered by Tesla for less than two years before they were quickly discontinued because of little demand.
That means when you do spot a set in the wild, they're on model year 2012-2014 Tesla Model Ss.
Here are a handful of Tesla Model S aero wheel sightings.
The original Tesla Model S aero wheels were pretty cool as well. pic.twitter.com/9AifPLfo5v

— Sofiaan Fraval (@Sofiaan) July 30, 2019
Tesla Aero Wheel
Here's what the original base wheels looked like as seen on this charging Model S.
Embed from Getty Images
According to Tesla even before the Model S went on sale,
"Aerodynamic 19" wheels are designed to reduce wind resistance. Disc-like in shape, they channel air along the sides of the vehicle and can add up to 5% range during highway driving."
Without aero wheels, depending on what battery size you optioned, ranges for the original Model S where between 208-265 miles. With these optional aero wheels, with aggressive regen, and with an economy driving style, 300 miles range was well within reach.
And disc-like is an understatement. Because EVs use regenerative braking, cooling a Teslas large brake calipers are not a priority. To better smooth air flowing past a rapidly rotating wheel, channeling air alongside the Model S, an aero wheel can have a near closed-wheel design.
The problem was, despite all the incentives, early Tesla Model S owners were financing north of $60,000. The stock 19 inch wheels already looked great. Why would a Tesla Model S owner spending so much on a premium car option even more expensive wheels for a slight efficiency gain at the expense of downgrading overall looks?
Tesla Model S buyers made their preferences known, hardly anyone ever optioning for these optional aero wheels.
It's believed only a couple hundred aero sets were actually sold so, coming across a set of aero wheels in the wild is worth snapping a photo.
Tesla Model S aero wheel content is scarce. Thankfully there are a dedicated bunch of owners, like Youtuber and Tesla Aero wheel owner KManAuto with a handful of videos, documenting his aero wheel upgrade.
"I noticed an improvement right off the bat in energy consumption," KmanAuto says
"On my longer drives this weekend, it was an average savings of 30 watts a mile (30 watts per mile hour.) That is no chump change. And they look better than I was expecting on my car."
Considering a Tesla Model S with an 85 kWh battery pack consumes about 320 watts per mile hour, 30 watts savings is better than Tesla's 5 percent claim with close to 10 percent improved efficiency.
Not bad.
The much maligned aero wheel, while it delivered on performance, is known today more for its hubcap-like looks over functionality.
Because of that, its existence and fanbase comes from Tesla owners who value efficiency above all else.
Only after years of being discontinued are they now appreciated for what they are, a truly functional aero wheel from the early days of the Model S for the early adopter who didn't care about looks as being the most efficient pioneering owner.