Looking for a gift for a car enthusiast who likes Crocs that can take a joke?
Scrolling through my friend's Instagram stories and I came across what literally is a wing on a pair of pink Crocs.
Check out what I saw on Instagram below.
F it. Spoilers on crocs pic.twitter.com/2PYBbIUL8r

— TireMeetsRoad.com (@TireMeetsRoad_) November 6, 2021
A quick google search reveals that, not only can you buy a pair of car wings for your Crocs online, you can print yourself a pair for free.
Click here for the 3D printer files.
According to 3D Printing Community Prusa Printers member PixelWave ,the RC Car Spoiler on Croc Shoes is free to print (if you have a 3D printer, ) has a Creative Commons license, and is approved for commercial use.
Presumably that means if you wanted to start printing and selling spoilers for your Crocs on the side, you can.
Apparently the Crocs wings are a remixed design combining an earlier 3D model of an RC Car Spoiler by Thingverse community member "Jarlipyan" and a croc mount.
There are two parts, a mount and wing, that are printed separately and glued together to make one Crocs wing.
If you don't have a 3D printer, you might have a friend or someone who lives nearby who does.
A quick google search where you live might bring up some community 3D printers. I know there's one at my local community college available for rent, probably collecting dust.
As mentioned, there are a handful on Etsy and even Amazon for you to straight up buy.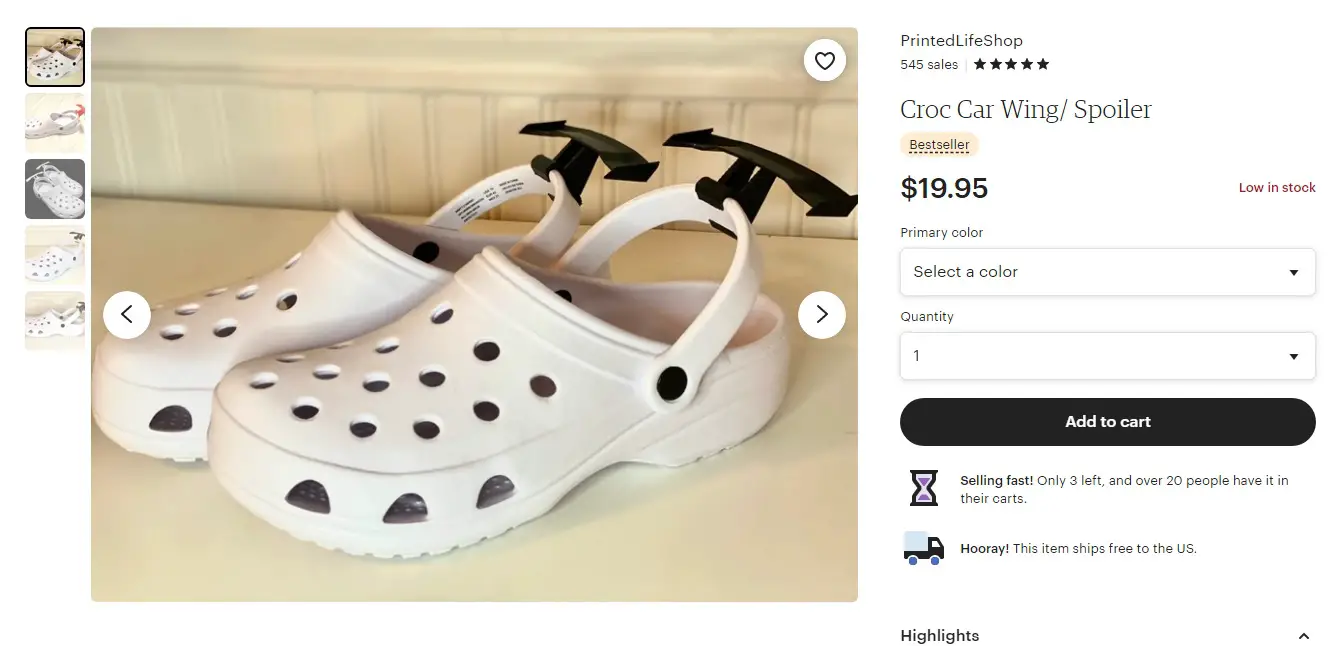 The only problem you might come up against is actually using the wings with your Crocs. At first glance, it looks like the mount might dig into your heel.
Regardless, they look cool just sitting there.
It's worth noting that, although they're advertised as Crocs spoilers, since they are inverted, mountable wings, they're technically wings, not spoilers.
Spoilers on your Crocs is one of those ridiculous Crocs charms that serve no other purpose but to confuse your friends and put a smile on your face every time you see them.
And for that, it's the perfect gift for that Crocs lover in your life or for yourself.
A car wing on your Crocs?
Why not!