Thankfully, both driver and passenger weren't hit.
Bay Area resident Garrett Mason released dash cam footage earlier today (July 6, 2022) showing the terrifying moment a bullet from a freeway shootout between two other cars entered and exited his vehicle as he drove with his fiancée on the Oakland Freeway.
Check out their newly released dash cam footage for yourself below.
" A few weeks ago, Tina and I were caught between a two-car shootout on the 580 freeway, Garrett describes on Instagram. "A stray bullet entered through the passenger side front windshield and exited the back window. Miraculously, we escaped the situation with only minor cuts from the shattered glass."
A photo shared by Mason on the aforementioned Instagram post shows just how close the bullet came to hitting either of them.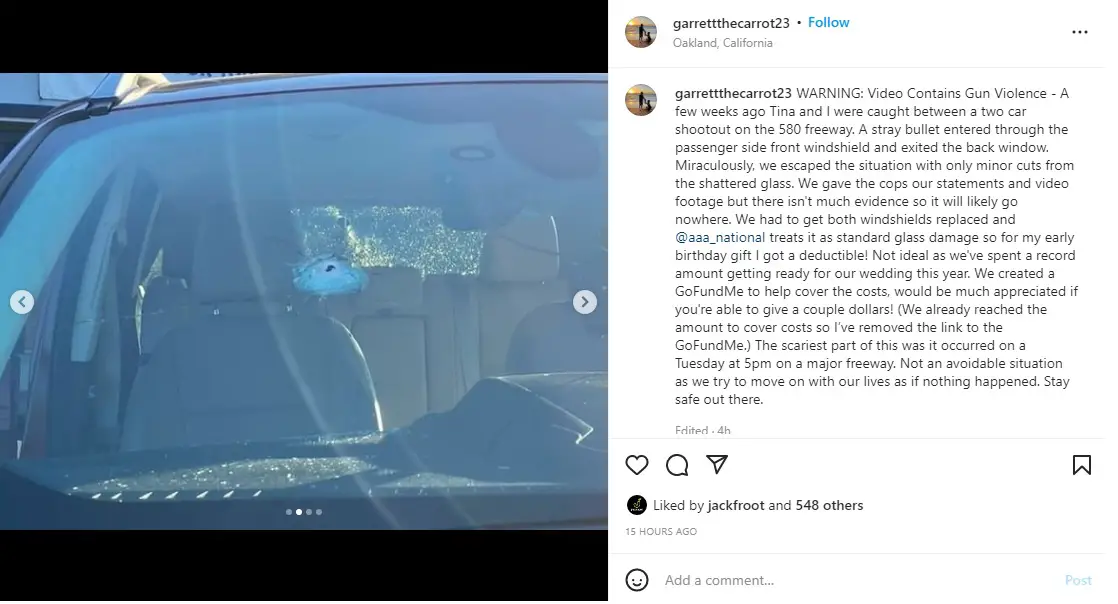 "We gave the cops our statements and video footage but there isn't much evidence so it will likely go nowhere," Garrett continues.
A quick search on Google doesn't bring up any reports of a freeway shooting that day so, perhaps this was an isolated incident that didn't gain the attention of other major news outlets. (…yet.)
Garrett goes on to mention that, while his insurance (AAA) covered most of the cost of replacing his windshield and back glass, he was left with a deductible.
Garrett started a Go Fund Me but, as of this writing and as mentioned, it's already closed as he already reached his goal.
The 580 Oakland Freeway is notorious for freeway shootings.
According to ABC 7's report on how deadly California freeway are, out of the 215 freeway shootings in California between 2018 through March of 2022,
"… the I-Team found the interstates with the most shootings reported are I-580, I-80, I-880, I-680, and I-280. 79 shootings were reported on these freeways during the past four years."
It happens so often that NBC Bay Area has a dedicated tag for freeway shooting stories (tag linked here.)
"The scariest part of this was it occurred on a Tuesday at 5pm on a major freeway, Garrett concludes. "Not an avoidable situation as we try to move on with our lives as if nothing happened. Stay safe out there."