Why you should feel confident buying Accelera tires.
website: www.acceleratire.com
Shopping for OEM tire replacements online or at a local tire shop and you'll probably come across Accelera Tires, a tire company with a catchy name with little to no brand recognition in the United States.
You'll be happy to learn Accelera Tires isn't one of those new, boutique tire brands made by some other overseas company but, are in fact, its own independent tire company with an extensive history and a tire lineup that can compete with those other so-called premium brands.
Here's everything you need to know about Accelera tires and if they live up to the hype despite its value level price point.
History
Accelera tires is owned by PT. Elangperdana Tyre Industry or (EP Tyres for short,) an Indonesian-based tire company that started making tires in 1997 (that's 25 years in business as of 2022.)
EP Tyres branched out introducing its Accelera brand of tires in 2007, a brand name famous for making Indonesia's first tire rated at 186+ MPH.
EP Tyres quickly registered the Accelera tire brand name in the United States that same year and presumably started importing Accelera tires to wholesalers which, shortly after, made their way to independent tire shops across the United States.
EP Tyres also owns the Forcuem tire brand.
Accelera Tires are made in Indonesia.
Check out this tire sticker as proof.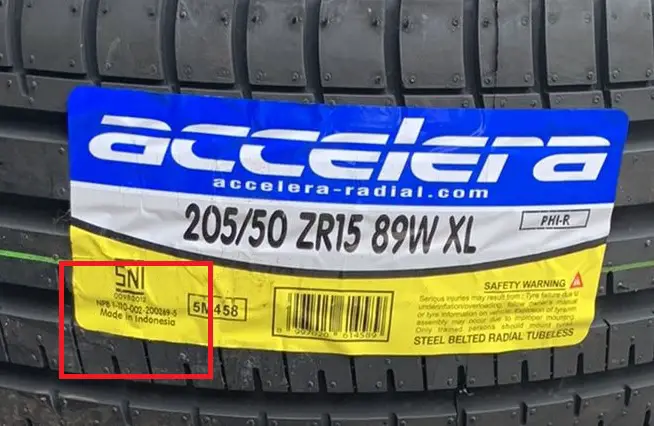 Accelera tires has more than 20 different tire models to meet the tire needs of their primarily South East Asian consumers.
Browsing online, the most popular Accelera Tires bought by American consumers seem to be the Accelera PHI R, their up to date Ultra High Performance Tire, and the Omikron AT, Acceleras All-Terrain option.
Seeing how UHPs wear out quickly and the rise in popularity of the AT tire for the proportionaly dominanty crossover and SUV market here in the States, that makes sense.
These two tires will also be the basis of my opinion of Accelera tires as a whole.
So, are Accelera tires any good? Let's get into it.
Pros
Affordable
The most popular make and model of Accelera on Walmart is the Accelera Phi-R in 245 50 R17, priced at 106.93 a tire, it's fairly affordable compared to Tier 1 and Tier 2 tire options in that size.
Head over to tirerack.com, search for the same size, and sort by price and the most affordable option, Sumitomo HTR A/S P03s cost 158.99 each.
Accelera Phi-Rs are a 2/3s the price of the most affordable UHP. If you're on a budget, that's the difference between buying a full set or a full set and two spares.
The same line of logic for pricing goes for the rest of their tire lineup, Acceleras are around 33% less expensive compared to traditional value brands with brand recognition.
Delivers above & beyond what people normally expect out of a value tire.
An affordable tire is no good if it doesn't deliver on its promises (e.g. an all-season no good in the rain or a UHP tire with no grip when it counts.)
However, reading through dozens of Accelera tire reviews, many Accelera buyers are happy with the amount of performance they get for the price.
Take Accelera's Phi-R tire, a UHP that purports to deliver all-season performance.
"This model offers excellent all weather road grip and its traction is superb in dry, wet and winter weather," Accelera's description reads for the Phi R, a tall order for any UHP.
Priority Tire seems to be the online store with the most Phi R reviews and, based on the over 100+ reviews, Phi R buyers love them.
"For a middle of the road low priced tire they're not bad," says a four star reviewer named Roberto T. "No discernable road noise either. On a scale of 1 to 10 I'd give them a 6."
"Great substitute for my high performance and high dollar factory OEM equipment," says five star reviewer named Kerry H.
It's a similar story for Accelera's Omikron AT. All Terrain tires, by their very nature, are one of the most difficult tires for a manufactuer to get right, they have to perform well off and on-road while delivering acceptable levels of NVH (noise, vibration, and harshness) driving around town.
That said, most reviewers of the Omikron AT are happy with the off and on-road performance they get.
"These are very good for the cost, and ride soft enough., says a four star reviewer named Jason S. "The tread is really good for some mud, not sure how much it can take yet, but they seem really good."
"The best value I've seen on 10 ply tires of this size," says five star reviewer Scott C.
A fairly comprehensive warranty
A red flag for a value brand is no tire warranty but Accelera tires, thankfully, has a fairly comprehensive one.
All Accelera tires carry a five year limited warranty that covers workmanship and materials issues and most of their tires sold in the United States offer some kind of mileage warranty
Their Phi Rs, for example, are warrantied up to 30,000 miles.
Here's a table of what models have a mileage warranty and for how long below.
Making a claim might be a challenge as, according to their dealer locater, there aren't many in the United States, not to mention few, if any, in major metropolitan areas.
That isn't to say making a mileage warranty claim is impossible, it's just seems difficult.
Shoppers buying Accelera tires online might be stuck with whatever warranty the site gives you, which often amounts to a 90-day return policy if not mounted or used.
Cons
The only con worth writing about is that I haven't come across any reviews about how their Accelera tires did better than or outperformed their what originally came on their cars.
Acceleras are very much a value brand that, at best, probably delivery up to 80% of what a premium tire brand can deliver.
Acclera tires, despite making tires for closing in on three decades, is still a new tire company with listed technologies that read like a lot of other value tire brands.
When you buy Accelera tires, I wouldn't expect Continental or Pirelli levels of performance.
However, I doubt you won't be disappointed, either.
Relevant videos
Conclusion
Accelera tires are a good, value tire brand made in Indonesia that delivers on advertised performance at a fraction of the price.
If you're on a budget or are on the fence on a brand you haven't heard of, I have no reservations recommending Accelera tires for your next set of replacements.