It may be tiny, but it seats four and you probably can't outrun one.
Earlier last week the Little Rock Police Department posted an update on their recent, "Chatting with Our Police and Emergency Services Appreciation Day."
While the day was a success, one photo in particular in their gallery went absolutely viral, a shot of one of their officer's standing next to their pint-sized electric vehicle used to patrol the local Riverfront Park and River Market.
The photo even garnered a handful of articles from local news outlets across the United States (linked here and here) prompting LRPD to post a highlight video showcasing their unique patrol car.
Here's that photo and update video below.
At the time of this writing, their photo's been shared over 80,000 times, the photo boasting over 55,000 comments.
Here's everything I could find about LRPD's unique patrol EV.
Their small, four-seater patrol EV is called a Revolution Security Cart and it's sold by the Evolution Electric Vehicle Company based out of Ocala, FL.
The Revolution comes in five configurations for different purposes, the Cargo 1000's bed, for example, is rated (as its name suggests) for up to 1,000 pounds.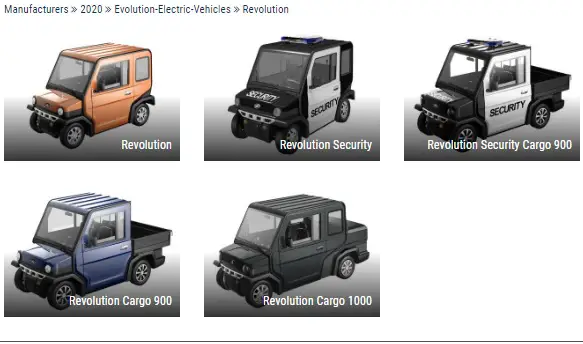 If the Revolution Evolution looks a lot like those electric golf carts from China, you're pretty much bang on.
As one of the largest suppliers of golf carts and small transport vehicles since the mid-2000s in the United States, there's a good chance you've ridden on or seen an HDK cart without even knowing it.
According to a KARK, LRPD bought their Revolution Evolution in 2018 for around $9,000.
Even though it's priced half of what a car would cost, these Utili-carts at least come with power windows, FM radio with MP3, Air conditioning and heating, and adjustable seats.
Security configuration means Little Rock's Revolution is equipped with lights and sirens.
And yes, it's a four-seater, but don't expect to be comfortable for too long in that cramped, rear bench.
As stated in their interviews, the LRPD Revolution Evolution has a top speed of 25 MPH and can easily reach that top speed in as little as 8.5 seconds.
If you think you can outrun this little EV, the average person can sprint up to 15 MPH and NCAA D1 sprinters average around 26 MPH in the 100 Meter sprint,
So, if you're faster than a collegiate runner, maybe you have a chance on foot.
That speed is courtesy of a "4.0 kw AC motor paired with a 300-amp Curtis programmable controller and features regenerative braking." (source)
Evolution Revolution's boast a range between 62-75 miles thanks to AGM lead acid battery technology as opposed to traditional deep-cycle lead acids (found in older model golf carts.)
As this Evolution Revolution's beat is mainly Riverfront Park, a stretch of Little Rock only 11 blocks long, that range is more than enough.
While tiny, mostly silent, and not as "aggressive" as a traditional police interceptor, this Evolution Revolution patrol car's mission is every bit as serious.