Before you make the mistake of doing business with Croooober UpGarage over Instagram, check what account you're talking to.
Croooober Upgarage, the US-based branch of Japan's largest online marketplace for JDM parts, announced on its new (temporary) Instagram that its original account with over 52,600 followers, is not only hacked, but the hacked account is also scamming followers.
Their original, now hacked account was @croooober_up_garage before the hackers changed it to @croooober_upgarage_
The new, not hacked account is @croooober_upgarage.
As of this writing, the hacked account has an extra colon after upgarage while the now real account does not.
As you can see in their updates and screenshots of their stories below, whoever took over their Instagram account uploaded their own posts with items for sale for unbelievable prices meant to trap followers who don't yet know they're not actually interacting with the real Croooober UpGarage.
In this hacked Instagram story post, they're offering global shipping at a discount, something to bait their victims.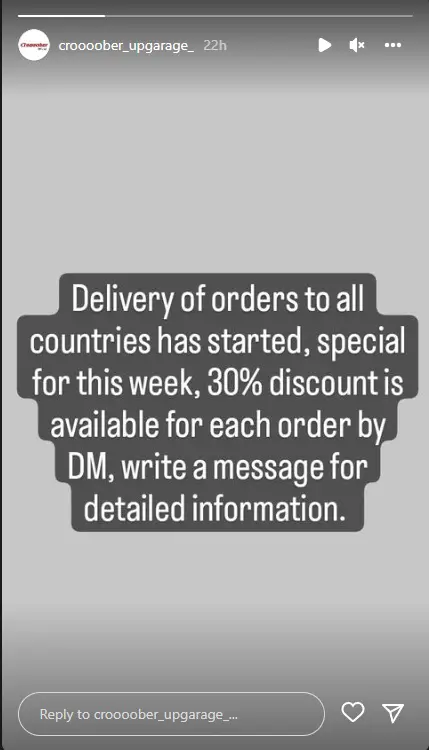 The hackers, their victims soon find out, are told to pay through crypto to further hide their identity since their victims will soon find out they've been scammed.
It also looks like the hackers are trying to extort money, asking Croooober UpGarage management for payment to get their account back.
According to their official notices, this has been an ongoing issue since the beginning of July, only now, the malicious account holders are actively scamming.
Hopefully this gets resolved sooner rather than later as these hackers are clearly playing a numbers game, out of 52,600+ followers, their are, unfortunately, bound to be a handful of victims who'll fall prey to their bait posts.
And if you yourself or a business you work for with an Instagram account has been lagging on updating your password from "PASSWORD," it would behoove you to read what Instagram has to say on security tips and take Crooober UpGarage's plight as a cautionary tale.