No injuries reported except for one damaged Silverado hood.
You never expect your multi-year build to get damaged at a car show while parked, sitting completely still, yet, that's exactly what happened.
Perennial favorite to SEMA's Hoonigan BurnYard, the Bros Automotive Detail Center's 1000 HP Dodge Demon Taxi, blew a tire seconds into their exhibition burnout which sent a whole entire tire carcass flying through the air, eventually landing on a show truck parked hundreds of feet away.
Check out several spectator videos of the destruction below.
Demon's pack 808 HP from the factory but, thanks to nitrous, apparently this Demon Taxi is capable of 1,000 HP pulls.
With that much power going to the ground, especially if, like these Demons, you have an open-diff setup, since all that power can go to one wheel, good tires are key.
Rumor is this Demon was running on some old a** tires, allegedly 20-year-old Yokohamas.

When confronted with these comments on Instagram, BrosDemon didn't exactly deny this was the case.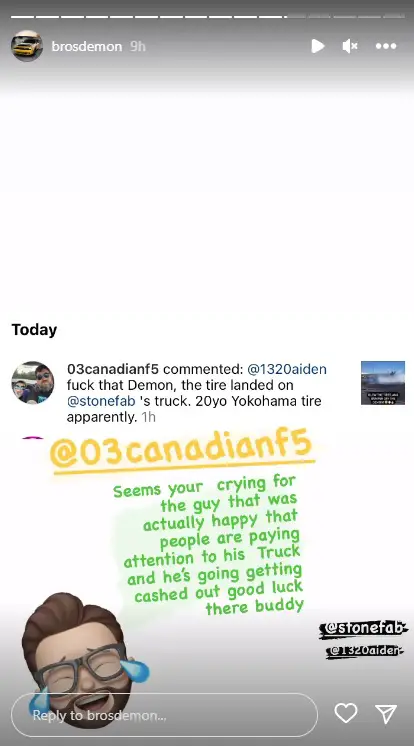 Regardless, the tire does pop sending the entire tire carcass over the crowd.
According to Bros Demon, "You can hear my axle snap."
The truck his exploded tire hits is a 2000 Chevrolet Silverado Street truck owned by Washington resident Kennan Damery, his multi-year build recently featured on Street Trucks Magazine.
You can see the full extent of the damage on his truck on his Instagram post which amounted to a scuffed up roof and a severely dented and damaged hood.
"The Hoonigans burnout pit was a success……for some," his caption reads. "Me, not so much!"
As mentioned, no one was hurt, but, someone definitely could have.
As for BrosDemon, his Instagram posts were not as apologetic as some might've hoped.
"Drove from Vegas to LA, no issues. For all my haters, y'all can s**** it. For all you keyboard warriors out there, y'all can s*** it…a big b**** one, too. Hahahaha. Wooo."