It's hard to believe but it's 100 percent true.
Browsing Facebook and I came across an ad for a 2022 Honda Civic for sale in Dallas, TX at a used car dealership with an unbelievable 248,740 miles for $18,999.
I've heard of semi-trailer truck drivers who haul for a living racking up that much mileage per day, but a car?
Skeptical, I obtained a CarFax with the help of a Good Samaritan on Twitter, and it was all there, all the service records from Rusty Wallis Honda in Dallas.
In little over a year that owner racked up more than 236,000 miles.
I know you don't believe me, so here's the complete CarFax.
2022 Honda Civic CarFax (2HGFE1F9XNH301578)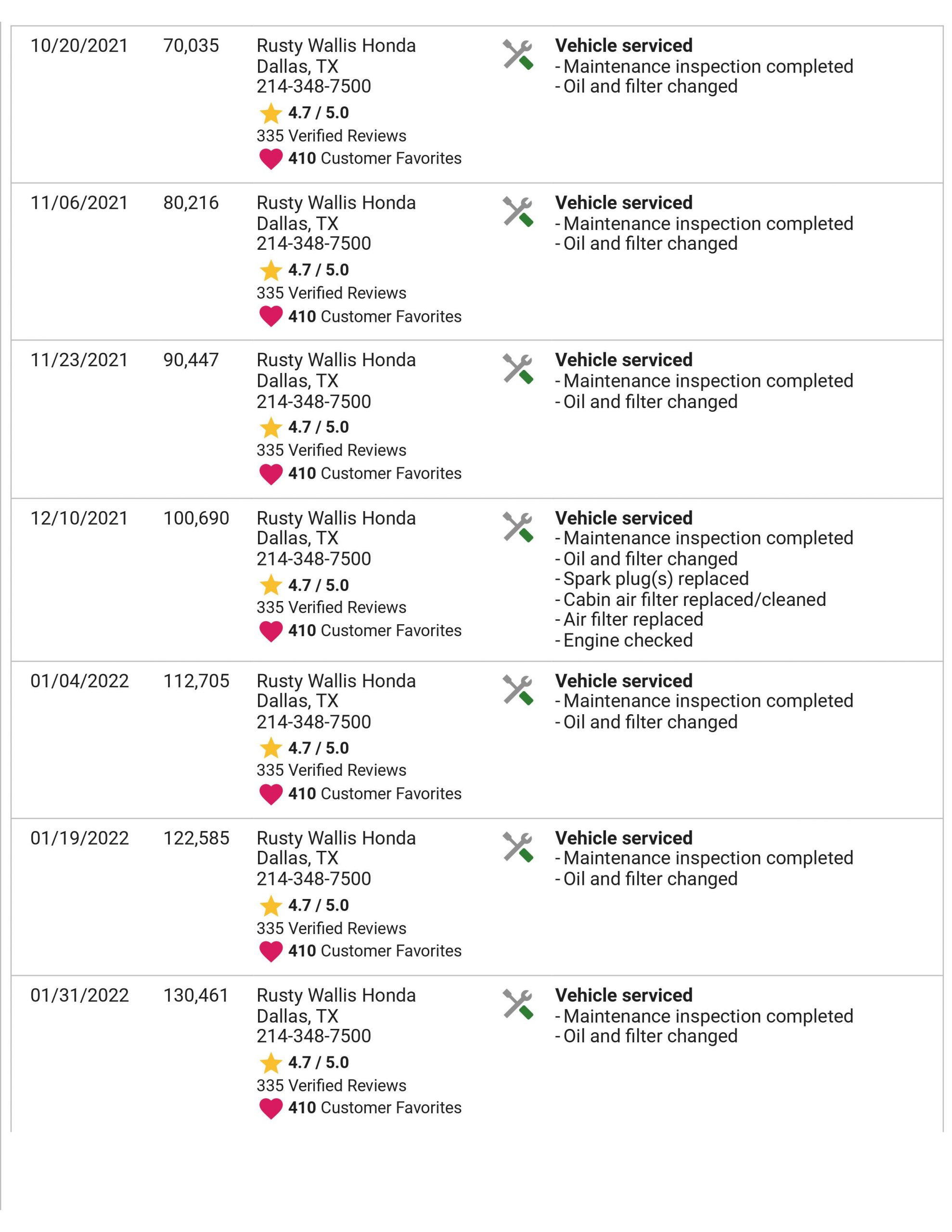 And here's a gallery of photos of that Civic from the for-sale ad, photo of instrument cluster displaying mileage included.
This 2022 Honda Civic owner had this Civic for 386 days. With 236,856 on the odometer when they sold it back, that averages out to 613 miles of driving a day.
To further confirm the legitimacy of this Civic, a source from Rusty Wallis Honda confirmed to me the previous owner was a medical courier who,"delivered medical supplies to Houston daily."
Houston is 250-miles away from Dallas. Round trip plus some stop and go driving around town including to and from home, and that mileage checks out.
Accounting for weekends and holidays (because this person isn't T-1000) that 613 mile average is likely higher.
To the average driver, and even people who drive for a living, that's an insane amount of mileage to fathom.
However, in my research for this blog post, although uncommon, there are medical couriers that do drive that much.
Car & Driver wrote about one such medical courier in 2016 (article linked here) who, at his peak, drove 200,000 miles a year for two consecutive years.
As the Car Fax shows, this Civic was strictly dealership serviced, coming in for mostly oil and filter changes, on average, two times a month, every 10,000 miles.
Spark plugs were changed at 100,000 and 200,000 miles, brake fluid was flushed at 50,000 and 200,000 miles, and coolant was changed at 50,000 miles.
The only time this Civic was serviced elsewhere (besides tires,) was to replace broken lug nuts at a Brakes Plus in Rowlett, TX.
According to my source, the only damage not listed on the Car Fax was the owner running over a tire. While replaced with a bumper of a different color at the time of buy back, it's obviously been taken cared of by Weeks Motors.
While at Weeks Motors apparently a Redditor actually test drove the high-mileage Civic earlier last week and, according to them, it drives…
I also noticed Weeks Motors had this to say on Honda Pro Jason's post re this Civic.
So, if you're a medical courier or drive a lot for a living and need something reliable, a new Honda Civic should definitely be on your short list.
As for that Rallye Red Civic, sure, it'll sell soon enough, but will the new owner drive as much as its previous owner?
Probably not.
Regardless, I'll be keeping tabs on this Civic via Car Fax and will update this blog post with noteworthy events on what's already a deadset legend of a car with an unbelievable first year of ownership.