@CyberPartsOfficial is the real account and any variation of that is a scammer.
Mazda RX-7 Tuner Phil Sohn posted up a Facebook post earlier this week warning anyone who wants to buy auto parts from Cyber Auto Parts out of Douglasville, Georgia that there's a fake Instagram account (@CyberAutoPartsOfficiall) posing as the real Cyber Auto Parts Instagram (@CyberAutoPartsOfficial) advertising parts for sale and scamming people out of their money through zelle payments.
The real Cyber Parts Official Instagram account is linked here: Cyber Parts Official Instagram.
Here's Sohn's post below.
Here's a screenshot of both the real and fake account pages, as you can see the fake account has two Ls in "official," however they may change that up on the fly so, be aware.
The fake Cyber Auto Parts Instagram account also tries its best to mimic the look of the real account, even linking to their real eBay store.
Note, the fake account lists their scam number 6787864167 instead of their actual number 4708740012.
And, although they have more followers than the real account, most of their followers are bots/fake accounts.
From what Sohn describes, people try to negotiate deals via Instagram DMs or by contacting that phone number from items listed on their Instagram page.
These scammers ask for payment through Zelle, a popular digital payments networks that, according to Call Federal,
"…is a preferred payment method for scammers because it allows you to send money without verifying who's on the receiving end. Just like cash, if you hand over money to a scammer, you're not likely to get it back."
Here's a screenshot of the scammers posts.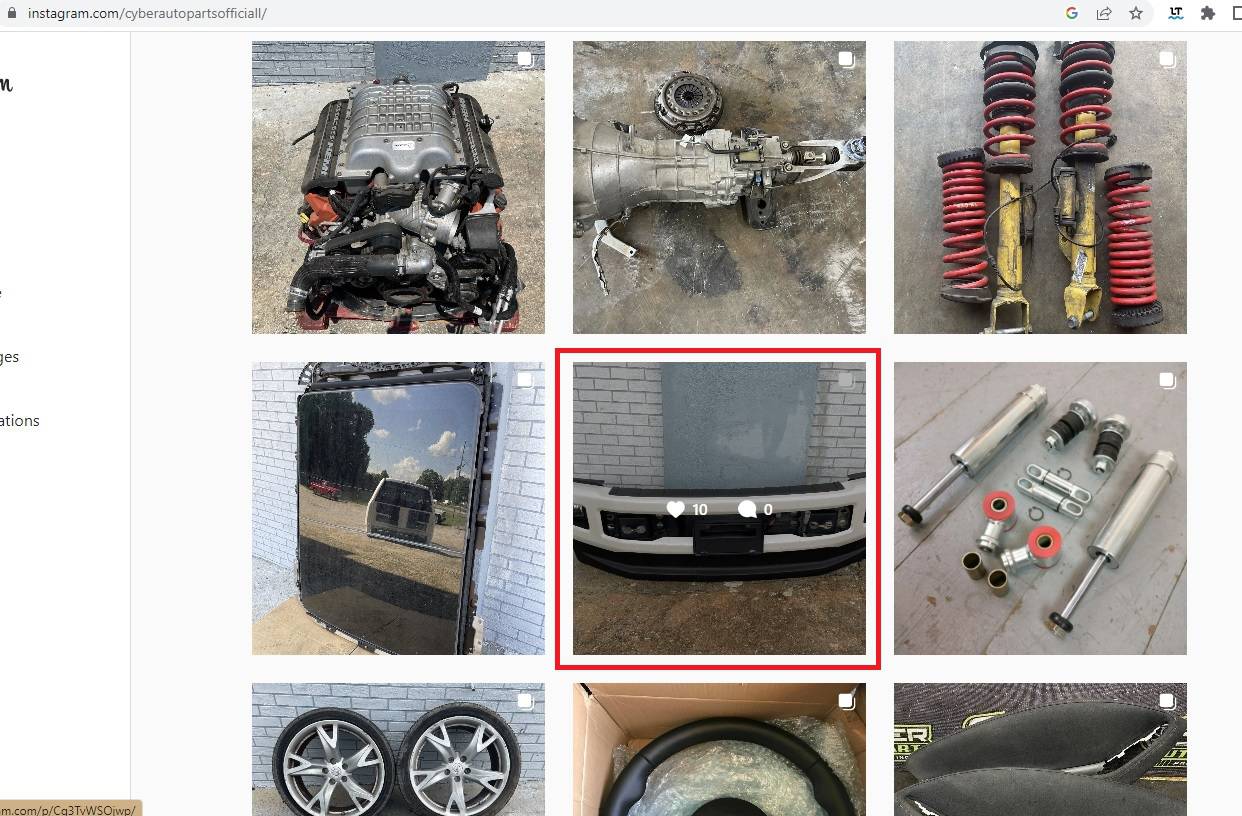 Highlighted in red is a Ford truck bumper assembly they're asking $1500 for. If you don't know this is a fake account and actually send them money for it, you're scammed and, since you used Zelle, probably will never see your money again.
I'd ask you to report their account for impersonating their business but, when I go to report it, I can't link to the official Cyber Auto Parts Instagram to complete the report.
A bug?
If you can report the fake account, please do.
Their oldest post is almost a year old and, from Sohn's post, reporting it will probably do nothing.
And, if you have friends that buy auto parts from Cyber Auto Parts, let them know about the fake account, too.