Luke, the owner of this Mazda RX-8, says there's an active and ongoing police investigation into the matter.
Lukas Fultz (Luke) aka @StancyPants on Instagram and owner of what some consider is the most hated, stanced, and cambered Mazda RX-8 in the world, shared sobering news earlier yesterday that his beloved RX-8 burned to the ground, and he suspects arson.
Check out his unfortunate update below.
Luke shared additional details about the fire in his latest Instagram stories.
His RX8 was set on fire sometime in the middle of the night in front of his grandparents house.
Luke is hoping that footage from nearby cameras will provide key evidence for police.
"Police Investigation underway," Luke captioned his photo.
"No, the car doesn't have insurance. There will be no check. All I want is for no one to ever do this to anyone else."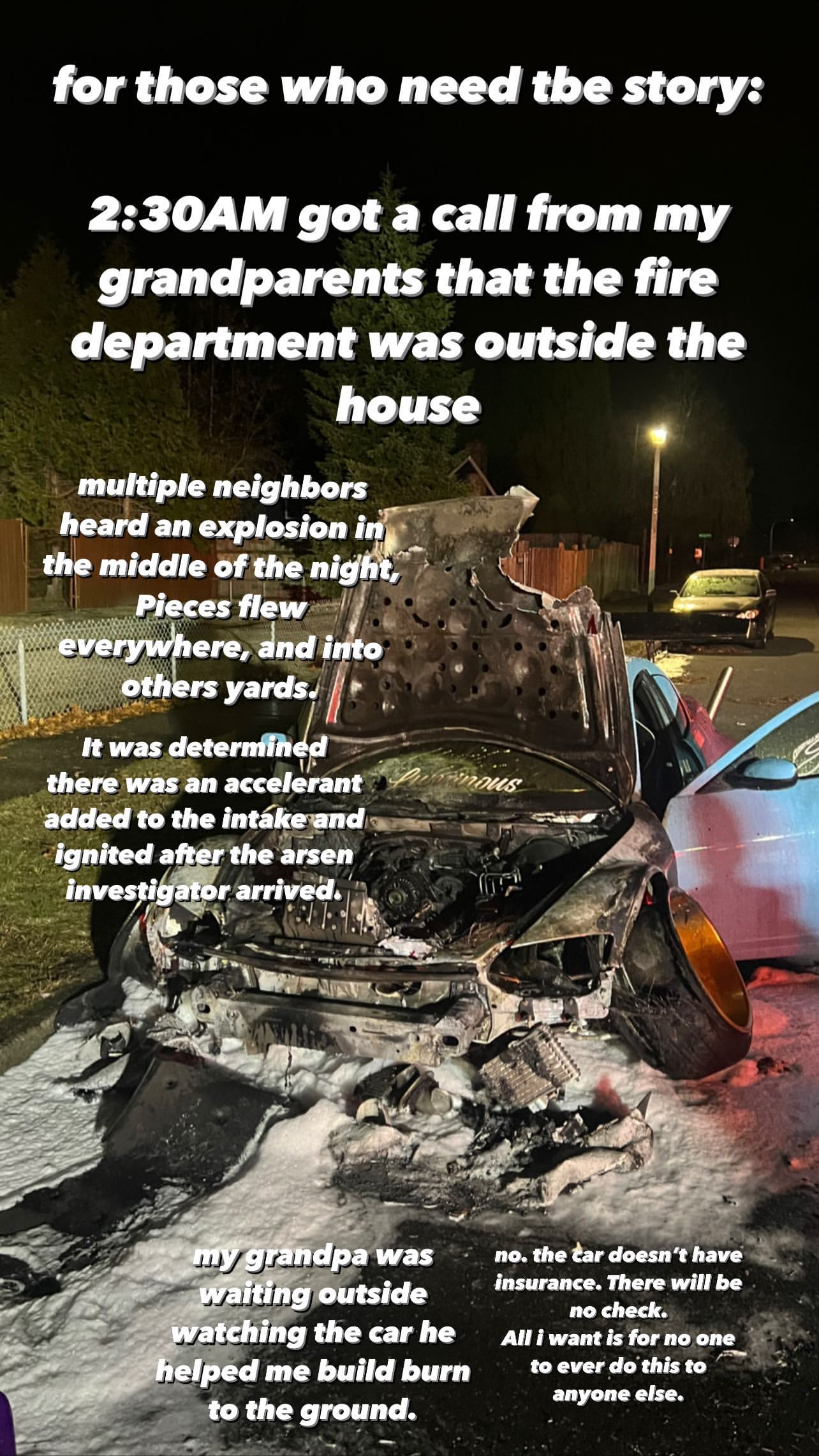 StancyPants's RX8 gained notoriety this past year for the increasingly "insane" amounts of camber he dialed in to his build.
Photos and videos of his RX-8, showcasing the lengths he has to go just to drive onto and off a trailer at this year's Slammed Enuff competition went especially viral.
As my screenshot of his Social Blade's states below shows, that Stanced Enuff appearance gained Luke over 25,000 followers.
While an overall awful situation, the car community showed up in the comments with an overwhelming showing of support, Luke's post garnering over 9,000 comments and 100,000 likes.
"No matter how someone feel about your build..this right here makes me sick. I'm sorry for your loss and hope whoever did this gets got." B***tyHustlers Gary King commented.
"This is horrible, there is absolutely no reason that someone's vision for a car should ever drive someone to this point," said @Cam.CoCalis
It's worth mentioning that Luke's gained over 17,000 additional followers over the weekend alone.
I'm sure Luke will share the results of his investigation soon, and I'll update this blog post accordingly.