These Solectrias had a literal electric house meter in the trunk
Browsing Craigslist and I found this 1996 Solectria Force electric car with about 48,000 miles on the motor for only $4,000.
Since the post is probably down by the time you read this, here are screenshots of the post and some collages of this Geo Metro turned electric car below.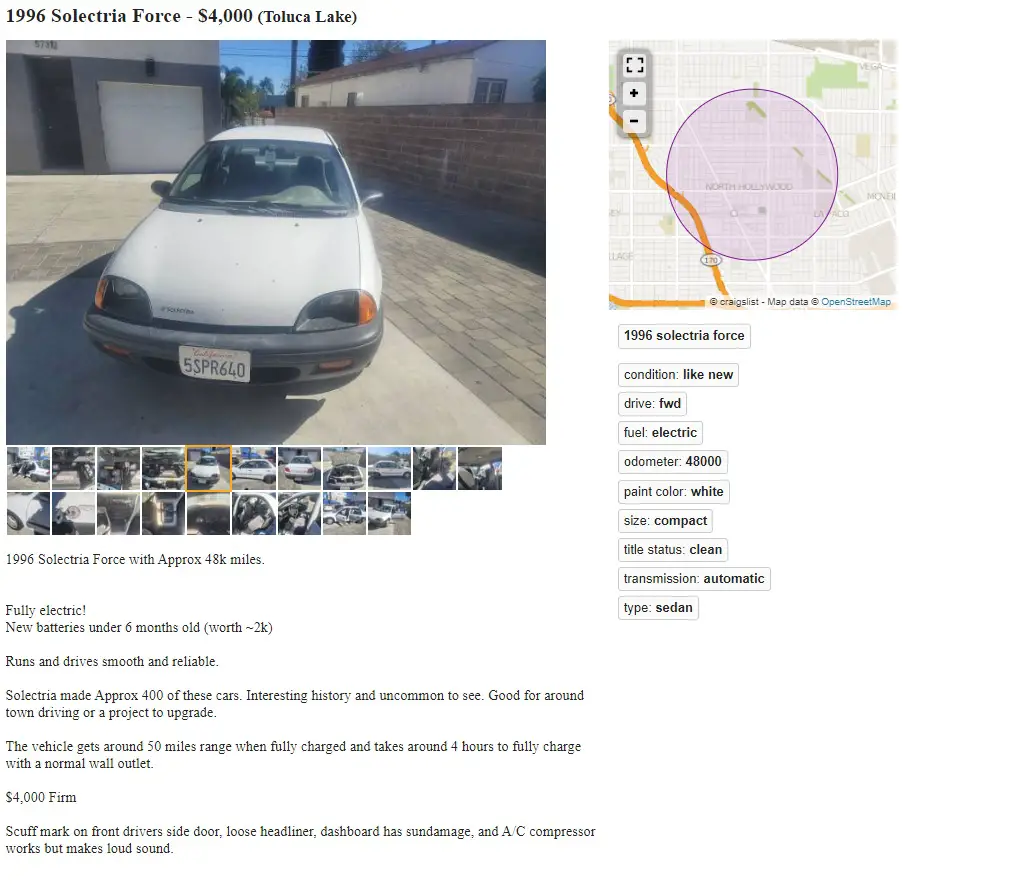 Solectria Forces were made by the Solectria Corporation, an electric and Hybrid vehicle company based in Wilmington, Massachusetts that first started business in 1991.
Their main EV and the Solectria's number one selling car to date was the Solectria Force. Forces are gliders, Geo Metro Sedans & Coupes that come from the factory without engines, with EV motors, batteries, and electronic running gear put in by Solectria.
Solectria's technology was bought out by a Japanese company, but they still make solar-related tech to this day. (Click here to check out Solectria's website.)
According to a Solectria Force brochure circa 1994 (embedded below,) there were two versions of the Force, a lead-acid battery equipped Force (13 batteries total) with a 60-70-miles range (depending on if you got the four or two doors) starting at $26,050 and a Nickel Cadium equipped Force with 100-120 miles range for $59,350.
Top speed for either is 70 MPH.
Unlike some early EVs that emphasized range thanks to lots of batteries, often at the expense of handling, these Forces erred on the side of light weighting to achieve acceptable range.
"The Force…weighs between 2050 and 2150 pounds depending on the model, and remains between 300 and 400 pounds below the Metros gross vehicle weighL Batteries have been divided between the front and rear to optimize handling…"
Powering the Force are "high-efficiency brushless motors."
The Force brochure says even on 110 volts (a regular house plug) it only takes eight hours to fully recharge the lead-acid version. An optional supercharged 110-volt outlet with a 20-amp circuit cuts that charging time in half. There are no quotes how long it takes charging the Ni-CD version, but presumably it takes considerably longer.
Interstingly, Solectria even offered a, "hood and roof mounted solar panel system" for addtional range as an option.
Real quirks that are worth pointing out today, but probably weren't as surprising in the early 90s is the actual electric meter ala side of the house in the trunk, the toggle selector for drive, reverse etc, and the 110 volt male end of a plug under the fuel filler cap (the latter two photo'd above.)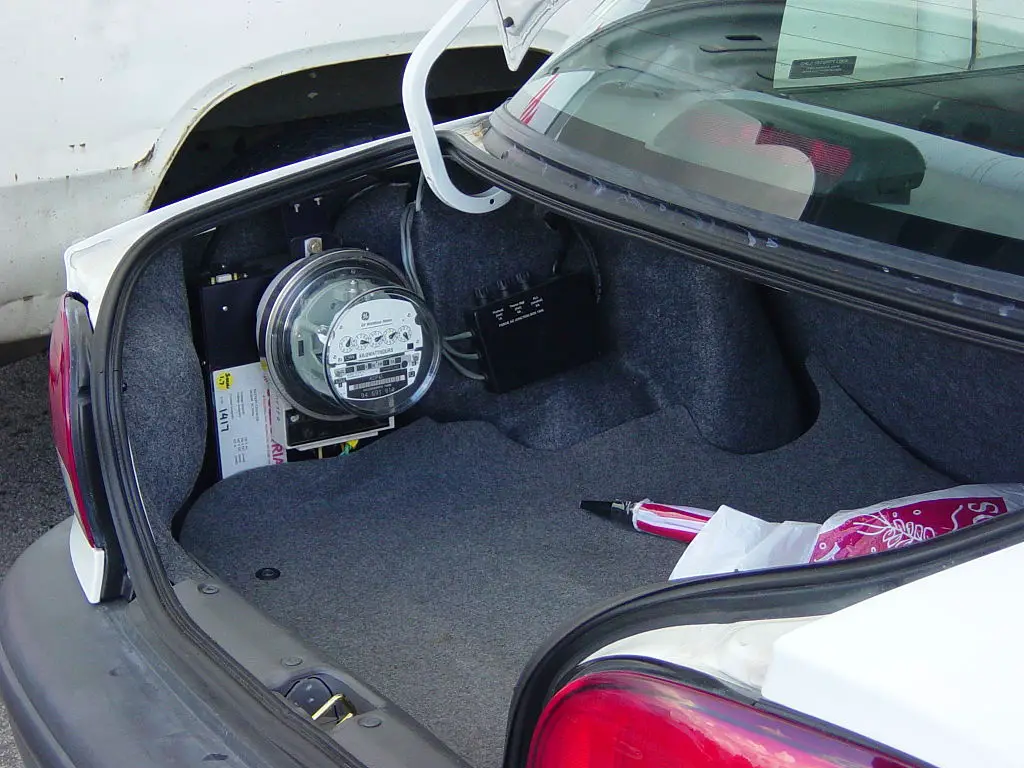 Supposedly Solectria only made 400 Forces, which makes finding one for sale not exceptionally rare since there's a small market for so-called classic low range EVS, but extremely uncommon.
Force's largest customers seemed to be electric utilities themselves.
"Forces are on the road in sixteen states and in four countries, primarily as part of electric utility fleets."
Solectria's largest client was Massachusetts's Division of Energy Resources, who bought a fleet of 20 Solectria Forces for its Electric Vehicle Demonstration Program.
This particular Craigslist Solectria Force, a lead-acid version, seems well cared for and, for an EV, is somewhat low-mileage.
"The vehicle gets around 50 miles range when fully charged and takes around 4 hours to fully charge with a normal wall outlet," the ad says.
Supposedly this one's got $2,000-worth of new lead-acid batteries as of six months ago, so, at least you can rely on close to that stated mileage when you take your Force for a spin.
For $4,000, this looks like a fun third car (a city car, perhaps.) If I was a millionaire, already have my ideal two-car garage, and want something quirky to zip to Starbucks in, this would be right up my alley.
I'd give it the full presidential detail, source a fourth Selectria hubcap, and enjoy the heck out of my rare, US-made EV.
If you're looking for a low range EV with some rad character, set your GPS to Toluca Lake.