Here's the reason why someone is willing to spend close to a 1/4 million on a parking spot in Vail, Colorado.
Update: Dec 5, 2022 – Sold for $195,000
According to a property listing on Compass, a parking spot in the Village Inn Plaza Parking garage listed for an astronomic $239,500 and sold for $195,000.
While it sounds asinine why someone would spend that much on a piece of parking, after researching for all of fifteen minutes, I found out it's not as crazy as it sounds.
Here's why people are willing to spend a 1/4 million on just one spot.
First, you have to understand what Vail is, it's first and foremost a world-renowned ski resort, one of the largest in the world.
Vail is a fairly new resort town, first established in the 1960s that grew in popularity in the 1980s as thee place to go if you're a serious skier, snowboarder, or just want to enjoy a posh winter getaway.
At just 4.72 square miles and a population of about 7,400, Vail is a small town. Its whole existence is as a vacation destination with property right at the doorstep of 5,200 acres of developed ski and snowboard terrain.
Here's a birds-eye view of most of Vail, Colorado, it's certainly not a town that needs places for large parking lots or parking spaces for that matter.
And here's a birds-eye view of the Village Inn Plaza and the street view, as you can see, if you're staying here or own one of the handful of condominiums (which, as of this blog post, none are for sale, only for rent) there is no street parking, you have park in the parking garage.
In other words, parking spots are at a premium. Street parking? No such thing.
And, according to posts from the Vail Daily in 2008 and 2009, this limited market for buying and selling Vail, CO parking spots is nothing new.
"People who own units in Vail, or who have the money available to buy a space, have historically snapped up private parking fairly quickly. And those spaces have appreciated at a level that's the envy of even those who own ski-in, ski-out property."
This spot alone has appreciated in value almost 2X.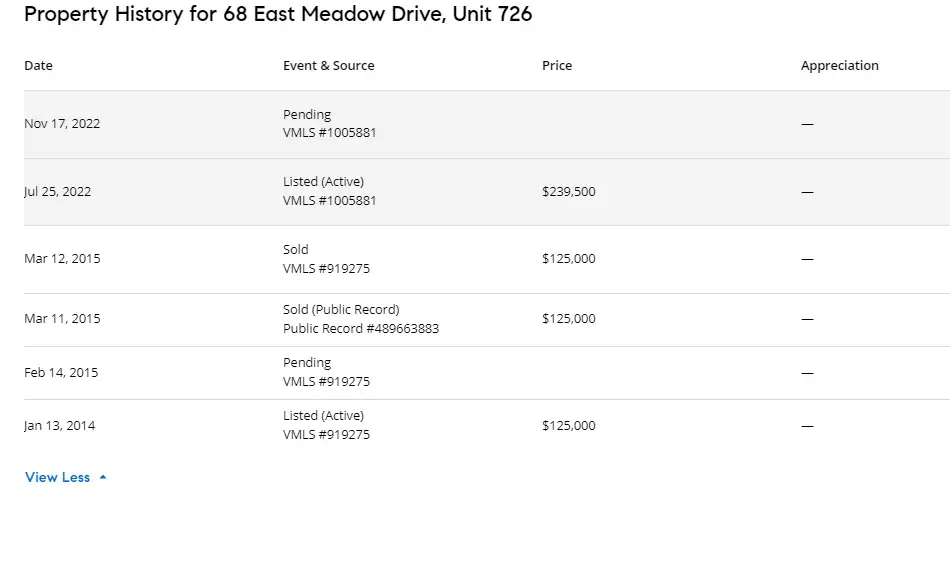 There are a lot of reasons why people would want to buy a parking spot in Vail.
As the bird's eye-view of Vail shows and Vail Daily's post goes on to explain,
"Given the cost and scarcity of Vail Village parking, the convenience of a guaranteed place to park has value in itself."
First, there's the investor who owns a condo (or other piece of property (-ies) in Vail, it doesn't necessarily have to be in the Village Inn Plaza. If they own a condo, they can package an optional (or not) reserved parking spot into the price of their rental. If they don't own a condo, presumably, they can rent out that parking spot just like any other piece of property.
Per the parking spot's listing's description, there are a lot of reasons why having a reserved spot is worth buying one for.
"Conveniently located next to the east elevator to quickly access the amenities on the main level: hot tub, sauna, steam room, rest rooms, shower, and fitness room."
"The free Town of Vail bus, steps from the parking space, is a short ride to Golden Peak's Riva Bahn Chair. Vail's shops, restaurants, Farmer's Market and Gondola One are at your fingertips. Village Inn Plaza owners may also use the pool and hot tubs at The Sebastian."
If you're a resident of Vail (or any nearby CO town,) and don't want to necessarily invest in a parking spot, having a reserved space means you can go to this Vail resort anytime you want, can park at your own space, and can enjoy Vail's many outdoor activities and in-town amenities at your leisure.
It's not even uncommon for "ballers" like this one Vail resident in Vail Daily's post, to own several parking spots, presumably all at hundreds of thousands each.
"Longtime Vail resident Rod Slifer, who lives with his family in Vail Village, owns a space in Founders Park and three other spaces nearby, and he doesn't intend to get rid of any of them."
Presumably, due to no stipulations in the listing saying otherwise, you don't even have to be a Vail resident to own this spot, you can be, for example, a rich Saudi Prince who wants to buy a parking space away from the so-called regulars (residents, tourists etc.) and wants the convenience, privacy, and exclusiveness of their own spot.
Like most properties, despite their being virtually zero maintenance since it's a daggum parking spot for gob's sake, you still need to "maintain" it, oil stains and all, with about $1,700 worth of property taxes and HOA fees a year.
Like most all free-market things, it's simply a case of supply and demand, there are only so many reserved parking spots in all of Vail and, if you want the privilege of having your own spot to either rent out as part of some other deal or on its own, or just want to own a spot in Vail for any reason, you'll have to pay the market price.
Right now, that's about a 1/4 million a spot.