Primewell tires are a value tire brand backed by a major US-based tire service center
website: www.primewell.com & www.firestonecompleteautocare.com
Shopping for affordable tires and you'll likely come across Primewell (or Prime Well) tires, a value tire brand few Americans know about but often choose based on price point alone.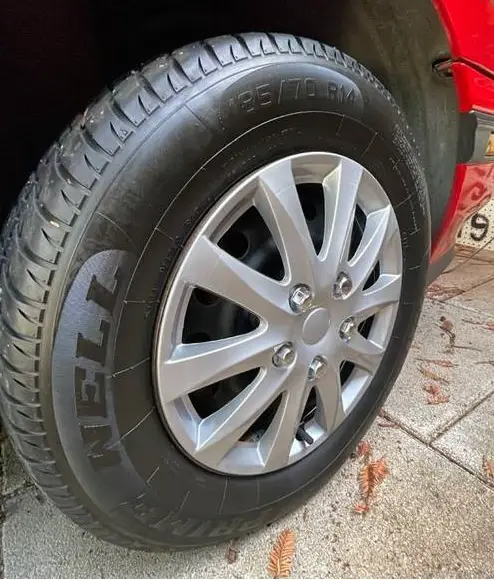 When it comes to value tire brands (Tier 3,) in my research, they generally fall into two categories.
First, there's the bottom-of-the-barrel brands whose only redeeming quality is their dirt cheap price, nothing more. These tires are known for their shoddy quality and horrible user experience.
Then, there are the decent value tire brands that are not only affordable, they deliver on tire performance in all kinds of weather, have a decent warranty, and are backed by U.S.-based support. This is where Primewell tires lands.
With that in mind, here's everything you need to know about Primewell tires and if you should spend your hard-earned money on them.
About Primewell Tires
Like a lot of value tire brands they're based in Asia and Primewell is no exception.
Primewell is a sub-brand of Giti Tires.
Giti Tires is an over 70-year-old tire company based in Singapore with factories in China, Indonesia and, as of 2017, in South Carolina (United States.)
Giti Tires sells GT Radial, Primewell, and Dextero tires in North America.

Although Giti has a tire factory in the United States, in an interview with Modern Tire Dealer, Giti has admitted most US customers buying their brand of tires will find they're still made overseas.
And, true to this admission, according to a Primewell PS890 I found on OfferUp, it looks like….
Primewell Tires are mainly made in Indonesia and China.

You'll most likely come across Primewell Tires at Firestone Complete Auto Care tire stores which, according to my research, proudly stocks, sells, and services the Primewell brand.
Primewell Strengths
Value
Like most value tire brands, the main strength of Primewell tires is price.
Take, for example, a Toyota Corolla with a 195 65 15 tire size.
On Firestone, you can find a set of Primewell PS890 Touring Tires in that size for $58 each or $231.96 for the whole set.
Compare that to the most popular and least expensive options on Tire Rack in that same exact size, Laufenn G Fit AS and Vredestein HiTrac All Seasons priced at $89 and $116 respectively.
An at least $124 savings on tires alone is a big deal, especially in this inflationary economy.
Performance
I've said it time and time again, but a cheap price means nothing if they don't deliver on performance and, from the dozens of reviews I've read about Primewell tires, purchasers are overall satisfied.
Don't take my word for it, read the unfiltered reviews for yourselves on Firestone's website (linked here.)
Here are a handful of noteworthy reviews about Primewells below.
"I bought these tires (Primewell PS890s) back in April for my Honda Accord Sport," says Jonathan A on Firestone's website. "The handling of the car feels smooth ever since. They are quiet, and I had no problem with the pressure or any other kind. It started raining, and the grip is not the best, but not the worse either. Great deal for the price and warranty. I'll give and update for the second year in the future"
"Drove about 20k miles on a new full set of 4 (Primewell Valerea Sport AS), says TOU1210 also on Firestone's website. "Tires rotated at every oil change. Got about 5/32nds left on each tire, and one tire shows weather crack/wear. A fresh new set gets good traction in the snow and rain. The only complaint is the tire has a 40k warranty, but at 20k miles of normal daily driving in the Midwest, the tread is 70% – 80% worn down. "
I've included that middle-of-the-road review above to show you that the reviews on Firestone read like they're honest reviews, aren't placed by bots, and don't sugarcoat the reality if you choose to go with Primewells.
Warranty
Buying a value tire brand and oftentimes you discover they don't even come with a warranty. Primewell, through Firestone, does offer a limited mileage warranty on most Primewell tires.
Here's Primewell's Limited Warranty below, and you can find details on their limited warranty here.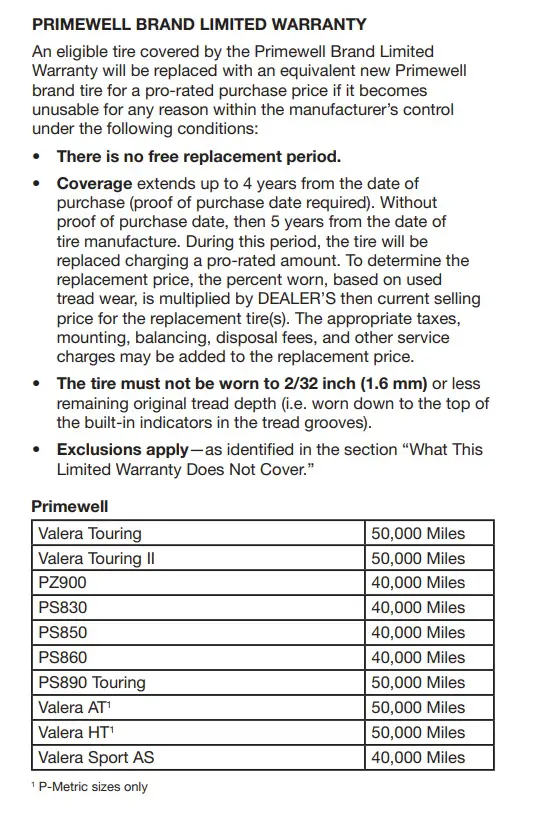 Weaknesses
While most Primewell tire purchasers are satisfied with their Primewell tire experience, there are many reviews that mention issues with Primewells it would behoove you to know.
First, you may find Primewells to be noisier than the tires you replace. To be frank, if these Primewells are a fraction of the price compared to new, more premium brands, I'd tamp my expectations on what to expect from them and, honestly, to save yourself from disappointment, you should too.
Another issue is these Primewells may not last as long as their tire warranty suggests. I've mainly found this issue on their performance tires and reading reviews on their touring/all-season tires, not one of them, so far, has mentioned longevity issues.
The PS890s, for example, are warrantied up to 50,000 miles and low rated reviews only seem to complain about how loud they are.
Relevant videos about Primewell tires
Conclusion
If you're a heavy, multi-day commuter, a family man and you're shopping for tires for your primary family vehicle, or value a good tire user experience above all, Primewells may not be for you. There are too many reviews mentioning noise and Primewells not lasting as long as they should that the added Road noise and longevity issues trump affordability.
But, if you're shopping for your around town car or a second car, do not mind, at all, if your tires are slightly louder and may not last as long as advertised because, frankly, you don't drive that often, yes, Primewells are for you!
As mentioned, regardless of your driving pattern, Primewells are, at the end of the day, a cheap tire and, as mentioned, you need to lower your expectations accordingly.
Primewells, good, not great tires.