Instead of $58 (with tax) you'll pay $42.08 total.
Shop around for an upgrade to your older style Halogen bulbs like 9006 and H4, and you'll come across people who did the same, recommending Sylvania SilverStar Ultra Halogen bulbs.
They're whiter, seem to throw more lumens, and it's clear they're upgrades the first time you use them.
The only downside to SilverStar Ultras are they don't last long, in a lot of cases up to a year before one goes bad, even shorter if you have daytime running lights where your bulbs are on by default all the time.
And, at between $44-53 for a two-pack, they're not exactly cheap.
Then again, can you put a price on safety (being able to see down the road?)
Here's how to get more than 25% off.
You'll have to look up if your local auto parts store has this particular rebate but, for example, O'Reilly's offers a $15 rebate paid out to you iwith an O'Reilly's gift card.
I've seen the same/similar rebate on Advance Autoparts, too.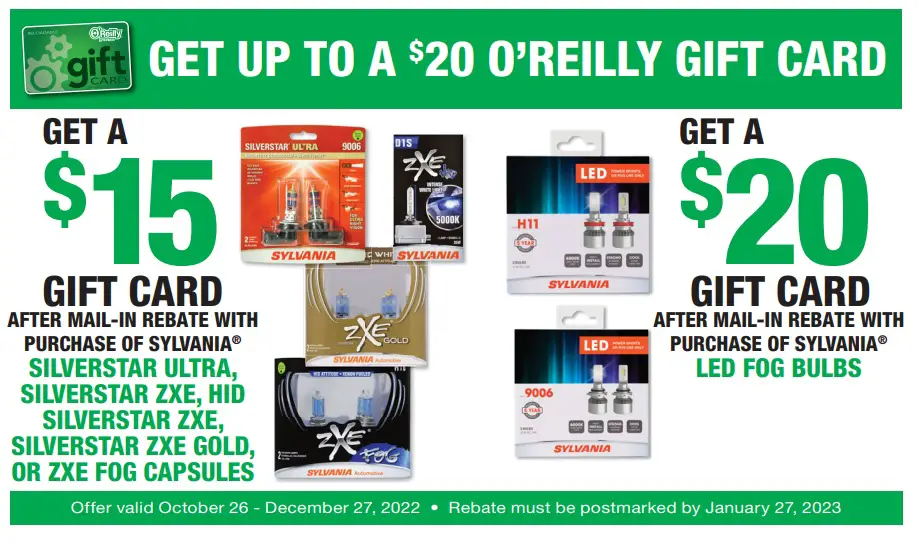 If you pay with a rewards credit card, like Citi's that offers 2% on all purchases, you'll effectively only pay $42.08
$52.99+$5.25 (Average 9.9% tax) = $58.24 Original price for a pack of 2 Sylvania SilverStar Ultra bulbs
-$15 gift card
-$1.16 cash back paying with a 2% rewards card
$42.08 (Final effective price)
If you don't want to mess with filling out a rebate form and all that jazz, quite honestly, the next cheapest places to buy Sylvania SilverStar Ultras are on Amazon and Walmart.
For the single and double packs, they're $25 and $44 respectively.
If you've got the extra money, go ahead and buy an extra bulb or two because, as mentioned, they're going to burn out when you least expect it.
Know any way to get these bulbs cheaper? Let me know in the comments below.