So what if it's an auction flip and you're technically the third owner. You can be the owner that cares.
VIN: 1NXBA02E2VZ514748
Browsing Facebook earlier yesterday and an interesting barn find of a super ordinary car was making the rounds, this 1997 Toyota Corolla in Bright Ivy Pearl for sale in Brentwood, CA for $7,800 (Facebook marketplace ad linked here.)
It's a barn find because the odometer only reads 31,848 miles.
In 2023, this 8th gen Corolla (we're on the 12th gen already,) a full 26 years old, has less miles than most cars still making payments on the road today.
Here's a screenshot of the ad, a gallery of photos from the listing, and a photo of the VIN for posterity's sake.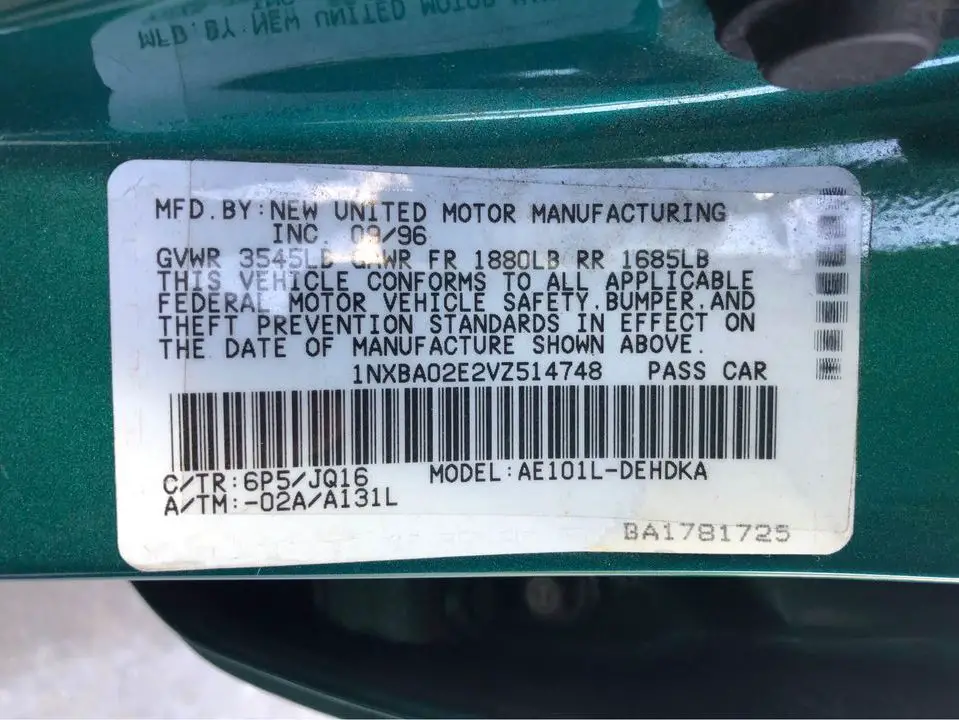 I plugged the VIN into Google and according to VehicleHistory.com this Corolla recently sold on Copart for obviously less than what the seller is selling it for.
Your guess is as good as mine, but I wouldn't be surprised if he doubles his money.
In this new and used car market where everything is overpriced (this listing included admiteddly,) it's hard to find basic, honest-to-goodness, point-A to point-B transportation.
That's exactly what this Corolla is and, it doesn't get any more bare bones than this.
This is a base standard Corolla (three trim levels were Standard, DX, and LE) which means it's got the base 1.6L four cylinder that puts out 100 HP and 105 lb-ft paired to a three-speed (yes, only three speeds) automatic.
It's so bare bones, it's got 14-inch steel wheels with hubcaps in the truest sense of the word, not plastic wheel covers.
I actually can talk about the driving experience of this Corolla, as my family owns its Geo twin, the 95% identical Geo Prizm with the exact same engine and transmission.
When I say this is point-A to point-B transportation, it's literally that, and it excels at it.
It corners soft and pillowy, the engine provides barely adequate power, and the three-speeds means a decent city driving experience, but you're definitely in the upper power/RPM band on the freeway.
Inside, it's spartan with comfortable seats and basic but durable touchpoints everywhere.
The only redeeming quality about this Corolla/Prizm is it starts every single time, without fail, and provides a consistent, albeit boring, driving experience.
And if something fails, parts are readily available, cheap at any auto parts store.
An alternator, water pump, or a full set of belts? All found within the hour for less than $100.
Despite it being 26 years old, besides refreshing all the fluids and swapping out anything under the hood that can get brittle, if you need deadset legendary reliability for under $10,000, you can't go wrong with this Corolla.