The Acura Integra does not come with an actual temporary spare. Here's what you need to order to make your own.
While Acura fans were glad to hear about the Integra's return, one small detail they were upset to learn, a result of weight savings and cost-cutting endemic in today's new cars (not just Hondas and Acuras) is there's no spare wheel and tire.
In its place is a glorified patch kit.
According to an Integra Forums thread started earlier last year (and constantly updated,) although Acura hasn't officially confirmed it and made it available to the public, there is a part number for an Acura Integra Spare Tire Kit including part numbers for each individual part.
As of this blog post, while you can't order the entire kit in one shebang, you can order parts of the kit piecemeal and can essentially assemble your own temporary spare tire kit.
A photo of the part numbers is embedded below, and I've copy and pasted the part numbers in a convenient table for you to copy when you do your own search at your leisure, too.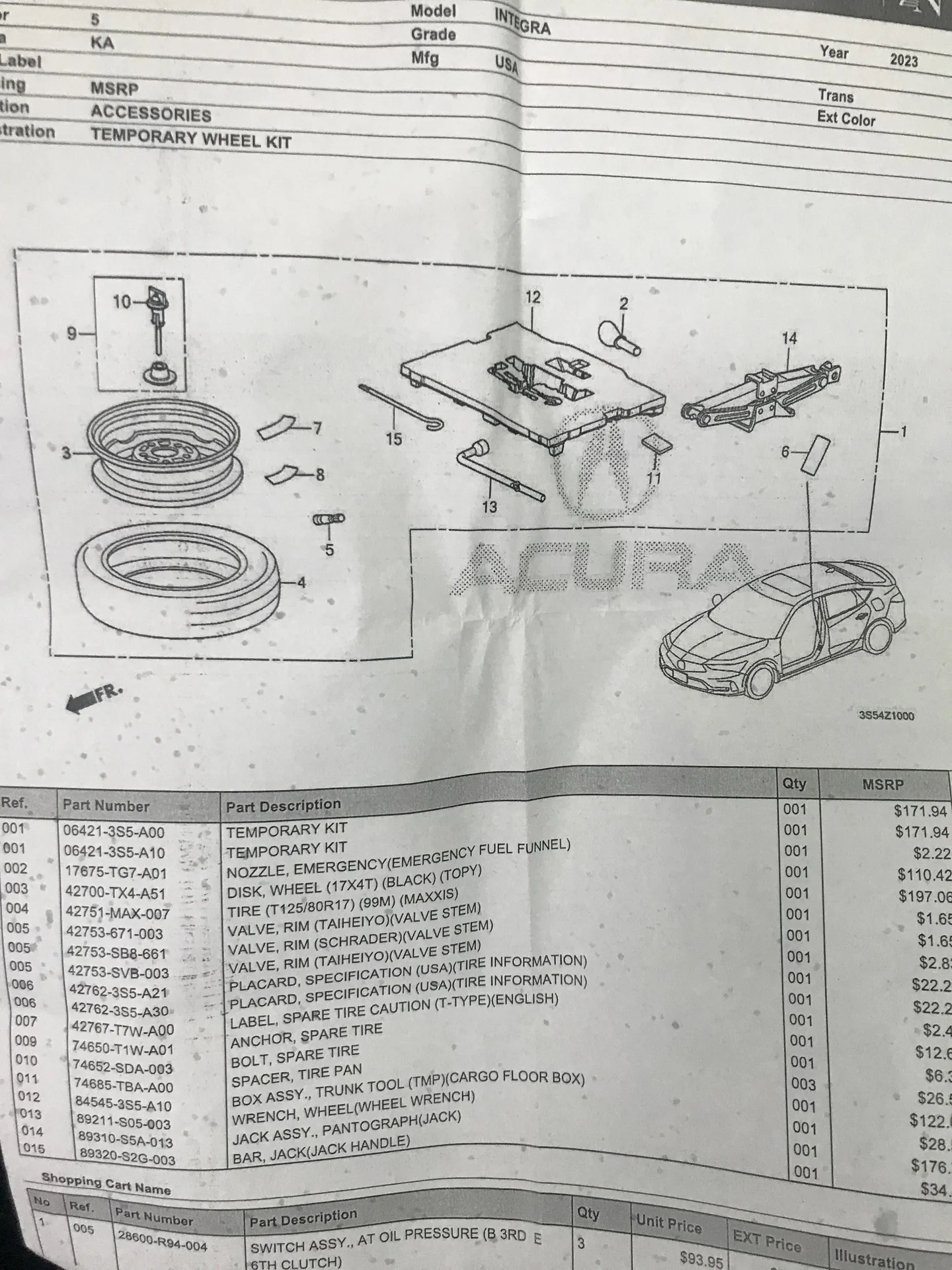 | | | |
| --- | --- | --- |
| Part Number | Parts Description | MSRP |
| 06421-3S5-A00 | TEMPORARY KIT (DOES NOT INCLUDE TIRE) | $171.94 |
| 06421-3S5-A10 | TEMPORARY KIT (DOES NOT INCLUDE TIRE) | $171.94 |
| 17675-TG7-A01 | NOZZLE, EMERGENCY (EMERGENCY FUEL FUNNEL) | $2.22 |
| 42700-TX4-A51 | DISK, WHEEL (17X4T) (BLACK) (TOPY) | $110.42 |
| 42751-MAX-007 | TIRE (T125/80/R17) (99M) (MAXXIS) | $197.06 |
| 42753-671-003 | VALVE, RIM (TAIHEIYO)(VALVE STEM) | $1.65 |
| 42753-SB8-661 | VALVE, RIM (SCHRADER)(VALVE STEM) | $1.65 |
| 42753-SVB-003 | VALVE, RIM (TAIHEIYO)(VALVE STEM) | $2.80 |
| 42762-3S5-A21 | PLACARD, SPECIFICATION (USA)(TIRE INFORMATION) | $22.20 |
| 42762-3S5-A30 | PLACARD, SPECIFICATION (USA)(TIRE INFORMATION) | $22.20 |
| 42767-T7W-A00 | LABEL, SPARE TIRE CAUTION) | $2.40 |
| 74650-T1W-A01 | ANCHOR, SPARE TIRE | $12.60 |
| 74652-SDA-003 | BOLT, SPARE TIRE | $6.30 |
| 74685-TBA-A00 | SPACER, TIRE PAN | $26.50 |
| 84545-3S5-A10 | BOX ASSY., TRUNK TOOL (TMP)(CARGO FLOOR BOX) | $122.XX |
| 89211-S05-003 | WRENCH, WHEEL (WHEEL WRENCH) | $128.XX |
| 89310-S5A-013 | JACK ASSY. PANTOGRAPH (JACK) | $176.XX |
| 89320-S2G-003 | BAR, JACK (JACK HANDLE) | $34.XX |
Note: The temporary kit does not include the tire.
Reading what other members have done, you can order every part here to make your temporary spare tire kit as complete and OEM-looking as possible, or you can order individual parts based on what you want.
Here's a photo of someone who basically ordered everything worth ordering above (bolded), including the OEM spec tire, wheel, anchor and bolt to secure the tire/wheel onto the Integras floor, the Box absembly that goes over the tire, and all the tools that fit in said box assembly.
He reportedly spent at least $500.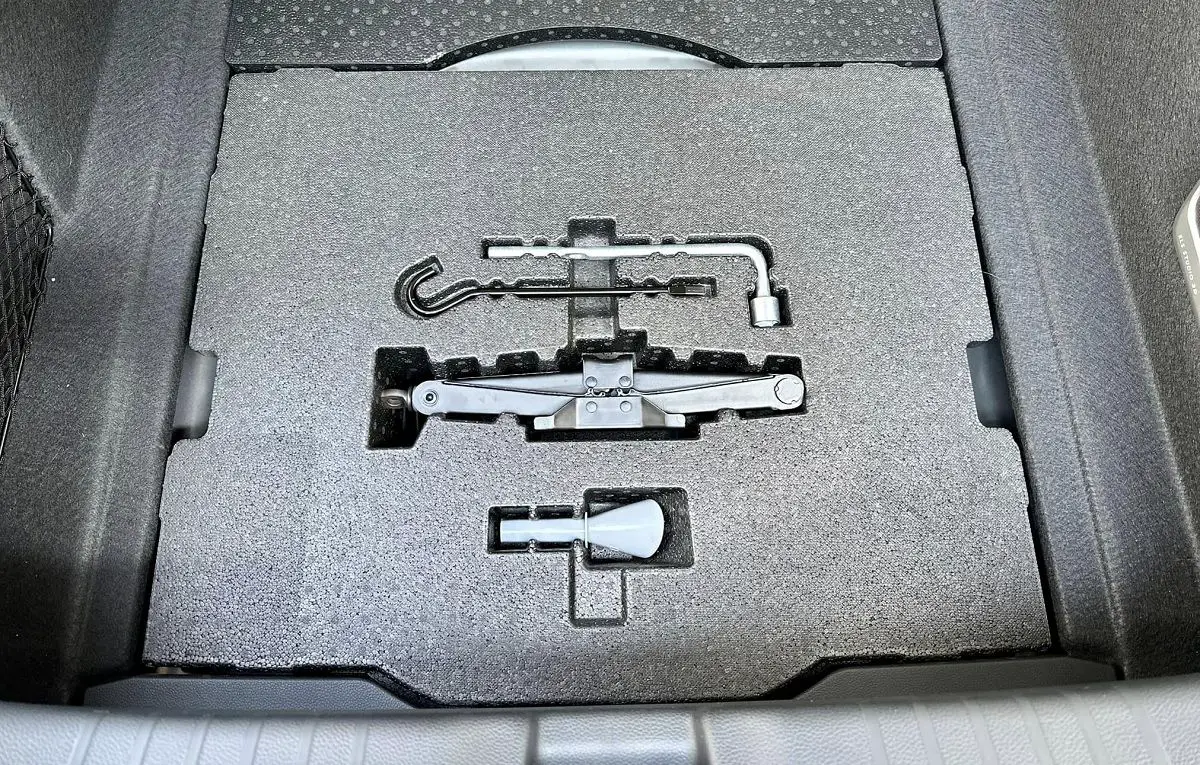 If you're on a budget and would rather search and shop around a bit, here are a few pieces of information worth knowing.
First, if you look up the spare wheel (42700-TX4-A51,) you'll find out that it's the same spare wheel found in the 2017+ Honda Civic, 2017+ Acura ILX, 2017-2020 Acura RDX, and 2017-2020 Acura TLX. It's a 17×4 temporary steel wheel with a 5×114.3 lug pattern with what reads like 0 offset (NA?…someone correct me on this.)
The temporary tire size is 125/80/R17 by Maxxis.
That means if you can find a spare wheel and tire for those aforementioned Acuras and Hondas or the same sized spare wheel with the same lug pattern, more than likely it'll serve as a good temporary spare for your Integra.
For the spare tire bolt and anchor to secure your spare wheel and tire to the factory mounting point, any newer Honda or Acura with a mounting screw that came with factory spare tire will most likely work, or you can order an aftermarket one for cheap like this one from MOTOALL.
As for the scissor jack and compact lug wrench, you can find either at your local junkyard or online (eBay.) Remember, the goal is to buy tools that will help you change a tire, not do any serious mechanic work.
You can also go the full size spare route (like this Integra Forums member did.) The Integra owner in the linked example was able to fit a 17-inch steel wheel from a Honda Accord with tire size 215-50-R17 into the wheel well of the Integra, no problem.
If you go full size spare, there will be a slight hump in your trunk floor (the carpet won't lay flat.)
Personally, I'd find a new-ish full sized spare, throw in a working scissor jack and lug wrench I find at my local junkyard, and call it a day.
I like having a no-brainer, temporary spare option I can rely on and sourced for the least amount of money.
Getting all the optional factory parts (foam assembly, jack, and wrench) to make it look OEM is the least of my priorities but, for you, it's the little things that might count.
Sources:
Spare Tire | Page 4 | IntegraForums – 2023+ Acura Integra & Type S Forums, News, Owners, Discussions