Strangely enough, pitbull puppies as down payment aligns with Car-Mart's down payment policy.
Browsing Facebook earlier yesterday and I came across a screenshot of a post about a down payment on a Nissan that made me take a second look.
According to a now deleted post from Car-Mart Ada (Oklahoma,) two brothers seem to have brought a litter of pitbull puppies as part of a down payment on a mid-2010s Nissan Sentra.
Check the screenshot of the post below.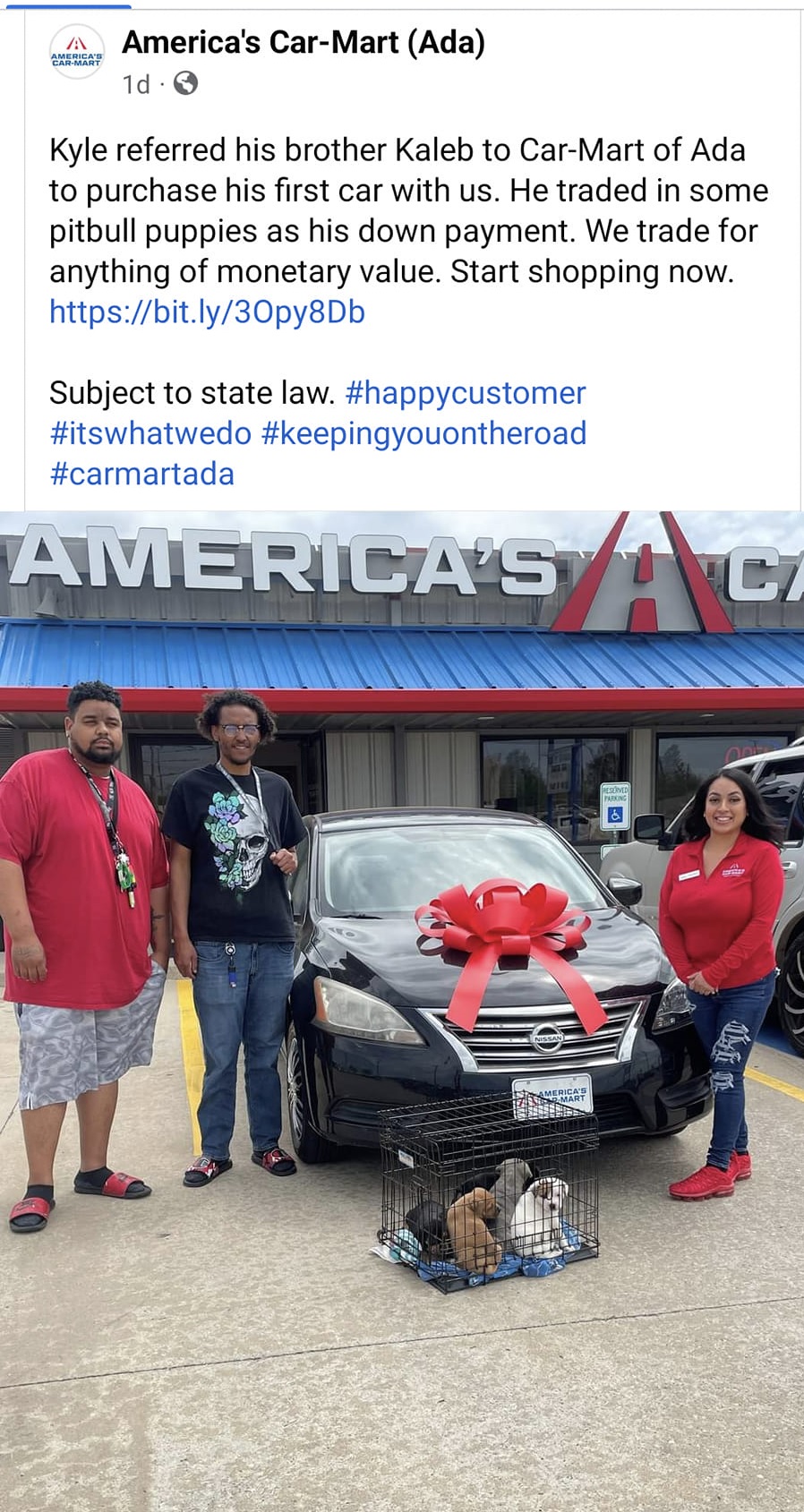 "Kyle referred his brother Kaleb to Car-Mart of Ada to purchase his first car with us," the caption reds.
"He traded in some pitbull puppies as his down payment. We trade for anything of monetary value."
The photos show the presumed two brothers standing with a Car-Mart of Ada, OK rep. Between them is a blue Nissan Sentra with a red bow on top. In front of the Sentra is a wire cage with five pitbull puppies in all different shades inside.
You, like I, are wondering, is this post even real, and if so, is this legit?
Here's why I think it's 100 percent real and is perfectly within Car-Mart's M.O.
First, the Car-Mart employee in the photo and this video below are the same person, which means she's an actual Car-Mart salesperson (or in this case, the General Manager.)
Next, the bit.ly URL (linked here) is a real bit.ly link linking to Car-Mart's website.
The whole post taken in totality, the photo, wording, and style, all leads me to believe this was once an actual Car-Mart (Ada) Facebook post.
So, the pitbull puppies. Really?
Well, actually, yes!
According to Car-Mart's own website, they're open to accepting ANYTHING of monetary value.
Their example photo shows all sorts of animals, appliances, garden tools, and even taxidermy.
(5) pitbull puppies aren't out of the realm of possibility as part of a down payment.
Now that we know the post is real and they accept animals, how much are five pitbull puppies worth?
Browsing through Pitbull classified in Oklahoma on American Listed and prices range between $200-500 for one.
That means those pitties are worth anywhere between $1000-$2500 which, for a several years old Nissan Sentra, is more than enough for some kind of down payment.
So, if you need a set of wheels in the Ada, OK area, don't have much cash, but have other objects of value, presumably with proof of income, you too can hawk your wares towards a down payment.