It was cutting it close as the person's insurance policy who ran into him maxed out at $50,000
Central Ohio man and Rivian R1T owner Chris Apfelstadt was glad he didn't get rear ended by an uninsured person as when the Rivian-approved repair shop re-adjusted his repair estimate, they ended up billing the other party's insurance over $42,000 from an original $1,600 estimate.
It's worth clarifying that, although the MSRP of these electric trucks hovers around $75,000, owners routinely agree to finance $100,000 or more and is likely the case here, too.
Embed from Getty Images
Apefelstadt's original post is no longer on Facebook, but a thread on Rivian Owners Forum is following the drama (thread linked here) with a screenshot of Apfelstadt's post below and copies of the photos shared on Twitter.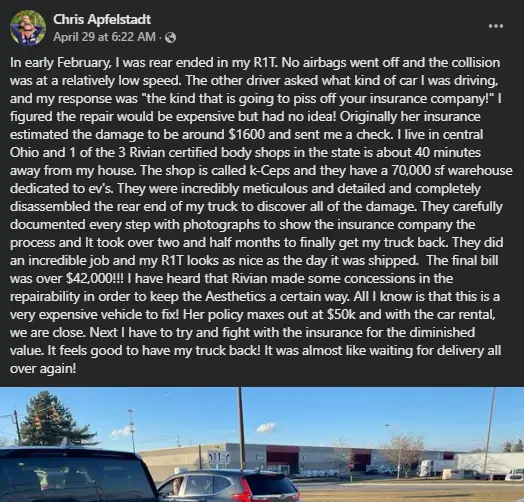 $42,000 repair for a dented rear bumper on a Rivian R1T?

Also, something doesn't add up here, why did they remove the rear glass? pic.twitter.com/VJal1jwjtO

— 13rendan88 ???????? (@13rendan88) May 2, 2023
"In early February, I was rear ended in my R1T. No airbags went off, and the collision was at a relatively low speed," his caption reads
As this close-up will show, the damage is, at first glance, minor.
According to a post on Cash Cars Buyer, most bumper repairs conservatively between $500 and $2,000.
But with these new electric trucks with their uniquely engineered bodies (a hybrid of body-on-frame and monocoque construction,) and with so few approved repair centers sprinkled around the U.S., not to mention the lack of economies of scale for repair parts, repairs are expensive.
No wonder he was surprised with the original estimate.
"Originally her insurance estimated the damage to be around $1600 and sent me a check."
In all of Ohio, there are only (3) body repair shops certified to work on his Rivian.
You'd think a damaged bumper would involve just unbolting the damaged part, paint matching a new bumper, and slapping on a new one, but that could be farther from the truth.
As you can see in the photos and as evidenced in his post, the repair shop cut no corners, did everything recommended by the book, and spared no expense returning the R1T to a like new condition.
Not only was the bumper taken off but the entire inside bed, tailgate, and rear window (for some reason) too.
"They were incredibly meticulous and detailed and completely disassembled the rear end of my truck to discover all of the damage. They carefully documented every step with photographs to show the insurance company the process, and it took over two and half months to finally get my truck back."
"They did an incredible job and my R1T looks as nice as the day it was shipped. The final bill was over $42,000!!!"
An absurdly high repair price for seemingly routine body repair jobs seems to be par for the course for Rivians.
A Redditor by the name /u/nrrasmussen shared (Reddit thread linked here) how a rear-end collision on his Rivian R1S (the SUV version) set back the at-fault party's State Farm Insurance a staggering $19,000. And, it took a whole four months, too!
Embed from Getty Images
While, on face value, this repair experience might sound shocking and not idle, when you think about it, it really isn't.
Rivian is literally a brand-new electric car company and if you don't understand that buying one of these electric vehicles is akin to signing yourself up for an in-real-life beta test of a yet unproven product tested by time, I hate to break it to you, but that's what it is (imo.)
Compare the Rivian's repair cost to what that Nissan owner will probably face. A new hood, bumper, headlight and fender, paint-matched, will probably set that person back $2,000.
Tack on likely front end frame damage repair and total, that Nissan, tops, would cost $4,000 to repair properly (in other words it's totaled = repairs cost more than the car.)
While Rivian's engineers have done their best to make sure their products are ready for the field, there's nothing like actual ownership experience.
And, as these first few collisions show, for the time being, if you want to get even the smallest accidents repaired up to Rivian's standards, it's going to cost the responsible party's insurance a lot to say the least.