It's a no-brainer, if you have smart keys or key fobs to program and can wait a week, Tom's Key Company is the way to go.
website: www.tomskey.com
Our family has a 2008 Toyota Corolla CE we bought brand new in 2007. Since then, it's raked up 180,000+ miles and is humming along nicely.
Recently, a master and valet key we use to unlock the doors and start the Corolla were not engaging the ignition cylinder.

We cut a spare, non-smart key, around the time our Corolla was new, that does not disable the immobilizer and found that it turns, no problem.
The problem was the keys, they were worn.
We lost a master key several years ago, so, the plan was to use the non-smart key back-up to make copies.
The thing is these Toyota keys have a little chip in them and, even if you make a copy, they will not disable the immobilizer. It'll engage the starter but will crank, and crank, and crank.
There's a sequence of opening and closing doors to initiate key programming that works for some model year Toyotas, but for my year Corolla (2006+) this ballet of opening doors does not work.
Genuine or non-Genuine Toyota Smart Key, I needed to get them programmed.
I called our local Toyota dealership, they wanted $185 to program as many keys as I needed.
The local locksmith wanted $85 to program one key and $45 for each additional key.
I wanted three keys.
I knew I could self-program them somehow and, after a quick google, I came across Tom's Key Company (linked above.)
Tom's Key Company is a one-stop shop that sells and rents DIY key programmers for all makes and models, and sells keys, too.
Although it's $130 for the key programmer, there's an $80 deposit you get back when you return it. It's essentially a $50 rental, cheaper still if you pay with a cash-back credit card.
It was also $15 for each non-branded Toyota-compatible smart key.
I rented the key programmer, bought a handful of keys, and waited.
The key programmer, an OBD-2 extension, the keys, and a self-addressed, postage-paid box, came a week later.
Here's all what I got.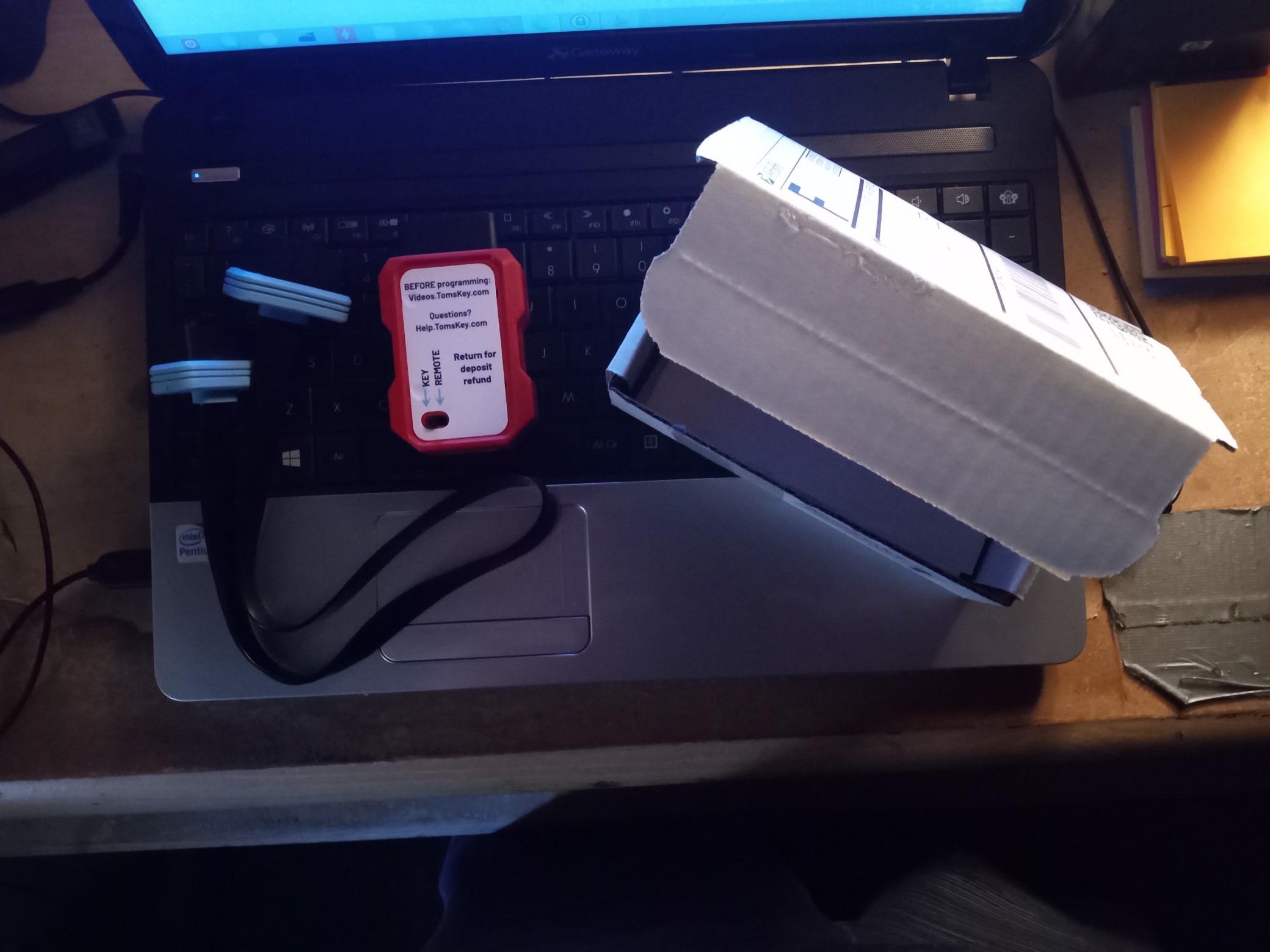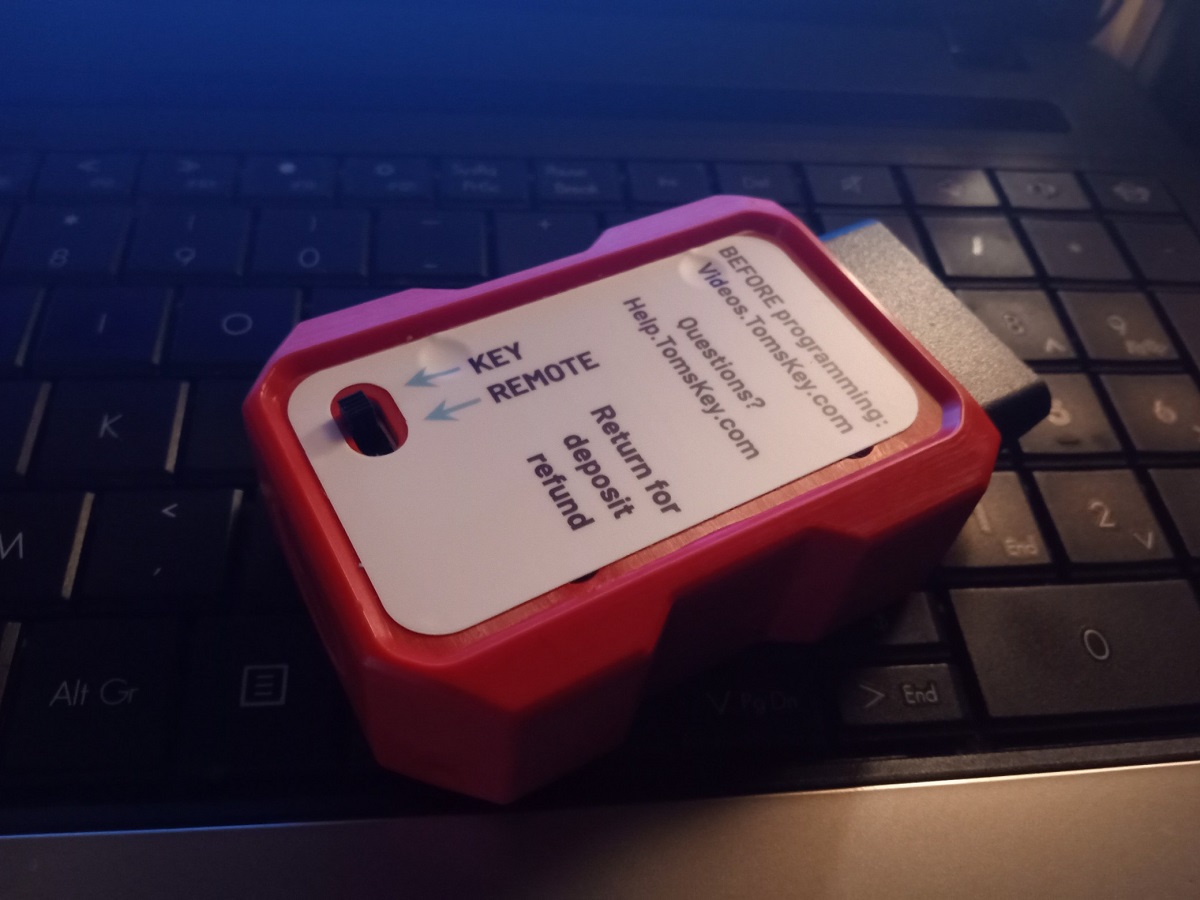 As far as my 2008 Toyota Corolla was concerned, programming was easy.
I literally just inserted my worn master key, plugged in the key programmer (set to key,) waited for it to beep confirming programming mode, inserted a new, uncut smart key in and waited a minute for it to self-program.
If you can't figure it out, the programmer came with instructions, and there are helpful videos online.
I did that for three Toyota smart keys.
I then went to my local locksmith and got those keys cut using the back-up key.
Now they all work.
As of this blog post I have yet to send back the programmer but I'll eventually schedule a free pick-up and send it back to Tom's Key Company to get my deposit.
By using Tom's Key Company I saved up to $135 if I went to Toyota and $125 if I used a locksmith.
I'm aware there are cheaper, self-programmers out there, ones I could keep and, if I was clever enough, there are copies of Toyota Tech Stream where I could do the programming myself for free.99.
But, for $50 I was buying convenience and peace of mind that it would work, no worries.
If you need to program smart keys or key fobs and don't want to pay dealership prices, do yourself a favor and use Tom's Key Company.
It's fast, easy, and, if for some odd reason it doesn't work out, there's a money-back guarantee.