If by fuel you mean a loud BANG, sure, these fuel filters are OK at filtering fuel.
Generally, if you're actually shopping for something to muffle sounds from your "got that thang on me," they usually cost between $400-800.
But, since the popular shopping app Temu popped up on everyone's phones and social media apps, the male demographic's been hit with an interesting product Temu is calling a Fuel Filter or Fuel Filter Solvent Trap.
Based on what it looks like with its machined inner workings that look a lot like they do more muffling than filtering, it's got a lot of Temu shoppers that are likely strapped interested.
And, at $24.48, it's a bargain.
Their most popular Fuel Filters are linked here.
To be fair, their listings do show their fuel filter installed like how they want the authorities to think their customers are using these filters.
And, there are a handful of reviews where buyers are using them for their advertised purpose.
"I've installed it on my '78 Ford and seems to be doing the job needed, " comments Temu Shopper Serratos711.
"I was pretty skeptical how this was going to run on my 84 Chevy with a 308, says Temu customer Jeffrey Lovell. "But it is running very smooth and decently quiet. Took a lot of the rough idle out that was tough on my old shoulder too. Pretty impressed for the price!"
However, there are many reviews from shoppers who know that if they drill a hole on one end, it screws onto something not related to engines…at all.
Here are some of the more notable ones.
"Works very well," Ashley Dennhardt comments. "It only lowers the volume of my fuel by just enough that it doesn't sound real loud. But, sometimes that is enough. I will get a larger one and see how well it does."
Lowers the volume of my fuel?
Classic.
Then, we've got reviewers like Bryan Creed not at all hiding his true Temu Fuel Filter intentions.
I'm not going to embed the video, but you can see him "filtering fuel" by clicking here.
And, click here to check out a screenshot of another blatant review.
For the record, here's what an actual universal fuel filter looks like.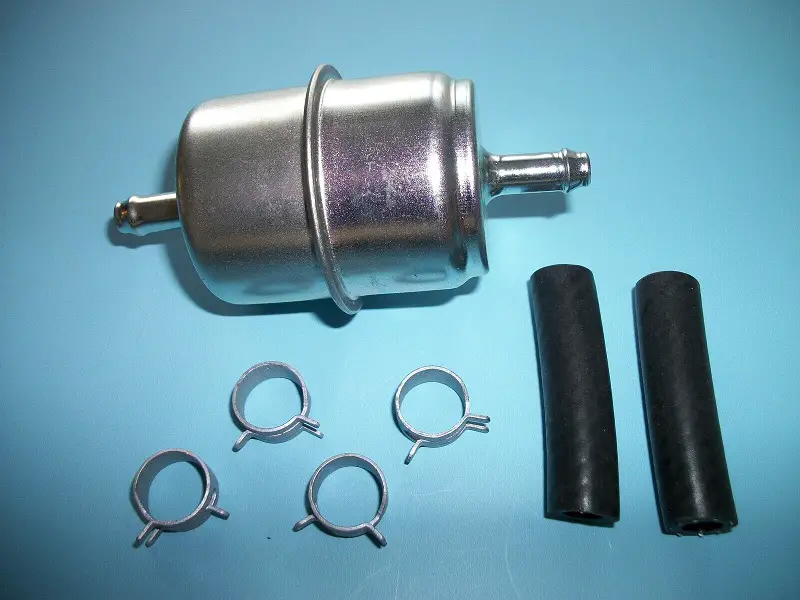 If advertised differently, these fuel filters would be illegal to own in 8 states including California, Hawaii, Illinois, New York, New Jersey, Massachusetts, Rhode Island, and Delaware.
According to Keg Lawyers, in California, filtering fuel ala Temu, "…is a felony offense. If convicted, depending on the circumstances, you could face 16 months, two years, or three years in state prison, along with a fine of up to $10,000."
Just keep that in mind if you even think of filtering fuel in the above states, and have a lot to lose if you cop a felony.