Things could've ended up a lot worse for this bus driver and Redditor.
Dashcam footage shared by presumed Palo Alto resident and Redditor /u/icorrectotherpeople to the /r/IdiotsInCars subreddit shows the butt clenching moment OP almost broadsides a Marguerite Shuttle.
Here's a lower resolution copy of OP's video below with his thread with a higher definition video linked here.
The near miss happened right after the intersection at Sand Hill Road and Clark Way across from the Oak Creek Apartment complex (exact location on Google Maps linked here.)
According to Stanford Transportation's page, that bus is on the S line.
While OP says this was late at night, per their schedule, it's more likely this was early morning.
As his video shows and as admitted by OP, he's travelling 50 in a 45 or 5 above the speed limit, supposedly par for the course for this stretch of road.
After OP passes the intersection, we can barely see the lights of the Marguerite Shuttle's side marker lights.
It doesn't help, as highlighted below, that the streetlamp does not work in this particular area.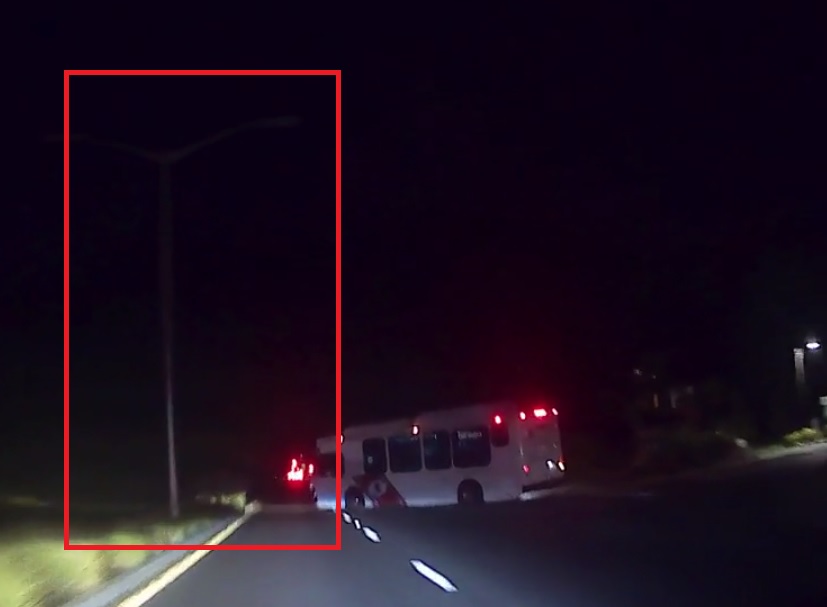 The bus takes a right and, giving the driver the benefit of the doubt, was probably taking too sharp of a turn to stay completely in the right lane.
"I'm no bus driver, but the turn directly into the right lane may have been too sharp," /u/ShoeLace1291 points out.
"Might've figured he would've had to go at least halfway into the left lane, so just went fully into the left lane. Should have waited, though."
Thankfully, the brakes on OP's Chrysler 300 are good, and he's able to stop before broadsiding the shuttle.
This just goes to show that, even when travelling on a straight road in a lightly trafficked area of town, it's not an excuse to zone out and put defensive driving to the side.
This also illustrated how important street lighting is to driver safety.
Hopefully the city of Palo Alto gets that sorted out ASAP.