Why you probably shouldn't drop $5,000 on what you think is a Motocompo knockoff.
Scrolling through Twitter and I came across a tweet claiming that Aliexpress sells knockoff Honda Motocompos.
Here's the tweet below.
TIL AliExpress has knockoff JDM Honda Motocompo mini motorcycles. Great description:

"Small bench Mini monkey off-road streetcar for small monster for baboon motorcycle can be licensed"

Fraudulent listing? (Sadly not cheap enough to take a flyer on.)https://t.co/QI7NCEp8SI pic.twitter.com/D3G4fJPNps

— Chris Paukert (@CPAutoScribe) August 23, 2023
For the uninitiated, the Honda Motocompo was a folding scooter made by Honda between 1981-1983 made specifically to fit in the back of their subcompact Kei cars, most notably the Honda City and Today.
Powered by a 49cc, 2.5 HP two-stroke gas engine, it was a legit, last mile type of transportation capable of hitting up to 19 MPH.
It also just plain looks JDM cool.
Honda made close to 54,000 of these literal pocket rockets.
With many JDM cars becoming eligible for importation to the United States, interest for these fun, Honda scooters has only increased over the years.
Despite tens of thousands of Motocompos made, they're still at least 40-year-old scooters.
And, they're not exactly cheap, either.
Browsing sites like Mr. Motocompo and looking at final auction results, Motocompos cost between $4,000-$7,000.
While a bit seedy and unethical, the idea of being able to buy a brand new Honda Motocompo Replica for $4,800 (before shipping) might sound enticing to someone who wants the fun and look of a Motocompo but doesn't like the idea of buying a 40+ year old scooter.
The Aliexpress link for the replica Motocompo is linked here with a screenshot of the page below.
Looking at the listing photos and specs, I think if you actually buy one, you won't get a Honda Motocompo knockoff.
First, while I couldn't reverse image the source of the photos (which likely means these are original photos), I compared photos of actual Motocompos via Mr. Motocompo (linked above) and the photos provided, and the supposed replica doesn't look like a replica at all, it looks like the real thing.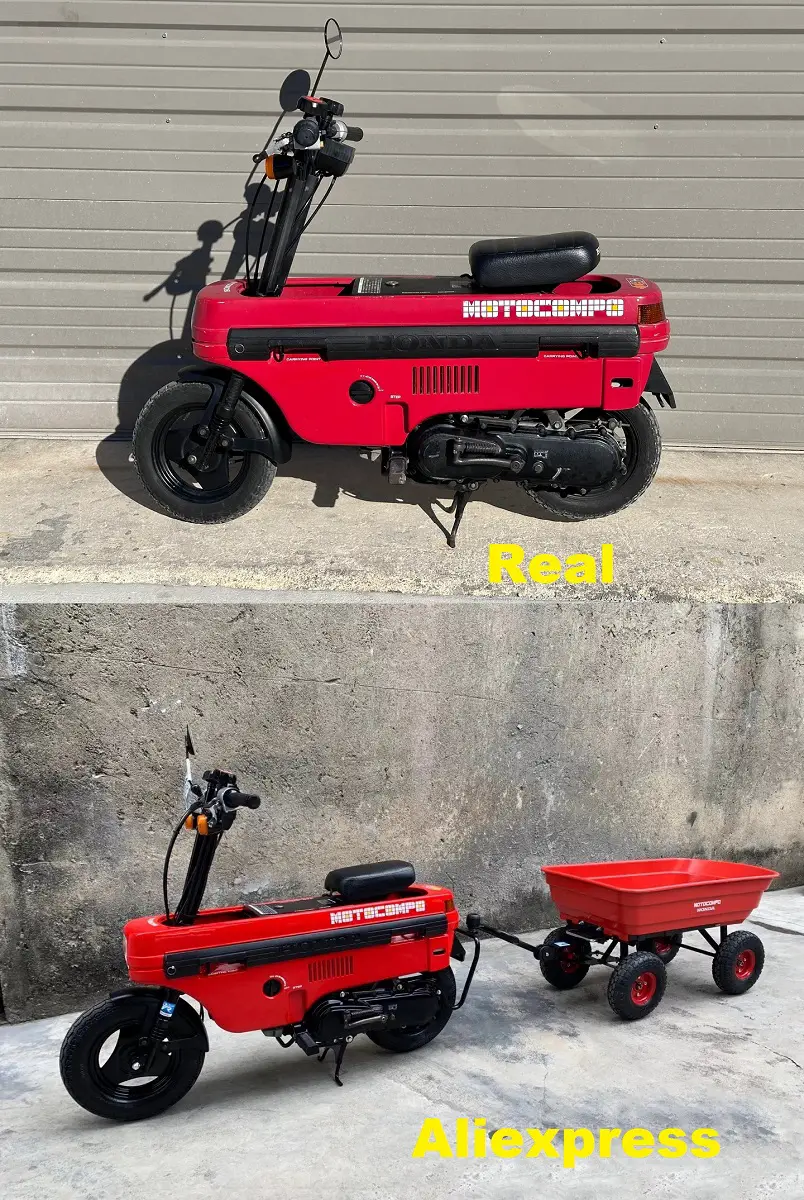 Often, knockoffs will look 90% like what it copies, with obvious differences. Not so with the pictures of the "replica," the components and graphics match real Motocompos.
Then there are the specs.
The OG Motocompo has a 49cc, 2.5 HP two-stroke. This one claims to have a 100cc 18KW (24 HP), four-stroke engine.
If the photos are to be believed, it's hard to believe what's shown is what's claimed to be the actual specs.
The specs also don't pass the general rule of thumb of 7 HP for every 100cc's of scooter/motorcycle engine.
Finally, it lists the model as WH110T-2.
WH110T-2 is an actual 100cc scooter made by Wuyang Honda Motors.
If you actually buy a knockoff Honda Motocompo from "China Convenience Grocery store Store" (yes, that's their actual name,) I don't think they'll stiff you and not deliver you anything.
What will probably happen is you'll either get a Wuyang Honda WH110T-2 because new ones cost around $4,800, or you'll get something comparable to a Honda 100cc scooter.
I think this Aliexpress store is suckering in Hondacompo enthusiasts who want a replica and, when they buy this and don't get that, they're $5,000+ too deep into a hole that it's not worth returning or complaining over (it's China ffs.)
Then again, I could be wrong, and you might actually get a Honda Motocompo knockoff, but I don't see that happening.