The last Nissan Maxima ever was a painted Scarlet Ember Tintcoat
Earlier last year, Nissan confirmed to several car outlets that the Nissan Maxima will be discontinued in mid-2023.
It's now the end.
Nissan Smyrna confirmed on their official Facebook page earlier this week that the last Nissan Maxima has rolled off its assembly line, marking 20 years of Maxima production in Smyrna, TN.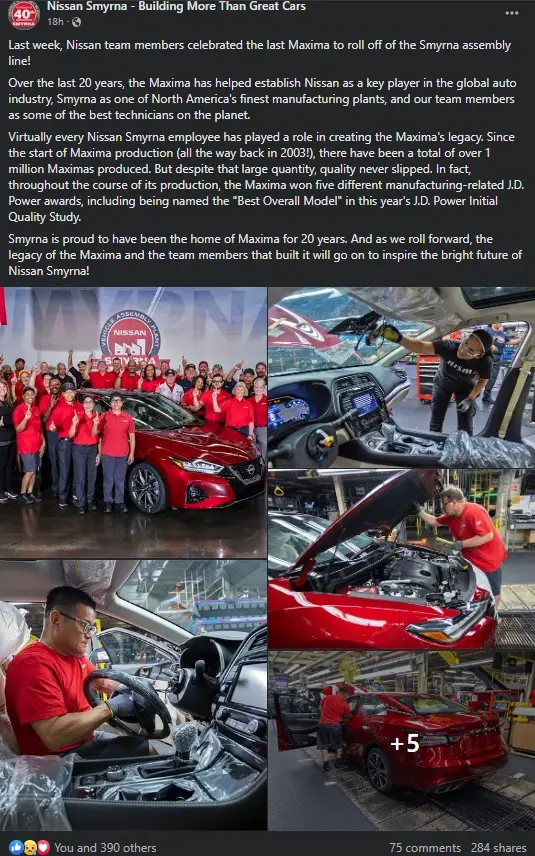 "Last week, Nissan team members celebrated the last Maxima to roll off of the Smyrna assembly line!"
Their post was light on details, but we can confirm the last Nissan Maxima was painted a Scarlet Ember Tincoat.
In nine photos included in the post, we see the last Maxima making its way down the assembly line, with Nissan Smyrna employees putting on various interior and exterior pieces for the last time for this Nissan model.
The last couple of photos show dozens of assembly line workers and management posing with the last Maxima.
Prior to the Maxima shifting production to the United States, the first five generations of Maxima were built in Nissan's Japan factories.
Starting in 2003 with the (6th gen) 2004 Nissan Maxima, Nissan Smyrna Assembly Plant took over Maxima production.
Embed from Getty Images
"Since the start of Maxima production (all the way back in 2003!), there have been a total of over 1 million Maximas produced. "
"But despite that large quantity, quality never slipped. In fact, throughout the course of its production, the Maxima won five different manufacturing-related J.D. Power awards, including being named the "Best Overall Model" in this year's J.D. Power Initial Quality Study."
Sales of US made Maximas peaked in 2003 with 89,758 Maximas sold.
Maxima sales remained strong through 2017 when sales figures slipped to less than half of its 2003 peak as consumer taste for sporty sedans shifted to crossovers and SUVs.
This might not be the end of the Maxima entirely, as Nissan has hinted at the nameplates' revival in EV form sometime in the near future.
But, as for Nissan Smyrna Assembly line, that's the last Maxima they'll ever produce as this new EV will most likely be built at their Canton, MS assembly plant.