According to the dashcam owner, this is the 8th accident in this area as of late.
Redditor and presumed Cincinnati resident /u/M25201X shared dashcam footage to the /r/IdiotsInCars subreddit showing the surprising moment what looks to be two male teen drivers in a Jeep Compass blow by stopped traffic in a left turn only lane and, for some odd reason, drive straight into a traffic pole at speed.
OP's thread is linked here, with a copy of his video posted below.
The accident happened at the intersection of Queen City Ave. and White St. in Cincinnati, OH (exact location on Google Maps linked here.)
The screenshot below should help those not familiar with the area visualize the overall scene.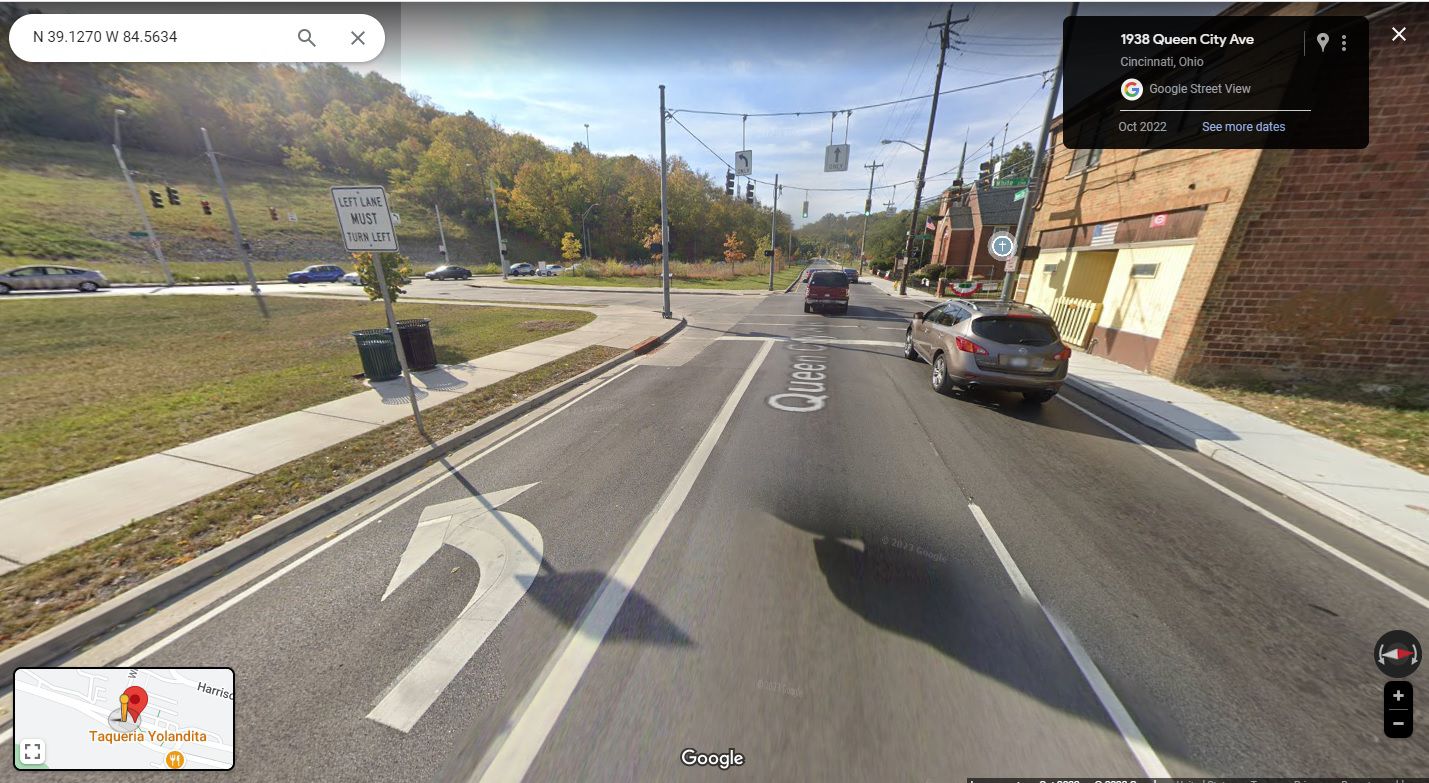 As the video shows, OP is in the left-most lane of Queen City Ave. when he sees a Jeep Compass fly by in the left only turn lane.
Instead of turning, the Compass drives straight into the traffic pole.
The dashcam owner and those in the comments are unsure what, exactly, this driver was attempting to do.
Some, like OP, think the driver was trying to use the left turn only lane to cut stopped traffic.
"Two people in the cars were men. They (the driver) looked to be a teen."
"I genuinely don't know what they were doing. My only guess was he was trying to avoid traffic and cut into the 2 lanes that continues to Queen City as the first lane eventually comes to a left turn only lane."
Others think this is a case of distracted driving.
"Here's to guessing he/she was too busy looking at a phone to look up at the road," /u/Zerak-Tul commented.
Despite the violent nature of the crash, both driver and passenger supposedly appear to be unscathed, although that's unconfirmed.
"Both came out (of) the Jeep."
As others have pointed out in the comments, those teen drivers weren't the only "idiots" in the footage.
We can also see a Good Samaritan stop to help but went about it in all the wrong ways.
Here's a screenshot of that.
Not only does she stop her car in the middle of the intersection, unnecessarily blocking traffic, she doesn't even put on her hazard lights.
And, when she walks over to the crash, she doesn't even look both ways for traffic. Had this been a heavily trafficked area, she could've ended up in her own pedestrian accident.
" Seriously, drive your car away from traffic before you run out to check on the people in the wrecked vehicle," /u/isecore commented.
This area of Cincinnati seems to have a lot of accidents as of late.
"This is the 8th accident in this area. Where I live, there's about 1–2 accidents per 4 months at an intersection. People also FLY on Queen City."
Thankfully, as mentioned, no one appears to be hurt or seriously injured, but, seeing how this just happened recently, I'll be checking the Cincinnati crash reports as they come in throughout the week to confirm certain details.
This is why it's important to pay attention at all times, as incidents behind you and in your peripherals can unfold.