LeanBeefPatty was not specifically targeted for who she is, but was targeted for her valuables inside.
L.A. based fitness influencer LeanBeefPatty shared with followers earlier this week that valuables were burgled from her car while she was parked at an outdoor parking garage.
Check out her video below.
In the video, we see Lean Beef Patty being filmed by someone moments after discovering someone robbed her of her valuables inside her Toyota Prius.
In her arms is her pet pig.
"It wasn't anything personal," LBP says.
"It was just a series of random attacks. I just happened to be…a victim."
LBP points out how her rear driver's side window was broken and valuables stolen despite having the darkest tint legally allowed.
"I had probably several thousands of dollars worth of things (stolen): My camera, my microphones, three pairs of beats headphones….also my backpack that I just liked using…"
LBP then directs us to her passenger side window, also broken.
The thieves managed to overlook her '90s era cup mounted phone charger and a can of GorillaMind energy drink, a point she enthusiastically highlighted.
"I was afraid that they might've taken something truly valuable, but lo and behold, it was spared."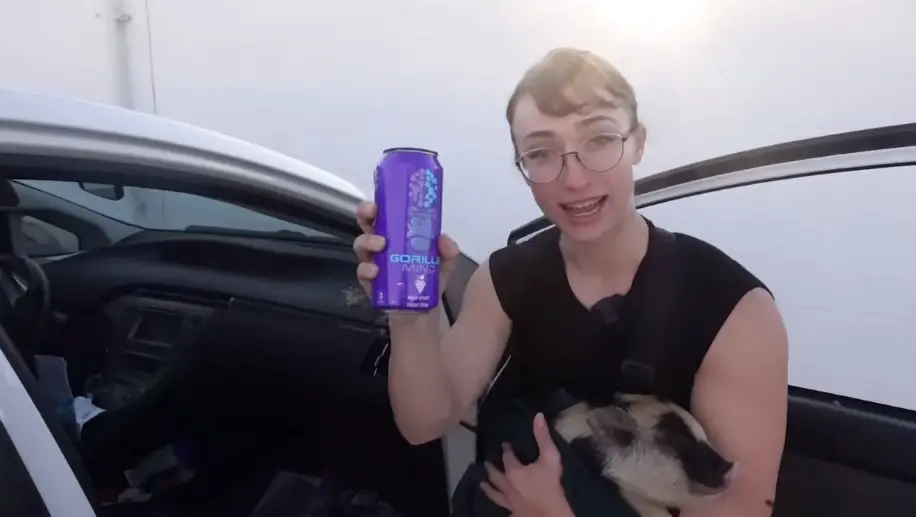 LBP ends her segment by seguing to the gym for her workout.
While it sucks all around that her valuables were stolen from her, what matters is she wasn't robbed in person and is generally OK.
I've blogged about bipping (what car burglary is called in California) before, and the expert advice concerning valuables in your car is to take them with you.
But if you can't, hiding them in your trunk is the next best option.
On top of that, adding a steering wheel club might be a good idea, too, as it advertises you're serious about security and will likely not find anything of value inside.
Hopefully local police stumble upon the criminals responsible for that rash of local break-ins and, just maybe, her valuables are returned.