The Hyundai Tucson is a handsome little Korean crossover in its own right but what if you've been given a sizeable budget to add your own personal tuner's touch? Vaccar Motorsports have done just that. According to Hyundai on an official press release they've dropped earlier today (Oct. 31,2017) Hyundai officially took the wraps off a one-off Tucson Sports Compact for the crossover crowd at SEMA. Not only have they upped the ante with a hotter engine underneath the hood, they've given it the looks to match. Check out a concept rendering as well as what the finished product looks like.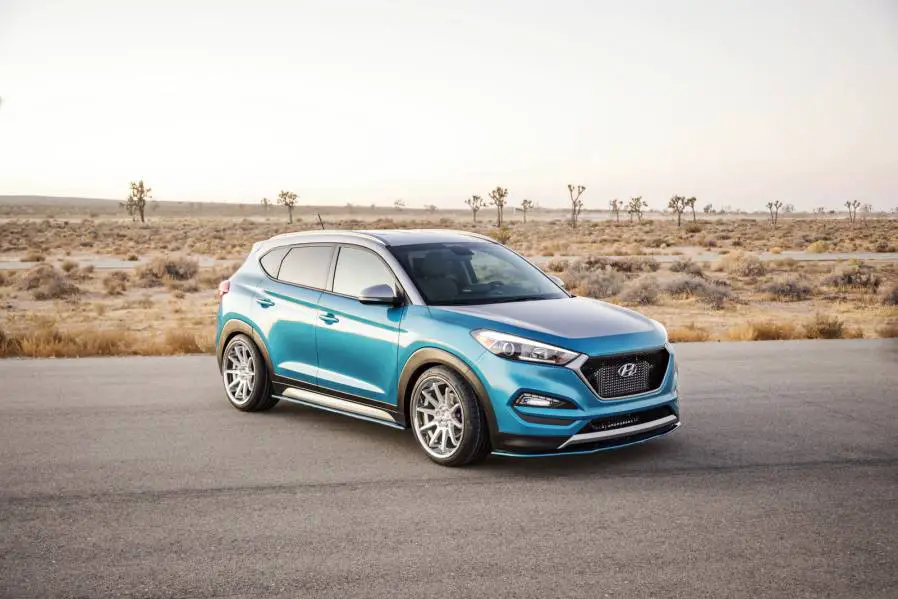 Underneath the hood is where it's at. The stock Tucson comes with a naturally aspirated 2.0L or a hotter 1.6L turbo that makes 175 HP and 195 lb-ft. While Honda and Toyota have just entered the turbocharging game, Hyundai has had turbo engines for quite some time with the aftermarket making enticing add-ons for its 1.6L turbo Gamma engine. This particular Sport concept has an upgraded turbo from Boostec, an AEM air intake, Mishimoto intercooler, and Magnaflow piping and exhaust to make sure those additional exhaust gases are expelled as efficiently as possible. Presumably, this turbo kit safely ups the power to the 230 WHP and 250 lb-ft range.
Outside, Vaccar made sure this Tucson won't be mistaken for a stock one. A Blue metallic two-tone paint, although not my cup of tea, sets the tone for the exterior add-ons. Vaccar then threw on its catalog in the form of a lip, side skirts, rear diffuser, and mesh front grill. Park next to this Tucson at a Sonics and you'll be treated to a light show compliments of Diode Dynamics.
The original press release and rendering showcase a set of Concept One Forged wheels sized to 20×9.5. No wheel gap. The final product fails to deliver on this end with a wheel one inch too small and a noticeable wheel gap.
Inside, Vaccar has added a host of gauges, a head unit to match its upgraded sound system, and Katzkin Ice Grey Leather to replace the stock interior trim pieces.
Vaccar's Tucson Sport Concept overall has successfully added a bit of attitude to this crossover. I would've kept it all the same color and given it a proper set of wheels.