A first gen NSX owner spotted Jay Leno not too far from his infamous garage enjoying and daily driving his 2017 Acura NSX.
If you're Jay Leno, owner of literally hundreds of cars, including bonafide supercars, what car do you take on your daily errands? Well, according to this encounter with Jay Leno earlier this week, you take what's known as the everyday supercar, your 2017 Acura NSX.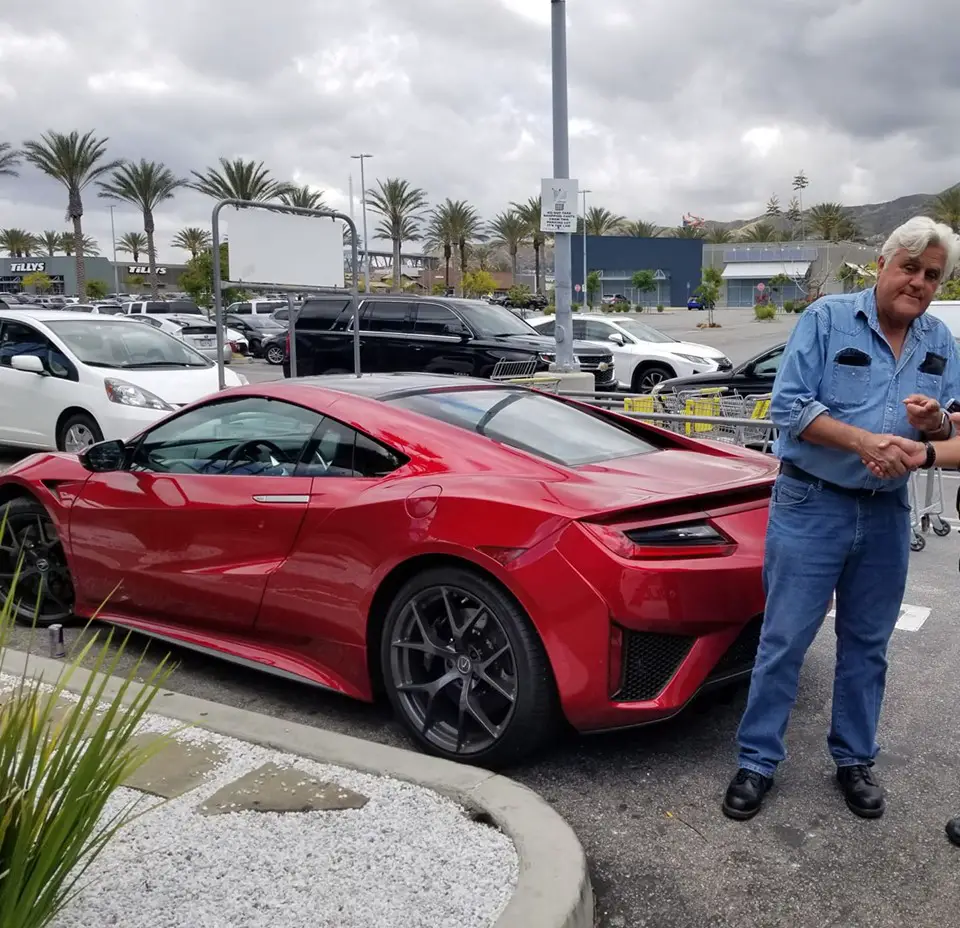 First gen NSX owner Makael Hounihanan ran into Jay earlier this week, the owner of the photo above. I'm sure by now Jay knows quite well that, on any given day, he'll be stopped at least a handful of times to chat it up with locals.
In his iconic Canadian tux, Jay snapped a photo with Mikael and within their conversation proclaimed that the NSX was the "best built" car on the market today.
That is not faint praise from someone who arguably has a more nuanced feel for cars, more so than some seasoned auto journalists.
Before Jay took delivery of his own NSX, he took a Berlina Black NSX for a test drive that was featured on his Youtube channel.
Towards the end of his test drive with Acura's Chief Engineer Ted Klaus, Jay states that,
"It's funny, you push it hard, there's no heat sink smell, no nothing, every gauge stays exactly the same.
What Jay is getting at is that, like any supercar, sure you can wring it to within an inch of its life but when the dust settles, the NSX is just like an Accord, it's like the NSX barely broke a sweat.
That isn't something a niche supercar can't do, it's quality baked in the NSX from the ground up, from the first "pencil stroke" of the engineer on his CAD design software to the last quality control check's at Acura's bespoke Performance Manufacturing center built just for the NSX. 
And that's something, in my opinion, that Acura hasn't really used in its marketing, as Jay said and as this tour via Autocar shows, just how well-built the NSX actually is.
Although most of the aluminum panels and monocoque is delivered to the NSX factory in Marysville, OH, it's all assembled here.
Acura claims that the chassis is welded to an accuracy of .1mm. No post welding machine is necessary.
Quality control is further verified with a scanning rig that can take 2,700 points of data measuring tolerances to within 50 microns A.K.A. the width of a human hair.
When one of 100 workers does bolt in engine components like wiring, electronics, interior pieces etc, all torque wrenches are connected to a computer which tracks and records every single ugga-dugga of a wrench.
The engine gets just as much attention. According to Acura in their 2015 Press Release, 
…Each engine takes over six hours to complete and is machine balanced

Each NSX power unit — engine, 9-speed dual clutch transmission with direct-drive electric motor, and front Twin Motor Unit – is bench-tested and broken-in (the engine to the equivalent of 150 driving miles) to ensure that every NSX is track-ready upon customer deliver

The engine build process was benchmarked against some of the company's race engine programs to ensure the highest possible quality and performance standards were achieved
After application of body panels the NSX goes through a battery of quality control checks where, according to AutoCar, Honda developed six patented QC techniques unique to NSX.
You'll notice, that like so many supercar factories, notably Bugatti and McLaren, the Acura NSX is built in hospital-like sterileness.
Relative to other supercars the NSX was sort of a bargain at $159,300. Recently Acura slashed that price even further by $20,000 making this NSX even cheaper.
Knowing just how well this car drives and how labor intensive it's assembled, a Japanese supercar for $139,300 is too good to be true.
To get a car that can almost touch 200 MPH but handle a day of shopping at the Burbank Empire Center is the mark of the NSX people fail to realize.
The NSX. As Jay Leno says, is the best-built car on the market today.