The host of Shifting Gears with Aaron Kaufman and former co-host of Gas Monkey Garage's Fast N' Loud took to Instagram to show off his bare-faced look sans beard.
What's in a beard? Host of Shifting Gears with Aaron Kaufman, and, former co-host of Gas Monkey Garage Aaron Kaufman took the blade to his face earlier yesterday (July 30, 2020) and shared with close to 900,000 of his fans what he looks like without his iconic beard. According to Kaufman, this marks a decade since he started growing it out.With over 5,000 comments and counting, there were a handful of upset fans, but the majority were supportive of this, arguably, momentous occasion in facial hair history.
Check out his Instagram post below.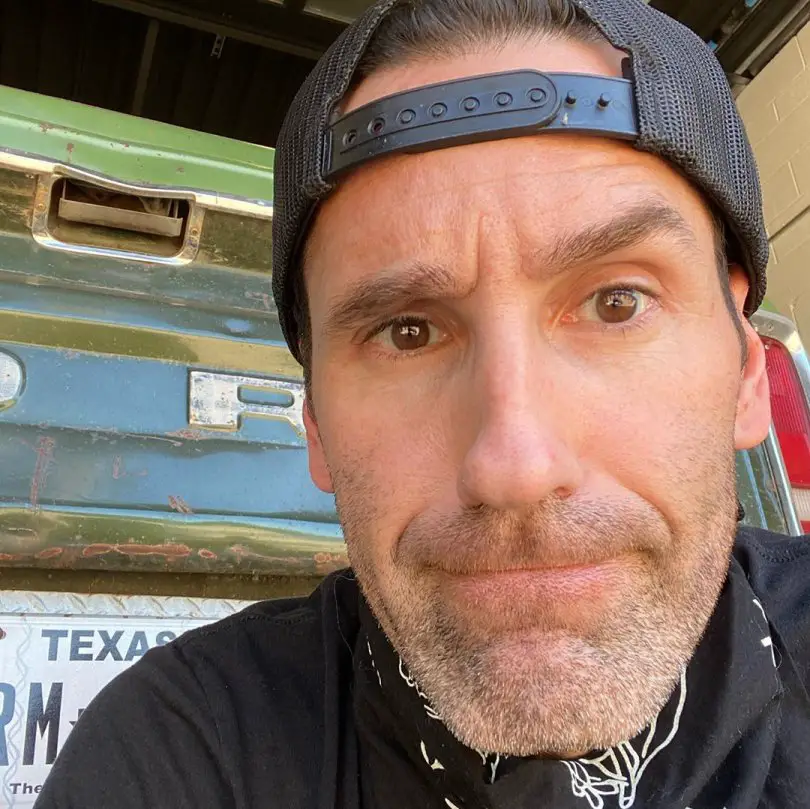 The first photo is a collage of three photos, Kaufman's decade-long beard lying on the tiled floor of his shop. Kaufman's trusty dog, Lola, doesn't seem to mind his new look, her snout covering up the big reveal.
The next photo is Kaufman, himself. With hat turned backwards and a light beard already in its place, it's the face of a man TV hasn't seen in high-definition before.
Beard origin story.
10 years means Kaufman first started growing out his thick mane in 2010. If you want to see a handful of photos of what Kaufmann looks like truly bare-faced, you must make the jump to Starcasm.com, who did a profile on Kaufman's beard a year into the GMG Fast 'n Loud's run.
Here's Kaufman without a beard (and the fame), linked here.
A lot of first-hand knowledge of Kaufman's beard origin story comes from Kaufman's ex's tumblr entitled, "About that beared guy." I've linked an archive of all the old posts from that tumblr here. Foreal, his ex had a website dedicated to this man's hair, but it was mostly anonymous people sticking their noses where it didn't belong A.K.A. gossip.
Basically, Kaufman started growing his beard in the winter of 2010, before Fast N' Loud, and, by the time the show started filming, the beard was already part of Kaufman's identity. Although the beard wasn't technically a stipulation with Discovery Channel, efforts to shave his beard were met with a stern pushback from Kaufman.
DMagazine has a great quote from Kaufman on the matter,
"…they said, 'Well, you can't shave.' And I said, 'That won't work. I don't deal well with apostrophe 't's." I said, "Let's clear this up real easy. If you're cool, I'll be cool. If you say 'can't,' the first thing I'm gonna do is shave it off right here."
What his friends are saying about his fresh look.
With his own fab shop, show, and being his own boss, there are few people who can tell Kaufman to shave or not shave. With Season 3 of Shifting Gears presumably wrapped up and with some downtime in the middle of a global pandemic, now is as good a time as ever. Dallas County did announce a mask mandate earlier this month so, perhaps this will make it easier for him to mask up.
Porsche tuners BBI Auto Sport said, "awe… like the first time I met you on Gumball in I think 09?"
KOTH winner Loren Healy said, "I'm never going to recognize you now." Which to Aaron responded, "I'm preparing a name tag, hello my name is. I'll wear it where free sandwiches and beer are given out to previously bearded folk."
and Overhaulin's Chris Jacob said, "Baby face!"
To be honest, I always wondered what Kaufman looked like without his iconic beard, and now I know!
I think he looks A-1 with what he posted, a little bit of a 5 o'clock shadow.
Is this a one-time thing? Only time will tell.