Jeep Wranglers and Cherokees in Japan come from an agreement between Chrysler and Honda in 1990.
Honda once sold and serviced Jeep Wranglers and Cherokees over an eight-year period thanks to an agreement between the two companies first put into action in 1990, an overall plan implemented by then CEO of Chrysler Lee Iacocca.
Embed from Getty Images
In 1987, Iacocca was in charge of growing and expanding recently acquired American Motors Corporation's (or AMC) lineup thanks to a market buyout of Renault's stock and the remaining shares in AMC. AMC Motors became the Jeep-Eagle Division giving Chrysler the rights to develop and sell the Jeep Cherokee, upcoming Grand Cherokee, Wagoneer, Comanche, and remaining AMC Eagles.
General Motors, Fiat Chrysler, and Ford in the early 1990s were making headway into the Japanese Market. Chrysler already established a joint venture in Japan with J Osawa & Co. called Chryser Japan Sales Ltd. but sales were slow going. In 1989, Chrysler only sold 1,500 Jeeps and cars, a number they wanted to increase.
Instead of opening up new dealerships, Chrysler instead leveraged Honda's network of established Honda Primo dealerships to sell Jeep Products. In 1990, Honda dealerships agreed to sell 1991-Model Jeep Wranglers and Cherokee Sport-utility vehicles in 750 Honda Primo dealerships.
Primo dealerships were part of Honda's three sub-brands including Verno and Clio. Primo sold family Hondas, Verno sold experimental and sporty Honda, and Clio sold luxury Hondas. Honda Roots gives a better explainer.
Honda, coincidentally, was a Japanese car maker Chrysler specifically benchmarked in the mid-1980s to further increase its competitiveness and improve its management. Prior to their acquisition in 1987, AMC had already implemented Honda management and production practices, practices Chrysler was now implementing themselves.
Here's a screenshot of a Honda Primo ad advertising said Jeep Products.
By 1995, Chrysler wanted to further increase its foothold in Japan and purchased Seibu Motor Sales Co for $100 Million, an independent car dealership based in Tokyo with 10 directly owner retail outlets and 108 contracted showrooms. Chrysler also hired more employees for its Chrysler Japan Sales team and set an aggressive annual sales target of 100,000 Chryslers sold in Japan by 2000.
In 1997,Chrysler wanted to sell Jeeps only in Chrysler dealerships, so Chrysler and Honda ended their eight-year agreement, in total selling over 40,000 Jeep Cherokees and Wranglers in that time span. A large majority of Jeep sales came thanks to Chrysler introducing a RHD Wrangler in 1993.
A quick look on Japan's classifieds reveals over a thousand Wrangers and Cherokees for sale, many of those Wrangers probably sold at a Honda Primo dealership.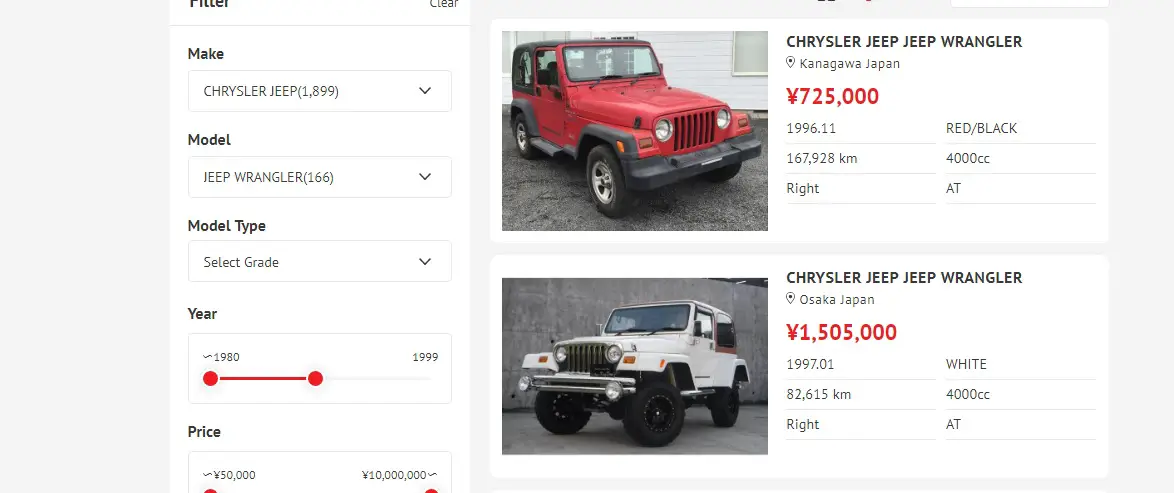 Chrysler, now owned by FCA, stopped selling Chrysler-specific cars in Japan in 2018. Jeep, however, remains the only American brand in Japan making any headway today led by the Grand Cherokee, Wrangler, and smaller Renegade.